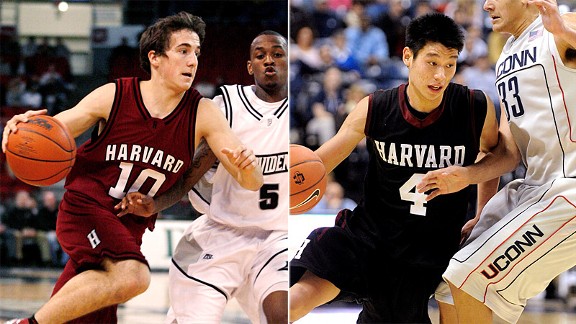 AP Photo
"It sounds delusional now," writes Drew Housman, "but at that point I considered Harvard my team."
Jeremy Lin isn't just playing well for the Knicks. He has quickly become a leader, the man talking on the court and starring in the highlights, just as the team has dramatically improved.
Somewhere Carmelo Anthony may be thinking that was supposed to be his job, and if he is thinking that, he'll have a lot in common with Drew Housman. Housman plays professionally in Israel, runs a fantastic blog and still has big NBA dreams. But what's most important today is that Housman's the speedster point guard with deep shooting range who led the Harvard basketball team -- before his friend Jeremy Lin took over by storm.
Housman tells what that felt like then, and feels like now:
I woke up to a Facebook message. "Jeremy is going OFF on the Nets!" I thought it might have been a prank, but I quickly found out that it was all true.
Jeremy Lin, my former college teammate of three years, had outplayed an NBA all star and was earning national recognition. His legend has only continued to grow. The day after he scored 38 points on Kobe and the Lakers my normal Twitter feed could have been erased. In it's place they could have put a single, summarizing word: "LINSANITY!"
If you had told me in the fall of 2006 that Jeremy Lin was going to become the most talked about athlete in New York City I would have literally laughed in your face. As far as I was concerned he was a scrawny freshman with no jump shot who never stopped talking about how much he missed In-n-Out Burger. His game bordered on timid during preseason pickup games. I remember thinking that he needed to get mentally tougher if he was going to contribute to the team. He definitely showed some flashes of ability that first season, but nothing that made anyone say "he will set scoring records in the NBA and Madison Square Garden will chant M-V-P while he shoots free throws." All I saw back then was someone who I would enjoy playing with and who could become a serviceable guard in due time.
It sounds delusional now, but at that point I considered Harvard my team. It was going to be the vehicle that propelled me to baskteball stardom. Hey, Jeremy wasn't the only one with aspirations. It's a little crazy to consider, but in 2007, I was running the show. A show that perpetually underachieved and would accomplish nothing of note, but at least I was running it.
Then, almost all at once, it became Jeremy's squad. He became the star of the team during my injury-plagued junior year, and by my senior season he was the focal point of the entire offense. That alone made me feel a little uneasy about my situation.
And then everything came to a head after the Boston College game.
That game marked Jeremy's first foray onto the national stage. He single-handedly dismantled Boston College, a team that had recently defeated the number one team in the country. He was sensational. This was the first case of Linsanity gripping a group of people. We jubilantly chanted his name on the shuttle ride back to campus.
There were a few clips on SportsCenter about the game. At the time, being on TV at all was the zenith of recognition for a Harvard basketball player. The team watched the clips over and over, awed that we were actually on ESPN. That one game catapulted Jeremy, however briefly, into the national consciousness. It injected the whole program with a sense of optimism.
The whole program but for one salty, bitter person: me. I did not have a good game and only played sparingly. For me, the way that game turned out made me feel as if I had been sat down, slapped in the face, and had someone tell me: "You know how you have devoted almost your entire life to basketball? There's a chance that was a waste of time. Your team is better off without you. And oh yeah, any adulation you thought you might earn someday is all going to Jeremy Lin."
It really felt like a midlife crisis at age 21. That's the crazy thing about trying to pursue basketball as a career. You know pretty early on whether there is a better chance that you will be throwing alley-oops in the NBA or learning to say "please pass me the ball" in Hebrew. So it was through skeptical, resentful lenses that I viewed Jeremy's meteoric ascent into a household name. I have watched his career advance as if I am looking at what I could have become in an alternate universe. I dislike feeling envious of a friend, but it is almost inevitable when you see someone literally living out your dream.
Thankfully, Jeremy's recent turn toward superstardom has coincided with my ability to set aside all grudges and just enjoy the amazing spectacle along with the rest of America. This man's ability to rise to the occasion is like nothing I have ever witnessed. He is like Dwyane Wade crossed with Doug Flutie mixed with Rudy. I wholeheartedly accept that he worked his tail off and he deserves everything that is coming to him. It feels good to be able to put aside my baggage surrounding the situation and simply appreciate one of the most amazing stories in NBA history.
Many basketball players are not taking to the rise of the Lin dynasty with quite the willingness that I have. You have to possess a certain amount of hubris to make it at any level of professional basketball, which I think is why a lot of players I talk to belittle his accomplishments. They claim that they would have done just as well if given the same opportunity.
I would beg to differ. The envy surrounding Jeremy reminds me of a scene in the movie "The Social Network." There is a point where Mark Zuckerberg gets fed up with the accusations that he stole his big idea and he has to remind people that "if you had invented Facebook, you would have invented Facebook."
If you should be the starting point guard for the New York Knicks, then you'd be the starting point guard for the New York Knicks. Simple as that. Give the man his due.
But maybe it is true that there are more unearthed gems in the sports world than people realize. This whole situation has proven that the miraculous is possible. Who knows, maybe the next big story will be about the dramatic ascent of a different guard from Harvard who spent his early years toiling away in Israel. If Jeremy has taught us anything, it is that there is no reason not to dream big.