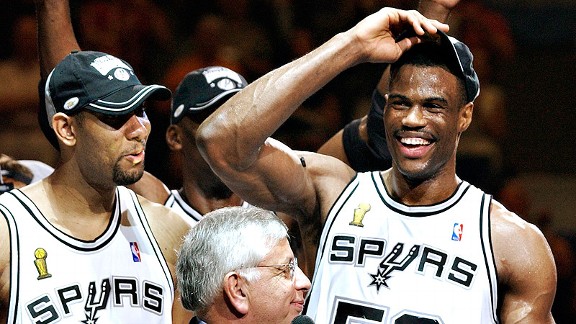 AP Photo/Eric Gay
The Spurs' good fortune in the draft lottery after a poor season might have inspired teams in subsequent years to jockey for the first pick by tanking.
In terms of on-court success, the 1996-97 season was a disaster for the San Antonio Spurs. But ironically, it may have been the greatest thing to ever happen to the franchise.
TrueHoop at MIT Sloan Sports Analytics Conference
Since acquiring David Robinson with the first pick in the 1987 NBA draft, San Antonio had developed into a top-tier team. They made the Western Conference finals in 1995 and had grown accustomed to making deep playoff runs. But with the Admiral playing only six games in 1996-97 due to a back injury and, later, a broken foot, the team went into the tank.
San Antonio, whose leading scorer was a 37-year-old Dominique Wilkins, finished as the second-worst team in the West, ahead of only a lowly Vancouver Grizzlies franchise that won just 14 games in its second season in existence. Then the Spurs won the draft lottery, selected Tim Duncan and won four championships over the next decade.
With success comes imitators, and as any fan who has paid money to attend a late-season NBA game involving a hopeless team can attest, this "tanking" strategy is now commonplace. Even before Duncan, it was no secret that high draft picks led to titles and that playing bad led to good picks, but it has increasingly seemed like many poor teams aren't putting their best effort -- and in some cases, their best players -- into meaningless late-season games. At this point, "lose now, win later" may as well be the official motto of rebuilding in the NBA just as "Suck for Luck" was last year in the NFL.
At the 2012 MIT Sloan Sports Analytics Conference on Saturday in Boston, Adam Gold suggested what he considers a better way: winning to win. "We should never have to consider that a loss can be more helpful than a win," said Gold, a Ph.D. candidate at the University of Missouri. While fans and hoops bloggers all criticize teams for tanking, Gold also brought proof: in the seven years following the 2004-05 season, teams that missed the playoffs won just 32 percent of their games after they were mathematically eliminated from the postseason compared to 37.5 percent beforehand.
For Gold, this became a logical time to gauge when teams would start to tank -- and the mark when the system should help ensure they don't. His solution:
Give the first pick in the draft to the team that wins the most games after being officially eliminated from playoff contention. Then the team with the second highest number of wins gets the second pick. And so on.
The theory is that the worst team in the league will be the one that is mathematically eliminated first. Thus, it will get the most chances to pile up wins. If it takes advantage of those opportunities, it will be rewarded with the No. 1 pick.
If we use last season as a guide, the Sacramento Kings played 20 games (going 9-11) after being eliminated whereas the Milwaukee Bucks played only four (going 3-1). Those nine wins would have given the Kings the No. 1 pick under Gold's scheme. Under the current draft lottery system, however, they picked seventh: not exactly a reward for a team that managed a winning percentage of .450 for the final quarter of the season after playing .319 ball up to that point.
Presumably, it would have also led to the Minnesota Timberwolves not opting to keep Kevin Love on the bench with an achy leg for his team's final six games, which the Timberwolves lost by a combined 80 points. Such futility helped them end up with the second pick. I'm sure Timberwolves fans are happy about that fact now, but I doubt the ones who bought tickets to watch their favorite team lose by 19 to the Rockets on the final night of the season enjoyed it at the time.
"I believe that maintaining fan interest in their favorite teams and holding franchises accountable for a justifiable level of success is more important than trying to list teams from worst to first," said Gold. The current worst to first means of handing out picks clearly incentivizes losing. And it is hard to see how this framework wouldn't improve that.
But what about teams that are just horrible? What about the Bobcats?
No team is more in need of the No. 1 pick in this summer's draft than Charlotte. But under Gold's proposed plan, there is little hope they would get it even though they should have plenty of chances to win games after they are soon mathematically eliminated from the playoffs. Because at this point, the question is less "How many more wins will they get?" and more "Will they get another win?" They're just that bad.
When asked about this seeming flaw, Gold said that all teams should be expected to maintain some level of quality. There should be some standard of winning. That is fine in theory, and it holds management accountable for never allowing a team to become as bad as Charlotte has under Michael Jordan's stewardship, but I think his logical leanings may be skewed by the fact that he focuses on hockey.
I'm no NHL expert, but I think it is a lot easier for an overmatched roster that plays a low-scoring sport that requires multiple lines of players to win a few games here and there than it is for an NBA team with a similar dearth of talent. During the Bobcats' current nine-game losing streak, for example, they have only once lost by fewer than six points. And that was against the Washington Wizards. In Charlotte. I don't think anyone is questioning their effort so much as their players' ability to play basketball.
Ultimately, there is little question that the current draft lottery system, which is based on losing as many games as you can and then crossing your fingers, needs reform. And Gold's idea would likely be an improvement. But I don't think it is the best solution. Perhaps someone will offer up a better one next year at MIT. Until then, the Bobcats' future will continue to be decided by how the ping pong balls fall and how Corey Maggette's shot doesn't.