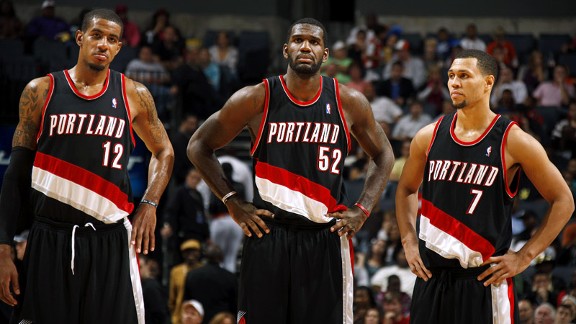 Kent Smith/NBAE/Getty Images
Did an upstart Trail Blazers team fall short in the 2009 Playoffs because of lack of experience -- or was it something else?
Before Brandon Roy's knees degenerated and Greg Oden underwent his third microfracture surgery, the Portland Trail Blazers were the darlings of the NBA. With Roy, Oden, and LaMarcus Aldridge as its young core, Portland was a team built for a long and prosperous future. Portland ranked No. 1 in ESPN Insider's Future Power Rankings around the start of the 2009-2010 season.
TrueHoop at MIT Sloan Sports Analytics Conference
How quickly could the Trail Blazers start winning big series deep into the postseason? Some argued in 2009 that they were too young and too inexperienced to win in the playoffs. And with Roy, Oden, and Aldridge in their early to mid-20s at that point in time, that claim seemed to conform to conventional wisdom. As the saying goes, you must fail before you can succeed.
But is that really true? Do teams with inexperience have to take their lumps before winning in the postseason?
According to James Tarlow of the University of Oregon, author of a study titled "Experience and Winning in the National Basketball Association," which he presented at the MIT Sloan Sports Analytics Conference, the answer is no.
Using a data set which consisted of 804 NBA seasons played by 30 teams between the 1979-1980 and 2008-2009 seasons, Tarlow concluded that two elements affect a team's ability to win playoff games: head coach postseason experience and team chemistry.
Coach postseason experience is defined as the number of postseason games coached as a head coach ... Chemistry then is defined as the number of years the five players playing the most minutes during the regular season have been on their current team with one another.
Tarlow also discovered that postseason player experience increase a team's ability to reach the playoffs but doesn't increase its ability to win playoff games.
First, the most common criticism is of the experience of younger teams and this study does not support this conclusion, regardless of whether their NBA experience or playoff experience is the top of discussion. Second, the number of years of experience a coach has in the NBA is an irrelevant figure. It is a coach's playoff experience, not the length of their NBA coaching career, which is relevant to winning in the postseason. Finally, it suggests that what should be assigned more attention is the value associated with keeping teammates together.
In the case of the Trail Blazers, with Aldridge, Roy, Travis Outlaw, Steve Blake, and Rudy Fernandez logging the most minutes during the regular season and playing in their first year together, while being led by a coach in Nate McMillan with some postseason experience, they lost in the first round of the 2009 NBA Playoffs against the Houston Rockets, a team coached by Rick Adelman -- someone who had an expansive playoff resume with the Trail Blazers and Sacramento Kings -- with Yao Ming, Luis Scola, Ron Artest, Shane Battier, and Aaron Brooks leading the way in minutes played and also playing in their first year together. In a series that was relatively close, could Adelman have been the difference based on the conclusions reached in Tarlow's paper?
Perhaps.
Over the next two seasons, Portland lost to the Phoenix Suns and Dallas Mavericks respectively in the first round of the playoffs. Based on Tarlow's criteria, team chemistry probably worked in the Suns' favor in 2010 while team chemistry and head coach postseason experience likely aided the Mavericks in 2011 as they began their quest for an NBA title they eventually won.
Certainly there were other reasons why the Trail Blazers lost three consecutive first-round series, like injuries and matchups. But, as Tarlow has suggested, inexperience likely wasn't one of them.
Dallas proved during their championship run last season that head coach postseason experience and team chemistry does matter.
Just ask the Miami Heat.
Putting it into practice
How do the contenders this season stack up using Tarlow's criteria?
In this case, the Heat, Chicago Bulls, and Oklahoma City Thunder will be examined. Based on minutes played this season, five players are outlined for each team in that order. Listed in parentheses is the number of seasons those players have played with one another. The number of games stated in parentheses for each head coach is the amount they've coached in the postseason for their careers.
Chicago Bulls: Deng-Noah-Boozer-Rose-Brewer (2nd season), Thibodeau (16 games)
This is the Bulls' second go-round with this group. Richard Hamilton, brought in during the offseason to replace Keith Bogans in the starting lineup at shooting guard, has been hobbled with injuries this season. For the sake of continuity, Chicago may be better off relying on Ronnie Brewer more.
Miami Heat: James-Bosh-Chalmers-Haslem-Wade (2nd season), Spoelstra (33 games)
Like the Bulls, this five-man unit is enjoying their second season together. The difference is that Udonis Haslem has been healthy during the regular season this year. Will improved synergy and Erik Spoelstra's growing playoff coaching resume be enough for Miami to win a title?
Oklahoma City Thunder: Durant-Westbrook-Harden-Ibaka-Perkins (2nd season), Brooks (23 games)
After acquiring Kendrick Perkins at the trade deadline last season, the Thunder's first full season with this quintuplet together has been a resounding success so far. With coaches like Gregg Popovich, George Karl, and Rick Carlisle in the Western Conference casting a shadow on Scott Brooks, Oklahoma City can only hope chemistry will trump all.
Looking ahead
Assuming both teams stay healthy heading into the playoffs (which is asking a lot given the truncated season), it appears that the Heat have a slight leg up against Chicago with Spoelstra at the helm since there's no discernible difference in the chemistry makeup of both teams.
As for the Thunder, what may derail their hopes is the fact that teams like the San Antonio Spurs, Denver Nuggets and Dallas Mavericks are led by coaches oozing with postseason experience.
Taking Tarlow's findings into account, consider the next few months an exercise in examination.
---