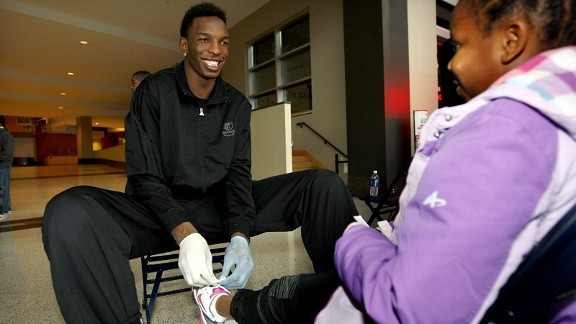 Nikki Boertman/NBAE/Getty Images
In trades, like one for Hasheem Thabeet, the Blazers quit competing.
We like sports because they are like life, but cleaner, with pretty uniforms, clear rules, in-your-face competition, instant justice and winners declared nightly.
We also like to see effort rewarded. That's something that happens on the court and in our daily lives. Doesn't the thought of little Derrick Rose hammer dunking over 7-footers in the NBA put a little bounce in your step at work? How could you really be scared to ask for a raise, or make a presentation, when he's willing to do that.
Similarly, don't you love to see a team painstakingly make its draft picks and trades and coaching hires and just have it all work out? The Grizzlies were called every name in the book when they traded Pau Gasol for no big names at all, but you're damn straight they lasted in last year's playoffs for a whole week longer than Pau and the Lakers. Evidently the pieces they gathered weren't so lousy after all. Good effort, Grizz. They took their lumps, they scrapped, they improved ... and they proved everybody wrong except the Thunder.
Something like that is what we all aspire to do, right?
Sports are awesome.
---
Consider one of Portland's trade deadline trades.
Perhaps the scarcest resource in sports is a useful NBA center. They just don't make a lot of seven-footers with elite athleticism. Marcus Camby is one of them. The Blazers traded Camby and his expiring contract for two players with expiring contracts who have never produced meaningfully and are virtual locks to be cut (Hasheem Thabeet and Jonny Flynn) and a poor-quality second-round pick.
Consider, also, that the two teams involved -- the Blazers and the Rockets -- have been locked in mortal combat for playoff positioning for half a decade or so.
If Portland wants cap space for next summer, simply keeping Camby would have done the trick. Gifting him needlessly to a rival, though, for the kind of pick that last year became ... Jon Diebler ... What is the point?
Of course, we all know the point. The Blazers are going in the tank, and this helps in the organizational mission to become a very, very bad team. You simply don't play wily veterans like Camby on teams like the Blazers who are playing to lose. It's a blemish on the venerable Camby's reputation, it doesn't serve the team's goals anyway, and if he gets hurt logging waste-of-time minutes it's the kind of NBA karma you might never escape. Bring on Thabeet.
Gerald Wallace is out, too, in what everyone agrees is a great trade. He's the kind of player any team would want, but the whole goal of rebuilding through the draft is getting the kind of draft pick only really bad teams like the Nets have. That was one of the best trades of the day.
Similarly, Nate McMillan is a real deal NBA professional who buttons his shirt all the way up, gets bossy in timeouts and coaches games with the conviction it's best to win them. So he's out too, whether out of mercy, respect, or acknowledgement that the love affair was over. Bring on Kaleb Canales, whom everybody in the organization loves, but some still refer to as "the video guy." You can't ask a guy like McMillan to captain a leaky ship like this. He's the kind of guy who will have a W-L record after his name until the day he dies.
---
Here's the crazy thing about this: As a Blazer fan, I think this loser of a strategy is a winner. I'm only sad they didn't go further. The team was not on a path to win a title. My conviction is that
LaMarcus Aldridge should be traded
, too. As a talented big-man All-Star in his prime he'll hurt the lottery positioning. But he might fetch some splendid cap space and picks.
We are conditioned to embrace this kind of strategy as sports fans. But it plays very poorly to people who buy tickets, and even worse in the world of sports-as-inspirational-metaphor-for-real-life.
How does this part of the sports world translate to our daily lives?
When my team was fighting like crazy every darned night, that felt a little like going to work and giving it my best even if it didn't always end well.
Ditching the good players and the coach, though ... that feels more like trumping up an injury to collect disability.
Whatever it is, it's not even one little bit scrappy.
And of course, this is not just the Blazers. Do you really think the Bobcats are doing everything they can to win, when their GM just took some time to explain that in keeping with the Thunder model, they were still focused on longer-term goals? I see the Nets playing Gerald Green long minutes, with better players resting, and I know what's up. There are similar oddities in Washington, Sacramento, Toronto and Detroit, and maybe some others besides. The NBA still owns the miserable New Orleans Hornets, and even the league's top officials have made noises about the long-term value of getting bad.
I'm not saying players are laying down, and maybe not even coaches. But the sad reality of the NBA system is that if you're the owner or GM of one of those teams, and you have a strategic bone in your body, losing a lot is at least one good approach, if not the very best approach.
---
We all get why it's so. Who wants those terrible teams to be locked in the basement forever? Throw them a bone, right?
Wrong. Not because I don't want bad teams to get good, but because this approach doesn't do the job. As the league explained again and again during the lockout, this sport has the worst parity of all the majors, and in particular this sport has bad mobility of teams. Bad teams have a hard time getting good -- I would argue that's because those bad teams have bad ownership and/or management, and there is no cure for repeated poor decision making.
What's more, the entire principle is flawed. Not to get all libertarian on you, but governments have long wanted to have as many citizens as possible enjoy financial security. And I think we can agree that somehow the approach that promises the least to the poor -- capitalism -- is the one that did the most for them. The "you figure it out" of the United States ended up working better than the "let me help you with that" of the communist block.
Getting your act together, being smart, and working really hard is what works wherever you are. The more people who do that the better. How many incentives should be set up to encourage that? Maybe all of them.
That's what works in the real world. There's no special reason to believe sports would be meaningfully different. Handing out draft picks to teams for losing has always been crazy, even if your goal is to help bad teams get good.
Malcolm Gladwell was onto this years ago (and now he has Jeff Van Gundy on board, among many others) in a conversation with Bill Simmons: "No economist in his right mind would ever endorse the football and basketball drafts the way they are structured now. They are a moral hazard in spades. If you give me a lottery pick for being an atrocious GM, where's my incentive not to be an atrocious GM?"
Meanwhile, consider the Rockets. They have dealt with all kinds of injuries to Yao Ming and many others. But have made trade after trade, year after year, just trying to win a few more games, and to get a tiny bit better. They have always been competing and scrapping, and by the looks of things always will be. And do you know what's sad? In the NBA, teams almost never progress from pretty good, like the Rockets and Blazers have been, to excellent. It's the jump we allege every team can make, but it's one of the least likely in sports.
So remember this Camby trade, and watch the Rockets and Blazers from here forward. They're racing to be the first to make it back to the Finals. One of them is trying to win by competing hard every night, the other is trying something that nobody in their right mind would want to watch.
As much as I appreciate the strategy in Portland, as a fan of competition, I wish I could support a league that inspired 30 teams to approach things like Houston.