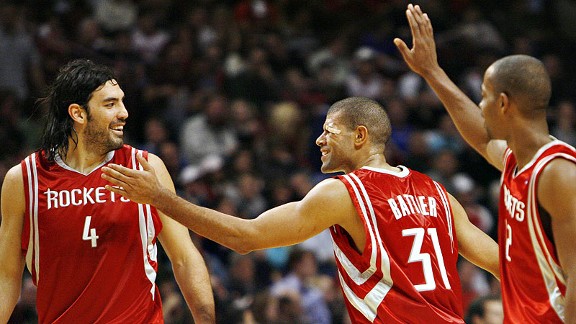 AP Photo/Nam Y. Huh
Shane Battier would OK anti-flopping rules but only if it applies to offensive floppers like Luis Scola.
In our time running the HoopIdea project, we've come up with some compelling ideas to tweak the NBA game for the better. We've received some stellar suggestions and feedback from writers and commenters, but what about, you know, the actual players that play the game?
Well, that's where Shane Battier comes in. Battier spends a lot of time thinking about ways to improve the NBA and the game we all love. At the Heat's practice on Monday, I took him aside to go over some of the ideas that have been published in this here space.
He was receptive to many ideas -- for instance, he gave two thumbs up to Matt Scribbins' idea of encouraging buzzer beaters at the end of quarters. But he wasn't on board with others. He didn't agree with Jeff Van Gundy's idea to raise the number of allowed individual fouls. "To Van Gundy's point that best players play more, fouls also mean that the ball is taken out of bounds more. Fans want to see basketball, not free throws."
Battier also endorses a radical idea that violations in late-game situations shouldn't stop play; once the whistle is called, the violator gives up the ball and the offensive team can automatically start a fast break if it chooses. This, apparently, was used in European leagues in the 1980s, Battier says.
But perhaps the loudest complaint from fans is that the charge should be abolished. For years, people have cried that flopping is ruining the sport. And if there was a HoopIdea pie chart of proposed rules, flop-related penalties would take up all but a sliver of the pie.
This might be a touchy subject for Battier. After all, drawing charges has been, among other things, the bread-and-butter of Battier's NBA life. He's mastered the art of charging to the point where if you close your eyes right now and imagine someone flopp ... err... taking a charge, you're probably envisioning Battier. Battier and charge-taking is so closely linked that his charity (which by the way will hold a big fundraiser, "Battioke" on Mar. 27 in South Beach) is appropriately named Take Charge.
So you might be surprised to find out Battier's stance on anti-flop regulation:
He's all for it.
But there's one key stipulation: offensive floppers would need to be called, too.
Battier joked that offensive flopping is "the silent killer" of the league. Sure, charge-takers might exaggerate the impact of a collision, but offensive players aren't exactly innocent either. In Battier's mind, an anti-flopping measure would need to be implemented on both ends of the floor.
"As long as they have the same penalty against offensive floppers – guys who drive through the lane and throw back their head and flail and cry – then I'd have no problem with it on the defensive end," Battier said.
As a ten-year veteran in the league, Battier has had plenty of teammates over the years who would be whistled under the proposed regulation. For instance, Luis Scola, who played with Battier in Houston for four seasons.
"The more hair you have, the better," Battier said with a laugh. "My boy Luis Scola, he's got that long hair and when it gets sweaty and he starts flopping and flailing, it looks like he's getting murdered out there.
"I love Luis Scola, but he's the most egregious flopper on the offensive end."
Of course, Battier doesn't want to get rid of charges altogether. He just wants to make sure that if flopping rules are in place, it applies to both ends of the floor.
"The charge is a defensive weapon just like a blocked shot," Battier said. "If there's a guy rolling down the lane, he wonders whether I'm going to take the charge or block the shot. So it's a strategic weapon on the defensive end, one of few. Offensive players have way more strategic weapons and one of them is the egregious head flop."
So do you think the league needs some anti-flopping regulations? Are you on board with Battier?
JOIN THE CONVERSATION
You can give us your ideas and talk with us and other fans in the following places:
And for the truly ambitious: Shoot a short video of yourself explaining your HoopIdea, upload it to YouTube and share the link with us on Twitter or Google+.