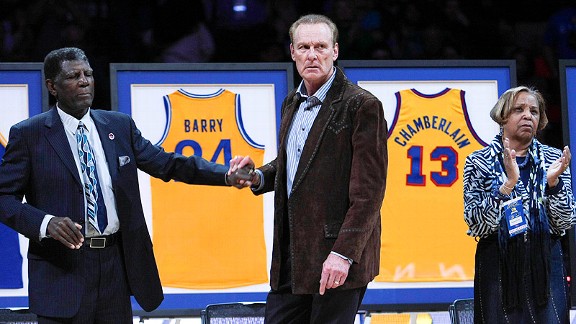 Kelley L Cox/US Presswire
Rick Barry tried to settle an ugly scene in Oakland, but his sharp words only made things worse.
OAKLAND, Calif. -- Many of you saw it on TV. Near the end of Chris Mullin's halftime jersey retirement ceremony, Bay Area broadcasting legend Greg Papa passes the microphone to Warriors owner Joe Lacob. Papa does so with an effusive flourish, shouting, "We saved the best for last!"
They certainly did.
Lacob takes the microphone, and boos immediately crash down on him like tidal waves, pouring from the rafters. The new owner suffers through the din, waits it out. "Tonight, now that we got that over with, is about respect." It wasn't over with.
The waves crash over the owner again, prompting Mullin to rush toward center court to rescue Lacob. All seems defused, but then the ever-unfiltered Rick Barry snatched the metal conch. Barry berates the crowd, instructing it to "Show some class!" Jeers predictably puncture and follow his instructions.
This was an ugly scene.
Pregame, Andrew Bogut laughed affably in the locker room. He was talkative, relaxed in some loose-fitting jeans. Stephen Curry sported a similarly shaded gray suit on the sideline. Their street attire shouted that Golden State's season was basically over. The trade that sent Monta Ellis to Milwaukee before the deadline was a waved white flag.
David Lee admitted as much postgame: "We made a trade that is not gonna help us this year. It's gonna help us next year."
So Warriors fans are grappling with a few finalities. This season is done. Ellis is gone, probably forever. Promises have yet to yield anything but more promises. I personally have no problem with packing it in at this point; it would be illogical to not chase draft-lottery chances. I also was in favor of trading Ellis, although parting with Ekpe Udoh was my only objection.
So if you're the fan who booed Lacob because Ellis is gone or because it appears that the Warriors are tanking, I disagree with your rationale, but I certainly get why you wanted more out of these past two seasons.
I also won't tut-tut you over proper fan decorum. People are passionate in Oakland, and it's going to be visceral and unadulterated or it's not going to be. These are the same people who frightened the 2007 Mavericks, who channeled a supernova of energy at Baron Davis, lifting an imperfect player to an ethereal strata. Oakland cuts both ways.
These same people will also cheer Lacob if he takes a punch, stays public and starts winning. This is why I will not hand-wring over a rich man getting publicly tweaked. If you have respect for Lacob, any respect at all, then you believe he can absorb such criticism without shrinking into a fetal clench.
Don't worry about Mullin, either. His moment may have been tainted, but the fans vociferously expressed their love for a Bay Area favorite. He is worshiped here. He has nothing to prove.
The new guy has so much to prove.