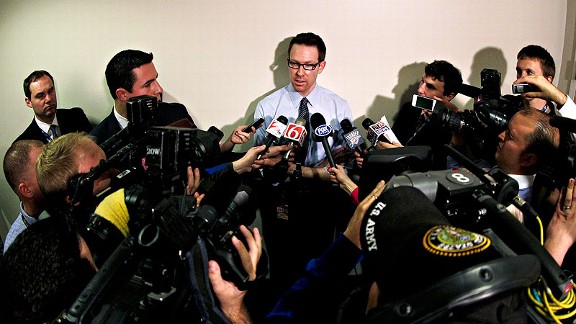 Layne Murdoch/NBAE/Getty Images
Bad NBA teams say they are rebuilding like OKC's Sam Presti, but many lack his talent.
You have stumbled into HoopIdea's biggest project yet: Let's end tanking.
We'll be rolling out different ideas about how to do that over the next few days. But before we get into that, let's make clear what's at stake. Getting this right is of gargantuan importance, and not merely in the name of making a few late-season Nets games more entertaining.
In fact, when I talk about tanking, I'm not even talking about something players, or even coaches, are doing. I've watched the video, and looked at the substitution patterns. It is very tough to come up with strong evidence any players or coaches are doing anything other than trying to win.
For the GMs and owners of about half the teams in the league, however ... everybody knows it's not smart for them to try to win every game. They don't throw games by intentionally missing shots. But they do strip rosters bare of high-priced talent, hoarding cap dollars for another day, and knowing that the inevitable losses that ensue -- the tanking -- will come with some of the most valuable rewards in all of sports.
In other words, in a sport based on the excitement of live competition, they are trying to lose, which attacks the integrity of the game. And by encouraging this, the NBA has essentially brainwashed fans to root for their own teams to lose.
HoopIdea on tanking
"I think NBA fans understand and appreciate the concept of rebuilding," says Joel Litvin, the league's president of basketball operations. "Whether that's done through the draft, through signing free agents, it's a process that is not helped when a team has a lot of highly paid players who are either in the middle or approaching the end of their careers. ... Go young. Lower your payroll. Draft intelligently. Be smart about your free agent signings and your rookie extensions and hope you can become the Thunder."
The thing is that it's very hard to tell the difference between a well-run team that is rebuilding and a team that is horribly run.
This tactic is so commonplace that fans believe that teams are supposed to "get bad to get good." But not only is this a perversion of the sport, it also means that a lot of teams actually "get bad … and stay bad."
Right now superstar-grade players are going into a lottery populated by the worst teams, in a sport where one great player has more impact than in any other team sport and is locked into below-market salaries throughout their careers (because of rookie scale contracts followed by maximum-salary limits).
Meanwhile, teams that win consistently very seldom get players like that, by trade or any other means. Essentially, the best-run teams are penalized while the worst-run teams are rewarded.
Is it any wonder that many front offices aren't sweating losses?
Getting this right is of massive importance because it affects, in ways big and small, the way every front office in the league operates, how bad teams become good and even who makes the big decisions.
The challenge is: How do you motivate 30 teams to be great at what they do? Because right now it's hard to make the case that 30 teams are being as smart as possible.
Fix tanking, and I think you push over a domino that would knock some of the most backward thinking right out of the NBA, giving fans across the league more genuine hope that they might win a title.
While good luck and deep pockets play a role, you win a title by getting a huge percentage of your decisions right. Look at the Thunder's last 20 transactions, and I think we'd agree that they made the good or great calls in at least 17 of them. The same goes for Chicago and San Antonio.
But the teams out there that are not winning year after year ... in most cases they're not just "rebuilding through the lottery." They're also making one dreadful decision after another. That means with the draft, coaching hires, trades and everything else. I assure you GMs in many NBA markets really don't want you to examine the record, because it won't be kind to them. They're already preparing their stories about how everybody has bad luck.
Baseball fans know there is such a thing as batting average, though. Yes, even the best strike out. A miss here or there is part of the game. But striking out almost every time you step to the plate, for years on end ... that's not bad luck. That's bad baseball.
My point is that if you're a fan of a miserable team, the gift of a player delivered from the basketball heavens might be useless without better decision-making, a better long-term strategy, and quite probably a better front office -- from the GM to the owner and everyone in between.
And do you know why you're not getting a new GM? In no small part because even with the old one, if you lose enough, you're still going to get a player straight from the basketball heavens, thanks to the peculiar way sports drafts work.
---
Rewarding bad performance
Imagine you teach English to high school seniors. Your students are applying to colleges. Many of them need all the help they can get, grade-wise, to get through the admissions process with any success.
And you have a lot of flexibility with the grades. Those kids with the 4.0s, they'll be fine no matter what you do. But if you give some of those nice A's to those struggling kids ... well, that might really change their lives. You might get someone into a college they wouldn't otherwise get into. You might get someone into college who was thinking about not going at all. You might help somebody get financial aid.
The merciful thing is to give the best grades to those who need them the most, right?
Wrong, say a choir of economists and more than century of research. If you give the good grades, the best prizes you have to hand out, to the worst students, then you might help a kid here or there, but over time you'd create a messed-up environment that would hurt all kinds of students.
Working hard and being smart would stop paying off, so those kids would normally get the good grades be bewildered and distraught. The students who never cared about your class, didn't read the books and triple-spaced their papers to meet the assigned length would be walking tall, as if they had cracked the code.
And that's where we are in the NBA today. If you could give truth serum to the full front-office staffs of all 30 NBA teams, I think you'd find that just about describes the attitude right now: Who looks smart and dumb has very little to do with who knows how to do their jobs.
---
A fine line between good strategy and mailing it in
In researching this story, I was told about a GM of a struggling team who, as described to me by a source well-positioned to know, showed up for work "less than part time." As in, a few hours a week.
Even after all the stories I've heard through the years, this surprised me.
A little while later I was on the phone with a front-office employee for another team. Without using any names, I told him what I had heard.
Could it be true?
His response: "Was your source somebody at our team?"
Wow. His GM was the same way.
I have since talked to people with two other teams who say their GMs just don't work very much -- that's four such current GMs I've been told about so far this week. None of those teams is likely to make the playoffs either, which means all four of those teams are due to get a sweet player in June for being lousy at their jobs.
---
Losing is good for one thing only
There are lots of reasons to make good trades. There are lots of reasons to acquire and play young players. There are lots of reasons to hoard cap space. There are lots of reasons to do all the things that are a normal part of rebuilding in the NBA.
But losing is part of that script too, and it need not be. Because there's only one reason to lose: To increase the chances of getting a really good draft pick.
---
Anatomy of a long-term loser
If you were making the case that the NBA should extend a helping hand, in the form of high draft picks, to teams in need, the Sacramento Kings would top the list of the most needy. They are nearly league leaders in losses over the last five years. Just as bad, their owners are feeling a serious financial pinch, the team has been at high risk to flee to another town and the badly deflated fan base -- once the rowdiest in the NBA -- could use some good news.
On the other hand, maybe handouts from the league are a big part of what's keeping them down, just as paying for beer is no help for an alcoholic.
Maybe the team is bad not because they haven't been given enough but because they have been given too much.
First, the back story.
The Maloofs (who own the team) and general manager Geoff Petrie have made horrible basketball decisions:
They recently fired castoff coach Paul Westphal, whom they hired after he had made the Pepperdine team worse every year he was there.

They moved one of the league's great value plays -- a rotation player on a rookie deal -- in Omri Casspi for J.J. Hickson, whom they have since waived. The Kings were the team to throw an extra first-round pick into that deal -- and their only hope of keeping that (conditional) first-round pick is to stay bad for six full seasons.

After the Nets used the amnesty clause on the vastly overpaid Travis Outlaw, the Kings saved the Nets $12 million by signing him for that amount off waivers -- and now he has one of the lowest PERs at his position and averages only about 10 minutes a game.

Factor in production, potential, contract and everything else, and many would value Bismack Biyombo, Beno Udrih, Jimmer Fredette and John Salmons in that order. Biyombo is a very young, high-risk/high-reward big man, and Udrih is a middling player with an affordable contract. Fredette has been one of the least effective players in the NBA, while Salmons is both inefficient and terribly overpaid. Last June, however, the Kings essentially moved the two best assets out of those four for the worst two. Within hours, John Hollinger had explained all the ways this was clearly a disaster. All at once, the Kings got less productive, more expensive, older, positioned worse in the draft, and more crowded at the shooting guard position.

This last offseason the team made a big splash in signing noted post defender Chuck Hayes to a bigger deal than the Rockets were willing to match. But the Kings botched the medical exam, publicly backed out of the deal based on the perception of health problems, which led to an awkward and public back-and-forth between the players, independent doctors and the team. By the time it was settled, the team had agreed to add an extra million dollars to Hayes' already ambitious salary. At an age when he should be in in his peak, Hayes has struggled with conditioning and has underperformed expectations in essentially every statistical category.

A few years ago the Nets voided Shareef Abdur-Rahim's contract because of medical concerns about his knee. The Kings then gave Abdur-Rahim a five-year deal worth more than $30 million. Three years into it, Abdur-Rahim retired because of that same knee.

The Kings waived Mikki Moore with a year left on three-year, $18 million deal.

Petrie publicly offered Bonzi Wells a multi-year deal worth more than $30 million in the summer of 2006. Had Wells accepted it, he would only have recently come off the Kings' payroll, even though he played his last NBA game in May 2008.

As a recent All-Star and first-team all-NBA defender, Gerald Wallace has earned greater honors than any current Kings. And he would be a current King, if Petrie hadn't left him unprotected in the 2004 expansion draft. Wallace could barely get off the bench in Sacramento, but given playing time was instantly the Bobcats' best player.

A team that has struggled to find a coach is also a team that fired both (now Timberwolves head coach) Rick Adelman and (now Thunder head coach, a former Kings assistant) Scott Brooks.

The Sixers are very pleased with young big man Spencer Hawes, whom they got in a trade that got the Kings nothing that has proved to matter.
This is just the short list. Because of these mistakes and others like them -- the kinds of mistakes that teams that the best teams in the NBA seem to be able to avoid for years on end -- in a few months the Kings will make their sixth lottery pick in a row. And yet despite the hope that has come with each of those draft days, the team is still nobody's pick to make the playoffs anytime soon.
Those lottery picks have become Spencer Hawes (since given to the 76ers), Jason Thompson, Tyreke Evans, DeMarcus Cousins and Jimmer Fredette. Mostly solid enough. Yet all kinds of teams have come out of those drafts with better results, even when their draft picks didn't always work out. And the list of highly rated prospects the Kings passed on, and could have now, includes Thaddeus Young, Roy Hibbert, Stephen Curry, Greg Monroe and Brandon Knight.
Every team misses. That's understood. Talent evaluation makes weather predicting look easy. It is unfair to compare a team to what a perfect team would have done, because no team is perfect.
But even an average team is due to have some "home run" transactions now and again, and here is where the Kings have come up empty.
Of course, it's not just the Kings, either. The Timberwolves, Clippers, Bobcats and Wizards, for example -- the teams that are the reason the lottery exists -- have all whiffed systematically, and too often on draft day, as Tom Haberstroh demonstrated powerfully. Not drafting well drives a lot of the NBA's losing.
Rod Thorn, for instance, now with the 76ers, has long been seen as elder statesman of GMs and a visionary, but in his decades in the league his teams have a combined winning percentage well below .500, and well below average for current GMs. His record was helped not at all by first-round picks wasted on the likes of Zoran Planinic, Eddie Gill (by draft day trade), Antoine Wright, Marcus Williams, Josh Boone (the latter two drafted directly before Kyle Lowry), Sean Williams and Terrence Williams. Kyle Korver plays key minutes for the Bulls, the team with the best record in the league. Thorn once traded him away for nothing but cash. He has whiffed on a string of big men, spending dollars and roster spots on Shawne Williams, Jamaal Magloire, Mikki Moore, an aging Cliff Robinson, Mile Ilic and the like.
The Bobcats are a similar story. Before Rich Cho took over nearly a year ago, and initiated a new approach, the team's more notable deals included trading Tyson Chandler -- a one-man team defensive upgrade for the champion Mavericks a year ago, and the Knicks this year -- for Erick Dampier. Or how about trading three useful assets (Jason Richardson, Jared Dudley and a draft pick) to Phoenix for were-never-really-good-again Raja Bell, Sean Singletary and Boris Diaw? Among the most disappointing players in recent years, a bunch of them have done some of their disappointing in Bobcats uniforms: Adam Morrison, Darius Miles, Javaris Crittenton, Kwame Brown, Sherron Collins, Larry Hughes, Alexis Ajinca, Ryan Hollins, Corey Maggette ...
---
Good management would crush a fair fight
Sam Presti turned around the Thunder after just two miserable seasons and four lottery picks. How can it be that teams like the Kings are still miserable after five? Luck is part of it, but the bigger story is Kings management making one bad decision after another.
The point is that the teams that are really in need of help in the NBA, are, more than anything, in need of better decision making.
In a fair fight, GM vs. GM, surely Petrie, Thorn and the like wouldn't stand a chance against the likes of the Spurs R.C. Buford and the Thunder's Presti.
In a world where GMs like Buford and the Presti exist, then, what owner in his right mind would employ a GM like Thorn or Petrie, each of whom has such a poor rate of making good transactions?
Because the playing field is balanced against the more intelligent, professionally run teams. Meanwhile, Petrie and Thorn are gifted some of the most valuable assets in sports almost every year, which muddies the waters more than a little.
Without the prospect of high picks, however, surely owners around the league would replace incompetent GMs with executives who knew about building culture, developing players, identifying talent, negotiating good value from contracts and trades and the like. Expecting any team to contend without that kind of management is asking too much of luck. Winning in the NBA is like winning in anything. A well executed long-term strategy creates the most predictable success, even in a game with trump cards. If you're a fan of a team that makes several bad decisions a year, you probably can't luck into players good enough to overcome the the missteps of a chronically underperforming front office.
---
Running an NBA team shouldn't be just a game of chance
There is a book on how to play blackjack. People know this, by and large. You never split 10s and always split aces and always hit 11 or under. Casinos assume players follow the basic rules -- if you do, the house maintains a very slender advantage, which is a win for players compared to all the other games.
Once you're playing by the book, however, and assuming you can't count cards, your job as a player becomes dead simple: Watch the cards the dealer flips up, follow the playbook and see if you win. If you do win, you pump your fists in the air, start bragging and blow your winnings. If you lose, well ... that's the breaks. It's a game of chance.
I put it to you that this is how most NBA GMs operate. They start each season hoping to get good cards. Just maybe, like the Timberwolves or Sixers this season, the dealer will serve up wins. If not, well, the house usually wins and what can you do? The fallback plan is the draft.
Meanwhile, the best GMs in the league are, by comparison, counting cards. There are several teams that "win" the vast majority of their transactions.
In a world where there are people who can count cards, why would anyone send a regular old by-the-book player into the fray?
---
Acting like a bad team
Here's where tanking gets really crazy: When teams with really smart front offices are forced to mimic teams with really bad front offices.
"The process of rebuilding is extremely rough on everyone," says Raptors GM Bryan Colangelo, "and unfortunately made worse by the reality that the whole system is counterintuitive. Strangely, losing may help you eventually win. But players, coaches and management are all in this place trained as competitors. How in the world do you tell a player or coach to go out there and lay down? The answer is you don't. But I continually stress that even in defeat we must win in other ways with the intent of moving the dial forward."
In other words, build with talent, build with coaching, build with culture and build with the long-term benefits of losing.
Or take this year's worst team, the Bobcats, now run by Cho, who is well-regarded. What's plaguing the Bobcats is a history of mistakes, but also the reality that the front office -- Michael Jordan, Rod Higgins, Cho and company -- is not doing all it can to win right now. If there are cheap free agents they could add to make this team better, they have not added them. If there are better coaches available, now would not be the time to hire them.
Cho says he made something like that a condition of his joining the team. "They called me the day after I got let go by Portland," he recalls of the Bobcats. Cho had three years left on his Portland contract, and had that finest of luxuries -- he simply didn't have to work. "I had thought about taking some time off, or teaching at a high school," he told me on a recent episode of TrueHoop TV. "I thought about maybe coaching high school tennis, which I've wanted to do for a long time."
But he flew to Charlotte for a conversation that came down to a key moment, when Cho asked if the Bobcats really wanted to win. As in, did they want to win so badly that they'd be willing to follow in the footsteps of Cho's former employer, the Thunder, who won 20 games one season, and then 23 the next, in the process of amassing the core of their current team?
In other words, Cho was asking, were they willing to lose? "Are you willing," Cho remembers asking, "to take a step back to take two steps forward?"
Cho says the room answered, unanimously, "yes." A few months later, that team is 7-40.
Cho explains how the Thunder did it. When they had cap room, they didn't use it. Massive losing streaks helped too. The team's point guard of the future (Russell Westbrook) learned on the job while leading the league in turnovers.
There is no suggestion that any of the players or coaches didn't try their hardest. But the fact is the front office trotted out a young, cheap and, frankly, bad team for a good long time. Intentionally. During those same years they could have been, with a different strategy, far more competitive. But if they had done that, they'd never be leading the Western Conference right now, because they wouldn't have gotten the good players that came with the good picks that came from losing.
---
HoopIdea: Evidence-based incentives
I asked the NBA's Litvin what he makes of economists who insist the league would have more teams making better decisions if the best incentives were not handed to the bad teams.
His reply: Sports are not bound by the usual logic of economics.
"What you continue to characterize as giving prizes for coming in last, I continue to characterize as help for the teams that are the weakest," he explains. "If an economist has a hard time with that, it may be because this is a business that thrives on competitive balance and the goal is not to compete each other out of existence. That's not how sports leagues operate. They operate on the basis of the best possible competition on the floor or the field."
Meanwhile, there is strong evidence some teams are chronically making bad decisions, the role model franchise is one that barely competed for years and the NBA's own economist pointed out during the lockout that the league has perhaps the worst competitive balance in sports (the opposite of what the league is claiming its system creates).
And the big prize driving all that is something handed out by the NBA.
In other words, what's happening is exactly what economists say would happen if you had the incentives all messed up. Could this really be the smartest way to do things?