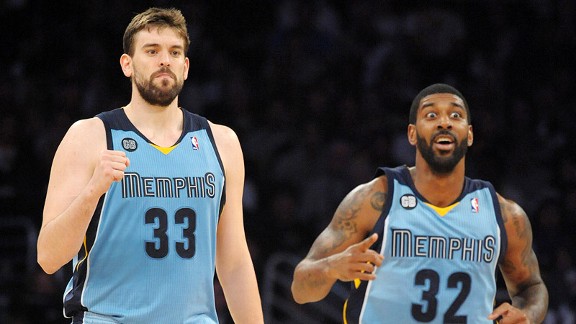 Kirby Lee-US PRESSWIRE
Marc Gasol and O.J. Mayo of Memphis could end up leaving foes with a surprised look.
LOS ANGELES -- The Memphis Grizzlies' 102-96 victory over the Los Angeles Lakers Sunday night was Memphis' first in 11 tries against the top four teams in the Western Conference. The Grizzlies are average or below in most NBA statistical category rankings. And yet ... nobody wants to see them in the playoffs.
They dumped the top-seeded Spurs from the playoffs last year and took the Thunder to seven games in the second round. And that was without Rudy Gay. They've scuffled to a 26-21 record this season with Zach Randolph available for only 10 games, and just getting back into shape after his recent return from a knee injury. They have one month and 19 games to things right ... which means other teams have that amount of time to worry about facing them in the first round.
"They're very versatile," said Kobe Bryant after the Grizzlies' Tony Allen made him work hard just to get 18 points. "They have great size, great speed. And they're good passers. Their bigs are extremely good passers."
Interior passing might be the only pretty part of Memphis' game. Usually they get down and dirty. They only crack the top 10 in the league when it comes to steals (first) and offensive rebounds (ninth).
What's so impressive is that they all buy into that approach. You hear the same talking points in every corner of the locker room. What's so unusual is that they take their cue from a role player. All of the attributes of this team – scrappy, play hard, etc. – can be used to describe Allen.
"When I came here, I tried to let the guys know it was going to take that type of effort to win ballgames," Allen said. "Me being under the Celtics, Paul Pierce and Ray Allen and Kevin Garnett, watching how they did it and actually getting a chance to be in that atmosphere, I took all that learning experience and brought it here. And guys listened, bought in and we did great last year and are trying to do something special this year. We're just hanging our hats on it."
Gotta have stars in the playoffs, though. Randolph is still playing his way back into shape. He wants to lose 10-15 pounds. The Grizzlies have taken to bringing him off the bench while he works on his conditioning, a move he gave an unenthusiastic, "it's OK." But the Grizzlies need to get him as much time as possible with Gay just to see how it works.
"I think everybody wants to see how we're going to play together," Gay said.
We know Rudolph gives them a formidable inside presence; he helped the Grizzlies to a 52-36 advantage over the Lakers in points in the paint Sunday. We know he can rebound (12 in 27 minutes Sunday night.)
And we can expect more consistency from a team that is so dependent on energy during the playoffs, when the schedule gives you a chance to breathe between games.
"Recently we got stagnant and were standing around and watching everybody," said Lionel Hollins, who's doing a heck of a job coaching this team. "We added Zach to the mix, we picked up Gilbert Arenas and I think everybody thought, 'I don't have to do as much anymore.' But the reality is that we have to play with the same effort and same energy and everybody has to contribute on the same high level in order for us to be successful."
The thing is, they know what makes them successful. It sounds simple, but not every team has figured it out.
"We've got good inside play, we've got good guard play," said O.J. Mayo, who had 16 points off the bench. "We've got a lot of tough guys. A lot of big-time competitors. We haven't been 100 percent. It's been kind of hard to put it together. Once we do ... I see lot of great things."