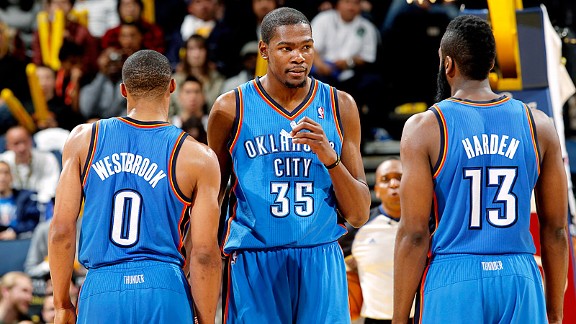 Rocky Widner/NBAE/Getty Images
Trips to the lottery seldom end this well.
Kevin Durant. Russell Westbrook. James Harden. Serge Ibaka.
You know the story: The four players who score the most points and play the most minutes for the Oklahoma City Thunder are all 23 or younger. They cost a combined $26 million to employ, or about the same as one Kobe Bryant. These four are driving the Western Conference-leading Oklahoma City Thunder (37-12), and just Sunday night they obliterated LeBron James, Dwyane Wade and the vaunted Miami Heat.
They are the toast of the NBA and the envy of nearly the entire league. Who wouldn't want a team like the Thunder in their city?
But when it comes to tanking and the draft, the question isn't whether the Thunder are a success. It's whether the Thunder are the model for success.
HoopIdea on tanking
An Oklahoma City on a Hill
Let's quickly recap the Thunder's meteoric rise.
It starts, of course, with a chilling plunge. Seattle/OKC wasn't first team to tank in order to secure a top draft pick, but it was one of the few playoff teams to do so. In 2005, two years before drafting Durant, the SuperSonics were the third seed in the West. They won 52 games and a playoff series.
But it rapidly became apparent that the 2005 team might have overachieved, and the franchise decided it needed to go back to the drawing board.
After ditching productive (and expensive) players in record time, the 2007-08 Sonics found themselves with tons of cap space, draft picks and losses.
And Kevin Durant.
Three seasons later, the Thunder returned to the success they had last seen in 2005 (in Seattle), snagging the fourth seed and winning two playoff series. This year, they are the favorite to represent the West in the NBA Finals.
Not bad, huh?
From here, it all looks worth it. But current Bobcats GM Rich Cho was in the Thunder front office during the rebuilding process, and looks back on it like a victorious war veteran who survived to tell the story and can't quite believe it's all true.
"People forget in 2007, when we drafted Kevin Durant and Jeff Green, we went 20-62," says Cho.
And it didn't get better right away.
"We had losing streaks of 14 games, 11 games, and eight games," remembers Cho. "We go back into the lottery [and] draft Russell Westbrook. We start out the season 3-29. We had another 14-game losing streak."
3-29! Somehow the Thunder brass kept the faith even when on pace for the worst season in NBA history, though they did fire coach P.J. Carlesimo. Cho learned lessons, and he tells the story of the Thunder's rebuild as a cautionary tale: rebuilding through the draft is not for the faint of heart.
"You have to realize it's a process, and it wasn't easy," says Cho. "Russell Westbrook lead the league in turnovers that year but he got a lot of playing time. We go back in the lottery. That year we draft James Harden and after that we won 50 games."
Sure the Thunder had gotten a bit lucky, but in so quickly creating a winner, it also appeared that they had figured out how to exploit the NBA system.
All hail the Thunder model!
It's hard to sell an ownership group and fans thirsty for a winner on that first part -- the part about enduring multiple abysmal seasons. But if you can guarantee that the second part -- the fun, up-and-coming team full of young, athletic and talented players -- people will happily buy in to losing.
The idea that has spread is to do what the Thunder did. Reboot. Strategically become bad to have the chance to become really, really good. The Bobcats are an example of just such a team -- it hired someone from the Thunder front office, Cho, and is selling its fan base on "the Thunder model."
It's easy. All you have to do is hit home runs on three top-five lottery picks (Durant, Westbrook, Harden), get an absolute steal in the middle of the first round (Ibaka) and hope all four players exceed the expectations of the basketball world, get along well and become active, well-loved members in their community. And it only takes six years.
Livin' on a prayer
Here's my list of top five picks that have become surefire franchise players (and the spot at which each was taken) in the last 10 years:
Yao Ming (2002, No. 1), LeBron James (2003, No. 1), Dwyane Wade (2003, No. 5), Dwight Howard (2004, No. 1), Deron Williams (2005, No. 3), Chris Paul (2005, No. 4), LaMarcus Aldridge (2006, No. 2), Kevin Durant (2007, No. 2), Derrick Rose (2008, No. 1), Russell Westbrook (2008, No. 4), Kevin Love (2008, No. 5), Blake Griffin (2009, No. 1) and Kyrie Irving (2011, No. 1).
That's 13 players in 10 drafts. If your team drafted in the top five, you had a one-in-four chance of snagging one of the future All-NBA candidates on the list above. That means most top-five draft choices cannot turn around their teams. Drafting in the top five, a team is more likely to end up with Raymond Felton, or if you're lucky, Mike Conley, than Chris Paul. Still, teams are willing to make that long-shot bid, because any chance at all to get the next Dwight Howard is a chance worth tanking … err, taking.
What I'm suggesting is that the current lottery system does not help struggling teams nearly as much as one might think. It's a collection of life preservers thrown a struggling group of franchises, but only one in four actually float. Thrashing about in the deep blue sea of futility to get that kind of odds of finding a great player hardly seems worth it.
Meanwhile, losing enough games to end up in the high lottery takes a serious toll on franchises and fan bases -- where the hope of finding a franchise savior in the lottery is sometimes the only thing that makes a team worth caring about. But relying on that kind of deus ex machina solution also breeds bad organizational habits and cultures of losing. Not every group of 21-year-old players, or any group of players, really, should be expected to go from starting a season 3-29 to finishing 52-30 the next.
The Thunder and Chicago Bulls are examples of teams that grabbed superb talents at the top of the draft but also made dozens of smart decisions up and down the organization -- like hiring Tom Thibodeau in Chicago and finding a creative, cap-friendly way to extend Nick Collison in Oklahoma City.
Getting lucky for three straight years in the draft is only a part of the Thunder story. The reality is teams that draft in the lottery for six straight years are more likely to resemble the Kings than become the Thunder. To a perpetually bad franchise pursuing "the Thunder model," my advice is the same as it would be for someone hunting a unicorn: good luck, and don't be upset if all you find are horses.