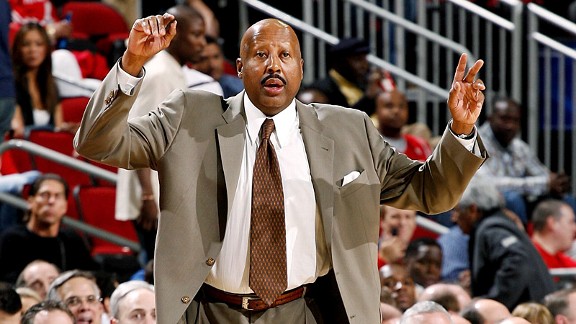 Bill Baptist/NBAE/Getty Images
Mike Woodson's eyebrows are back now, but they went on mysterious hiatus in early 2010.
It was a fun little footnote in January 2010, in Michael Cunningmam's Atlanta Journal-Constitution blog entry on a Hawks win over the Rockets:
– Woody showed up in the locker room before the game with his eyebrows shaved off. His players fell out clowning him but he kept a straight face and ignored them when they kept asking him what happened.

– "Nobody knows," Jamal Crawford said. "You should get to the bottom of it and let me know."

– "He claimed his barber did it on accident," Smoove said.

– Woody still wasn't talking after the victory: "They got me doing all kinds of crazy stuff. There is no story. It's just a win."

– Smoove pasted some Velcro strips in the form of eyebrows on Woody's head, and the coach came out for the pregame meeting looking redonkulous.
One of those "kind of funny" NBA stories that pops up now and again. I love all that stuff. Whatever happened likely doesn't matter. But it sure does make you curious, doesn't it? Something happened.
And the thing is that the NBA is miserable at keeping secrets. It's a lock that over time lots of people would know the truth, if they cared to find it.
Only, it sure looks like Howard Beck asked the right people the right questions, for a nice New York Times profile of Woodson. And you know what Beck found? The eyebrow thing is somehow still unexplained:
In January 2010, Hawks players and staff members dubbed their coach Mr. Potato Head, after Woodson's eyebrows mysteriously disappeared. (The phenomenon has never been explained; some speculate that Woodson, an avid cigar smoker, might have accidentally burned them off.) Woodson laughed along with his players.
So, I guess the story is that the NBA is terrible at keeping secrets ... except this one.
UPDATE: Michael Cunningham has the answer. Click that link if you hate mysteries.