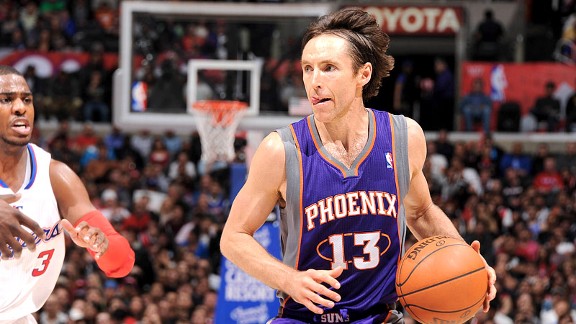 Andrew D. Bernstein/NBAE/Getty Images
Even those inside the NBA have trouble putting into words what makes Steve Nash ... Steve Nash.
Dr. Oliver Eslinger, head mens' basketball coach at Caltech, has a thing for point guards. So he paid a visit to Staples Center this week to see Steve Nash ply his trade against the Clippers.
It's March 28 and I'm sitting next to Suns assistant Bill Cartwright on an otherwise empty Phoenix bench as fans fill Staples Center for a Suns-Clippers showdown.
We're watching Steve Nash's regular shooting warm-up: Elbow jumpers, 3-pointers from the corners and midrange shots from the top of the key. He rehearses a few hesitations and floaters, then ends with free throws. He's focused, settling into his form, priming. Enjoying it.
Just two weeks ago, I watched him go through the same routine. Alongside broadcaster Mike Smith, I asked: To you, what makes Nash so great? "Just look at him," Smith said. "Look at what he's doing," referring to his form and work ethic.
Tonight, I pose the same question to Cartwright.
"I can't tell you that," he replies.
I furrow a brow and Cartwright senses my bewilderment.
"No, I actually can't tell you," Cartwright continues, "That's what makes him so special."
Could it be that easy of an out? It's not even worth exploring because Nash is such an anomaly that no matter what coaches teach or how hard players work, his greatness is inexplicable, impossible to replicate?
Seeking more details, I prod Cartwright. He pauses, then says: "Nobody else can do what he does."
I'm talking a to a man who won three championships with Michael Jordan, but he insists nobody else can do what Nash does.
---
Nash very much defines
and
defies what basketball is about: Balance and imbalance. The former suggests his versatility as an athlete and his ability to mesh creativity with structure.
The latter -- imbalance -- leads to his instincts, playmaking and sometimes traditionally improper techniques.
If a kid were to attend basketball camp and learn the game's fundamentals, much of Nash's repertoire would be omitted: Wraparound passes? Behind the back feeds in traffic? Contested off-balance runners? Sitting on the dribble?
Fellow Canadian Doug Eberhardt has followed Nash's development for decades. In 1991, Eberhardt's brother Paul coached Nash on the British Columbia Under 17s, a traveling squad the equivalent of an elite AAU team. Eberhardt, who studied the game with Mike D'Antoni and spends time as an analyst and high school coach, says Nash's physical skills are immediately apparent, but it's his court vision and attitude that distinguish his game.
"The way he can use space, and more importantly, imagine space, is what makes him such an amazing player," Eberhardt said via e-mail. "He makes passes no one else would attempt … Combine that with his constant positivity, affection for his teammates and love of the 'process,' to me that is what sets him apart."
Nash makes his teammates cut and catch up to his action. He controls everything, like a quarterback who knows exactly which receivers are going to be open and when. Yet under duress, he has the skills to create a spontaneous response, reverting to his balancing act.
38-years young, Nash is a 2-time league MVP and one of only two players to enter the 50-40-90 club twice (FGs-3s-FTs). He is on pace to be the only one in history to earn a career 50-40-90, a record that will solidify him as the best shooter in hoops lore.
It's his passion to play, however, that is at the heart of it all. Whereas most players stroll out to the court for pre-game shooting, I witness Nash run.
---
On this night, he and his Suns are in need of a win against the Clippers. As always, Nash is at the forefront of the Suns venture. He didn't play in the last meeting against L.A., a game in which Phoenix dismantled the Clips and disheartened Clipper Nation, but tonight he'll be doing his thing, albeit not as eye-popping as it has been in the past. He has tightness in his back, an annoyance he felt the night before in San Antonio and it's a nuisance. The few shot attempts he hoists during the game are short and flat. There are no patented runners or fade away attempts to be had. But he knows his team needs him as it makes a final push for a playoff berth.
As the game opens, Nash's presence is powerful even in the absence of an individual scoring spree. He is picking apart the Clippers defense. They can't prevent his passes or stop Nash's beneficiaries from scoring. He has nine assists in the first half alone, six of those coming in the first seven minutes of the game. He may as well be toying on the playground with a bunch of raw high school players. He tallies four more in the third quarter and finishes with 15, one of the highest assist totals in history without a made field goal.
Great players believe they can be effective even when not playing at full strength, and though the night didn't end the way Nash envisioned, his essence is encapsulated in a single moment. It's subtle, perhaps unnoticeable to the average fan, but something so revealing, so vital, and so invigorating about who Nash is as a player and teammate.
With 5:04 remaining in the the third quarter, the score knotted at 58-58, he misses an open 3-pointer. A foul called on the rebound forces a stoppage in play. Many players, at a pivotal point in an important contest such as this, put their head down, slap their hands in frustration, and exhibit negative body language.
Nash does no such thing. Instead, he points to the teammate who kicked out the feed.
"Hey, nice pass," Nash says.
Nash high-fives him on his approach, then turns his head to another teammate and restates: Nice pass. He high-fives another teammate. In a matter of seconds, all four on the floor are fused around Nash, as if he is holding handfuls of food for starving felines. Nash's teammates are chowing on his optimism.
The next possession, the Suns are back on the defensive end. A deflection forces another break in play and, in the few seconds the players have to rest, Nash goes to work. His head never goes down. He analyzes data on the scoreboard, surveys locations of teammates, and motions for a huddle. Feeding time continues.
In this instance, Nash bestows upon his teammates something he has been doing for decades: embracing the moment, enhancing unity, and preparing for the next play. Having done this for so long, he may not even realize the impact it has. It's now the norm, just as his shooting routine.
"I just try to lead by example," he said after the game. "Hopefully [younger guys] see my work habits … that I enjoy to play and want to be a good teammate … and they'll find something worth emulating."
He finished the game with one point, the singlet coming on a technical free throw.
"I only got a few shots up tonight," Nash said. "And thankfully, because [they weren't] going in.
There lies balance in his post-game remarks, signifying awareness and humility.
"I just tried to do whatever I could to help the team," Nash said. "Maybe I should have let someone else play but I still thought I could contribute."
---
There is a purity to Nash's vibe; it's self-motivating and contagious. Nash's mystique permeates because he is small for NBA standards, doesn't jump out of the gym, wasn't offered dozens of college scholarships and grew up where basketball wasn't the first choice sport.
Perhaps the most profound aspect of Nash's NBA evolution is its progressive nature. Eberhardt reminds us that the Nash many idolize today didn't take full form until D'Antoni took over in Phoenix, when Nash was already 30. With the keys to D'Antoni's system, Nash was able to enhance his game beyond anyone's expectations.
The system plays an important role; it provides a platform to perform.
"He couldn't do this just anywhere," Cartwright reiterated. "He needs the ball in his hands … He shoots a lot of shots."
And he makes a lot of those shots.
A detailed analysis demonstrates Nash's greatness; he has figured out how to maximize his strengths and collaborate with others in unprecedented ways.
And there's also this:
"I still love to play."
Follow Oliver Eslinger on Twitter: @docsheadgames