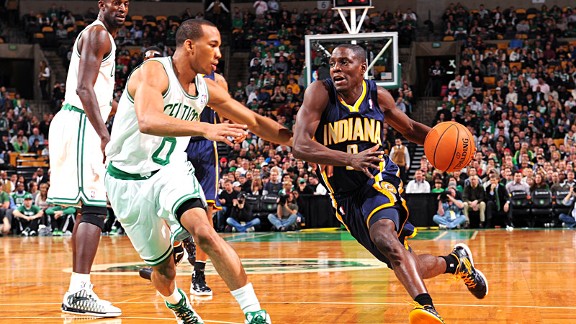 Brian Babineau/NBAE/Getty Images
The Celtics' defense is better now with Avery Bradley than it has been in a long time.
John Hollinger (Insider) has been messing around with the NBA's new advanced stats tool, and has noticed that Boston's defense over the last 15 games has been just about the best defense of the Kevin Garnett era, all things considered.
Many tweaks have led to this. One of the keys, though, has been starting Avery Bradley:
Add a heavy dose of Bradley to the mix, and the result has been that an already excellent defense has become an absolutely terrifying one. In this nine-game stretch, the Celtics have allowed 79 points or fewer five times, and the only teams to beat them are Chicago and San Antonio.

The lineup data supports the idea that Boston has found itself a defensive lineup for the ages. Check out the carnage on NBA.com's advanced stats tool: When Bradley and Garnett play together, Boston gives up 88.8 points per 100 possessions, allows 38.8 percent shooting and forces nearly one turnover for every assist. This is scary stuff, and it's not one of those small-minute flukes, either -- they've played 658 minutes together.

You think that's impressive? How's this: When Rondo and Bradley play together, opponents average 82.2 points per 100 possessions.

That's nearly 20 points below the league average. It's in 271 minutes, so it's not as robust a sample as the data with Garnett, but good heavens. The Celtics barely need to bother with an offense if the D is going to provide this kind of domination.
In an oddity, I was standing right there next to agent Dan Fegan when, on draft day, he called Danny Ainge to pitch Bradley. At the time, Bradley was sold as being in the mold of Russell Westbrook or Jrue Holiday, but he's emerging to be something altogether different -- and super valuable.