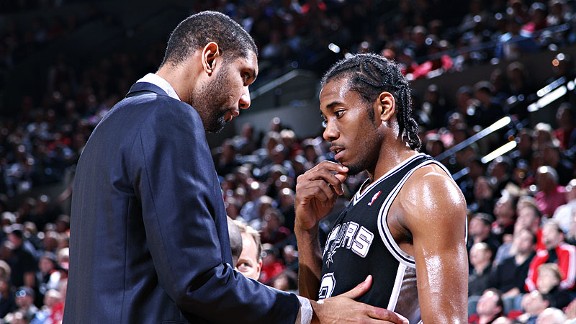 Sam Forencich/NBAE/Getty Images
Kawhi Leonard has improved in measurable ways since joining the Spurs.
The rap on Kawhi Leonard coming out of college was that the kid could play, but he sure couldn't shoot. Leonard projected to be a great rebounder and defender for his position and at just 29 percent from the college 3-point line, he projected to be a project on the offensive end.
Look at him now. Starting for the second best team in the West, playing 25 minutes a night and shooting 37 percent from the behind the NBA 3-point line. Every single measurement of shooting has improved.
This is a minor miracle for a rookie, but it's business as usual for the San Antonio Spurs, a team with an impressive track record of finding and developing talent. On the NBA Today podcast, ESPN's David Thorpe (who ranks Leonard fourth in his Rookie Rankings) argued that this is no accident. Players like Leonard are special but need plenty of support from the organization that drafts them to reach their potential.
Here's Thorpe:
What I've always contended and one of my missions is to get away from the idea that these players are a set commodity and to recognize that there's a huge variable on each one of their values based on so many factors. And if you really build the right environment, you increase the likelihood that individual players will reach their potential.

And the franchises that don't do that and in some cases create the opposite effect, which would be a negative, poisonous culture, then that same player not only is not going to be able to reach his potential, but his potential is going to be dragged down beyond even what it would be in a neutral setting.
In the Spurs, Leonard has found the perfect home. His development from the start of the season -- when he looked lost and out of place within in the Spurs' concepts of spacing and movement -- has been tremendous. His technique on his jumpshot has improved, which is a testament to his own hard work. In addition, the Spurs have done a marvelous job of putting him in a position to succeed. In the Spurs league-leading offense, that spot is in the corner, where Leonard is making an even 50 percent of his attempts this year.
The Spurs traded for Leonard on draft night after he fell to the Pacers at 15. Would he be this effective on another team? The NBA draft is the time for a player to change a franchise. But maybe we should consider that more often than not, it works the other way around.