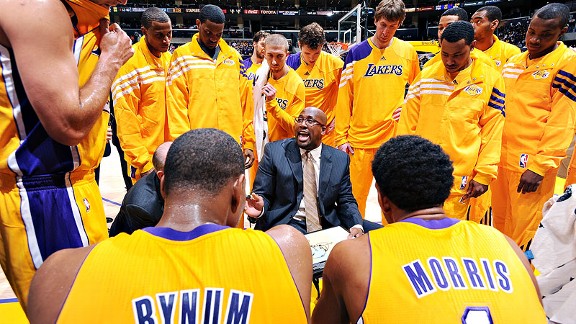 Andrew D. Bernstein/NBAE/Getty Images
The last four years he has coached, Mike Brown's teams have led the league.
Basketball geekery has delved into crunch time in various ways.
First there was individual field goal percentage. That's where we learned that the players we thought owned crunch time (for instance Kobe Bryant and Chauncey Billups) actually miss a lot.

A year ago, we added something new, looking at team offenses. That's a more important measure, assuming you value wins more than highlights. Who cares who gets the bucket, so long as they're on your team? That's where we learned that most teams were about the same, with some exceptions, including Chris Paul's Hornets, which were amazing.
But all that is only part of the picture. Because as much as we love clutch buckets, clutch wins also have a ton to do with defense. If you're going to point to any team as elite in the clutch, that must be included, and now it is.
As John Hollinger has explained, a lot of what teams do in crunch time is likely random. Looking at tiny parts of games creates some wacky results without a lot of predictive value ... anyone who says they know a team will do well in crunch time is likely fibbing. All teams do both well and poorly at different times. But defense may be a bit of an exception. Teams do seem to play defense with a certain consistency late in games.
Using NBA.com data from the last five years (current as of today), from games within five points in the final five minutes of the fourth quarter or overtime, Trevor Ebaugh of ESPN Stats & Info. dug in and created this pretty Tableau table:
Powered by Tableau
Some of what we noticed:
The Cavaliers of LeBron James and Mike Brown were unreal in crunch time, leading the league by a hefty margin for three straight years, with the best performances of any teams in the record. It's easy to see that LeBron James matters here -- once he left for Miami the Cavaliers' plus/minus plummeted. The Cavs averaged plus-113 with James during those three seasons, and plus one in the two seasons since. Meanwhile, before James, the Heat weren't good in crunch time, but have since become very solid.

Mike Brown emerges as an interesting character in crunch time. With James in Cleveland three straight years, and now in Los Angeles after a year off, his teams led the league by this metric every year he has coached in the last half-decade. In this period, neither team has been as good with other coaches, either.

The Lakers have by far the best crunch time plus/minus this season (plus-79, the Pacers are second at plus-65). Pau Gasol (plus-78) has been their biggest individual star, followed closely by Andrew Bynum (plus-74). Kobe Bryant ranks third at plus-58. The Lakers achieved this number with the NBA's second-best clutch offense (behind the Magic) and the eighth-best defense.

Three teams have shone for five straight years: The Lakers, Celtics and Magic. The Nuggets are flirting with joining that club, too.

Superstars matter. Or, at least some do. LeBron James, Derrick Rose, Dirk Nowitzki, Kobe Bryant and Chris Paul almost always end the season positive in this regard -- the only exceptions are Paul and Nowitzki this year, which could still change. Other big names, like Kevin Durant, Tim Duncan, Carmelo Anthony and Dwyane Wade have had more mixed results.

Good teams in general do well in crunch time. The top six teams in crunch time plus/minus this season have already locked up playoff spots, for instance (Lakers, Pacers, Hawks, Magic, Spurs and Bulls). But it's hardly a perfect correlation. In fact, surely a lot of what we're seeing in this chart appears to be simple randomness. The Pacers, terrible for a long time, are suddenly leaders. The Kings are excellent crunch time defenders this season. The Hawks are a solid team that is way better than solid late in games. And plenty of good teams -- the Sixers, the Knicks -- are pretty bad with the game on the line.

Over the past half-decade, just two teams, the Knicks and Timberwolves, haven't had a single season in positive territory.

The top ten late-game offensive teams this season are the Magic, Lakers, Grizzlies, Bulls, Hawks, Pacers, Rockets, Thunder, Spurs and Knicks.

The Pacers are by far this season's best defensive team late in close games. They are followed by the Hawks, Kings (!), Spurs, Heat, Magic, Bulls, Lakers, Thunder and Clippers.

The Dallas Mavericks have been very good for the last five years, but also have had the biggest drop-off in crunch time performance, from a league-leading plus-117 last season to an anemic minus-16 this season.

The Hawks have been good in crunch time for four straight years.

The Spurs and Thunder have been up and down.

The Houston Rockets (plus-31) and Memphis Grizzlies (plus-28) are the best crunch time teams this season that have yet to lock up a playoff spot. The Los Angeles Clippers (minus-9) are the only playoff team with a negative clutch plus/minus.
Mostly, this feels like it's the tip of the iceberg. There's a lot more to learn about all this, and one of the big questions on the horizon is something Bill James has wrestled with in baseball for quite some time: Is there such a thing as clutch time performers? Are there really players or teams who do better with the game on the line?
That's still not something we know. What we do know is that a lot of what we thought we knew was wrong.