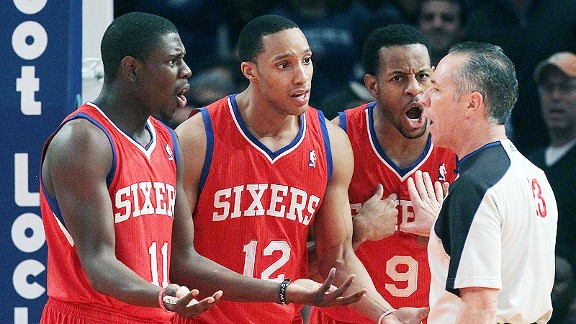 Jim McIsaac/NBAE/Getty Images
Don't like the call? The NBA is now doing more to explain its officiating.
Kevin Durant scampered down the left side of the lane with the ball, and almost certainly the game, in his hands. He released a layup which would drive all kinds of people, certainly Blazer fans and the league office in New York, a bit nuts.
Before Durant could lay it in, Portland's LaMarcus Aldridge -- another long leaper -- showed off his massive reach by poking the ball away.
The chasedown block is one of the most exciting plays in the NBA for fans, but for referees it can be a nightmare. In addition to watching the airborne bodies for fouls, they are also charged with deciphering whether or not Aldridge, in this case, touched the shot after it hit the backboard, and was therefore goaltending.
You watch it in real time and see if you can tell. Not easy, right?
In that moment, official Scott Foster signaled goaltending -- a call that even the homerish Portland commentators agreed with. But slow-motion instant replay -- which for this type of play, is banned for referees, but is standard for anyone watching at home -- cares not about the feelings of referees.
The Thunder went on to win the hard-fought contest. The Blazers lost the game and, the way a lot of fans see it, the season. A team that was then 11-1 at home before the botched call has since lost a coach, playoff aspirations, two key players and 24 of 38 games.
The next day, though, something that never would have happened a decade ago from the league's @NBAOfficial Twitter account: "Close call in Portland last night but w/ benefit of slow motion replay, goaltending was incorrect call."
It was wrong, and they admitted it.
It can be seen as hanging referees out to dry. It can be seen as egging on whiny fans.
It can also be seen as the way the world is heading, and part of a broader collection of initiatives to make the league more transparent than ever.
"In part we're looking to humanize our referees," explains NBA President of League Operations Joel Litvin, "because everyone knows so much about the other 10 people on the floor, and they don't know much about those last three. ... I don't think it comes as a surprise to people to learn that it's hard. These are professionals and being embarrassed is not fun especially when it's in front of 18,000 people and the world's media. We're not looking for sympathy, these are professionals, this is their job."
Increased transparency includes multiple Twitter accounts, a TV series about referees calls, video features of life behind-the-scenes for officials, a video rulebook, public referee assignments the morning of every game and freeing referees to talk to reporters occasionally.
What's the point? "One is to provide transparency to demystify the referee program and allow people to see who these people are," says Litvin, "and secondly it's just really good content. ... I just think it's inevitable that we will engage in more and more ways to be transparent. It's where all companies are headed and it's where we're headed.
Transparency, or lack thereof, became a real issue for the league during the Tim Donaghy betting scandal, which put the NBA's refereeing practices under the spotlight, and helped spur the league to action.
"To some extent it was a reaction to the Donaghy episode," says Litvin. The scandal opened a Pandora's box of questions about how the NBA hires, trains, manages and oversees its referees. The league hopes that by presenting more information about the referee program will neuter any assertions that referees are not held accountable.
The league's Video Rulebook was an important early step. It explains every call in the game with video examples. On NBA TV's "Making The Call," former director of officials Ronnie Nunn breaks down and explains tough calls and whether the referee working the game got it right at the time. That stuff is fun for the hoop junkie seeking to deeper understanding of the league's somewhat arcane rules, but there's also content that simply helps viewers "get to know" the officials.
NBA.com also features "day in the life"-style programming that track referees' arduous schedules of travel, performance reviews, film study and high pressure games, help viewers understand how rigorous their jobs are and that they are professionals trying to get it right.
Litvin says officials have welcomed the intrusion: "Feedback has been pretty much uniformly positive. They'd like the same thing. They'd like the fans to realize they're human beings, they're trained in certain ways. They have an interesting story to tell, what their lives are like, what it's like during the seasons. People like to talk about their profession, again, so I have never heard a negative word from a referee about this transparency."
More than by Donaghy, the league says transparency is motivated by the very way we watch games. High-definition TV and slow-motion replays have created a need to close the gap between the information viewers have at home and what's going into referee's decision-making. There's just no pretending, in 2012, that referees don't make mistakes. "To have the home audience watching the play knowing we got it wrong, if we can fix it, we're intent on doing it," says Litvin, alluding to the league's ever-expanding replay policy.
There's still plenty the league is not sharing. Fans may never learn, for instance, the grades that referees get on a night-to-night basis. Much of the most interesting data on NBA officials still comes from the gambling world, where referee tendencies are accepted as a matter of fact, and even published.
But progress has been made. Today, according to the league, everyone understands that transparency is not only good for the product, and for fans' peace of mind, but for business. And as long as that's the case, we should expect for more open and public discourse about how to improve the league and the game, which certainly seems to be a fan-friendly trend.