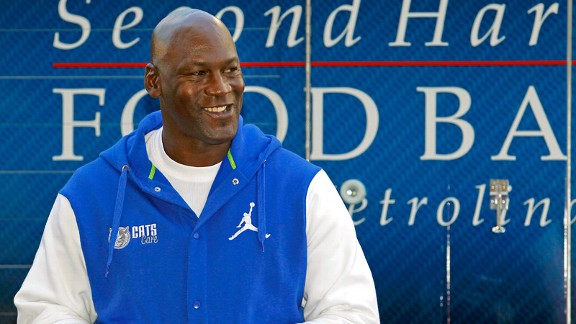 AP Photo/Bob Leverone
The owner of the worst team in the NBA says losing was not the plan.
Michael Jordan, owner of the Bobcats, talked to Rick Bonnell of the Charlotte Observer about his team, which threatens to be the worst in NBA history, and says getting this bad was never planned:
Jordan also said Wednesday morning that while the Bobcats are in rebuilding mode, he never planned -- or anticipated -- a season where the team would finish last in the league, much less possibly with the worst winning percentage in NBA history.

His team has lost 21 games in a row, but he insisted this season's results won't dissuade him from the rebuilding plan that started with the trades of veterans Gerald Wallace and Stephen Jackson last winter and spring.

"This was going to be a trying year -- we knew that," Jordan said. "But did we want to chase the most Ping-Pong balls (in the May 30 draft lottery)? No way."
There would seem to be a bit of a rhetorical two-step going on here.
For one thing, not trying to win every game is against NBA rules and severely punishable. So nobody in their right mind would admit anything like it.
More importantly, did the Bobcats instruct the basketball staff to lose as much as possible? No reason to believe so. Does Michael Jordan or anyone else in the organization enjoy losing? Undoubtedly not.
However, do the Bobcats understand what even the NBA's own team in New Orleans understands -- that shedding veteran contracts and gaining draft positioning (two things that are not conducive to winning) are tentpoles of rebuilding strategy?
Of course. Remember general manager Rich Cho's anecdote about how he came to join Jordan's team, from an earlier HoopIdea post:
"They called me the day after I got let go by Portland," he recalls of the Bobcats. Cho had three years left on his Portland contract, and had that finest of luxuries -- he simply didn't have to work. "I had thought about taking some time off, or teaching at a high school," he told me on a recent episode of TrueHoop TV. "I thought about maybe coaching high school tennis, which I've wanted to do for a long time."

But he flew to Charlotte for a conversation that came down to a key moment, when Cho asked if the Bobcats really wanted to win. As in, did they want to win so badly that they'd be willing to follow in the footsteps of Cho's former employer, the Thunder, who won 20 games one season, and then 23 the next, in the process of amassing the core of their current team?

In other words, Cho was asking, were they willing to lose? "Are you willing," Cho remembers asking, "to take a step back to take two steps forward?"

Cho says the room answered, unanimously, "yes."
It would seem to be irrefutable that the Bobcats have, in the name of long-term rebuilding, done less than try to set up a roster designed to win now. In other words, if Michael Jordan and Rich Cho's lives depended on winning as many games as possible this season, they could have done better. (And if they're following the Thunder model, they won't use anything like all of the cap space they have coming up this summer, further depriving Bobcats fans of a more successful team next season.)
That team's behavior is in the footsteps of one of the NBA's most successful young teams. Following that plan is a fairly rational response to the perverse incentives of a league that rewards dreadful basketball with marvelous young players.
The point of HoopIdea's anti-tanking campaign is not to embarrass teams that tank, nor to condemn Jordan, Cho, the Bobcats or anybody else.
The point is to challenge the assumption, deeply ingrained in all of us, that losing is a required precursor to winning. It simply doesn't have to be that way. If the draft didn't reward losing, Jordan, Cho and the Bobcats would still be developing young players, still seeking the best young draft picks, still playing for the long-term ... but they'd try to win as much as possible along the way -- which would be a wonderful gift to anyone who has tried to watch their games.