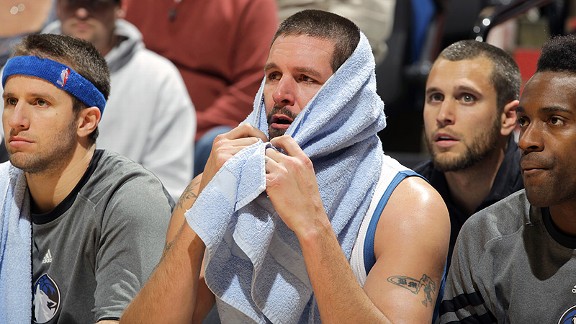 David Sherman/NBAE/Getty Images
Brad Miller's tearful goodbye was felt by many.
Brad Miller wasn't your typical NBA center during the era of high-flyers and YouTube-inspiring dunks. He wasn't a guy most people would ever think of paying to see play basketball. In fact, he wasn't a guy most people thought could play basketball.
The country boy from Kendallville, Indiana, is a slow, unathletic big man by NBA standards. He always has been. When you're classified that way athletically, you're not supposed to end up with a long and lucrative career in the NBA. It's probably the reason he wasn't drafted out of Purdue University. After playing for a couple of months in Italy, the Charlotte Hornets signed him as an undrafted free agent during the lockout-shortened 1999 season.
Over the next four years, Miller figured out what worked and what didn't work with his game in the NBA, as he spent time in Charlotte and Chicago. He learned how to maximize his incredible natural skills while minimizing the parts of his game that could hurt his team. He was challenging assumptions about how he could play the game and breaking the assumed protocol of NBA competition."He's one of the most skilled big guys," Wolves coach Rick Adelman said after Minnesota's loss to Denver. "I've been very fortunate. I put him up there with Vlade and Chris Webber as far as skilled guys, knowing how to play, making their teammates better."
As a member of the 2002-03 Indiana Pacers, Miller helped his team to the third-best record in the Eastern Conference while also being named an All-Star over teammate Ron Artest. That summer, he was traded to the Sacramento Kings, where his skill set would be perfectly paired with Adelman's offensive system.
Miller is a beautiful passer. Watching him operate out of the post and the high-post throughout his 14 years has been a pleasure. He often seemed to know there was an opening to deliver the ball before his teammates even knew they were open. He could throw bounce passes, chest passes, behind-the-back passes, or whatever was necessary to get his teammates a score. The passes were on point, allowing the least amount of movement and execution to get a good shot off. When he integrated himself into Adelman's system, he was thrown into a world that allowed his game to flourish.
You couldn't just protect against the pass either. He was a deadeye shooter from midrange. During his days with the Kings under Adelman, he was an incredible weapon from 16-23 feet. He made 46.5 percent of his jumpers from that range, according to NBA.com. Back off of him and he'd snipe your defense with his jumper, just like his second passion in life -- hunting.
Miller will walk away from his 14-year NBA career in order to further develop a hunting show that he has with his friend. While it was a decision that appeared to be very trying and tough as he checked out of his final game Thursday night, it's one he's confident in doing.
"I've been playing for 30 years, so when it's time, it's time," he said after finishing his 868th game. "My body ain't worth a [expletive] anymore, but I still have my heart."
When he was traded to the Timberwolves on draft night of last year, he was being brought in because of his heart. Adelman wanted to have a veteran on the team that not only knew his system but also knew how to be a leader. It didn't matter that Miller was coming off of a microfracture surgery in May of 2011;Adelman wanted that presence on the team. After the loss to Denver, Adelman praised his veteran big man.
"He cares," Adelman said. "He really does cares, even though he does his hunting thing and all that other stuff. He cares about the game. He cares about how he plays. You know, I knew he didn't have a lot left, but the influence he had in the locker room, he tried. He tried to talk to guys and make them understand what it takes to be successful."
Several of his teammates honored him by wearing bright blue headbands during the contest. Even Luke Ridnour, who was nursing an injured ankle, made sure to dress for the game and be on the bench so he could don the headband. Ricky Rubio and Kevin Love appeared in suits behind the team's bench and paid tribute to Miller by also wearing the headgear.
That's the kind of lasting impression he left on guys he played with and against in this league. Teammates that played with him for a few hectic lockout-induced months felt it was necessary to honor him. Shaquille O'Neal, who once threw an errant punch from behind at Miller, told the world on TNT to pay him respect for his career during the game's highlights.
Before he checked out to a tearful goodbye with 5:09 left in the game, Miller gave a microcosm of what made him so special on the court throughout his career. With 7:18 left in the fourth, he hit a 3-pointer from straightaway. A little over a minute later, he caught the ball on the right side of the free throw line for a play Adelman calls "corner."
"You know, you put him in the game and every time I put him in the game, I tell them just run 'corner' and somebody just back cut and you're going to get a layup," Adelman explained in frustration post-game.
Malcolm Lee slipped behind his man from the right corner. As he began to pass by his defender's inside shoulder, Miller delivered a perfect bounce pass that found Lee alone at the basket. It was the last time Miller and Adelman would run that play together and it worked to perfection.
"With him, you know if a guy backcuts, he's going to get it. And that's what the value of Brad is," Adelman said.
After taking a Timofey Mozgov whack to the face, Miller finally walked over to the bench, burst into tears and was congratulated and honored by his teammates as the crowd cheered him on. It was the last time he'd be on the court as an NBA player and you could feel everything it meant to him by being in the arena or watching it at home.
After the game, he was barely able to discuss what it has meant to play for Adelman. He talked about getting to know his family and compared it to how young players are coached in college. "Everything we've done together, I've just wanted to win."
He kept trying to be a self-proclaimed "tough guy" by not crying but he couldn't help getting swept away in the waves of emotions he was feeling.
Adelman summed it up well when he said, "He's just been terrific. I hate to see him go out in a game like that because that's not how he plays. And even at the end of his career, he's going to give you everything he has."
"It was a privilege to coach him."
I don't know how many more centers we'll see like Brad Miller as the basketball world continues toward athleticism and grandiose highlights. But it's probably safe to say we won't expect the next one to make it either.
Congratulations on an incredible career, Brad. It was a privilege to watch you.