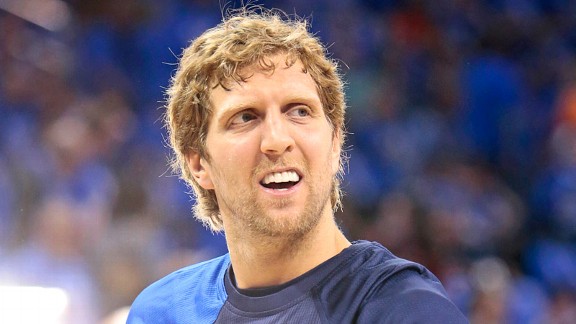 Brett Deering/Getty Images Sport
Dirk Nowitzki knows plenty of tricks when it comes to drawing fouls.
HoopIdea wants to #StopTheFlop. To spotlight the biggest fakers, we present Flop of the Night. You can help us separate the pretenders from the defenders -- details below:
Poor Derek Fisher.
Flopping in the playoffs is supposed to be his thing! But Monday night, Dirk Nowitzki showed Fisher a thing or two by convincing officials that the 6-foot guard actually chucked Dirk out of bounds in pursuit of a fourth quarter rebound.
Here he is pulling the same trick in last year's Finals.
Nowitzki is a master at drawing contact when looking to score and a master of conjuring the appearance of contact when he's going for a rebound.
With just three minutes remaining in Monday night's game, Fisher's foul put Nowitzki on the line for two shots to bring Dallas within one point of the Thunder. Of course, the Thunder went on to prevail thanks to eight straight free throws of their own, but moments like these show how flopping threatens the outcome of important games.
There's very little downside for Dirk to flop in that situation, no negative recourse other than that it might take him out of the play for a moment or two. But if he gets the call and can make the free throws, his team is two points closer to stealing home court advantage. As much as we respect the gamesmanship and skill of a player like Nowitzki, do we really want the most important games of the season decided this way?
When you see an egregious flop that deserves proper recognition, send us a link to the video so we can consider it for Flop of the Night. Here's how to make your submission: