As has been mentioned once before on TrueHoop, Jeffrey Ma of ProTrade -- who works closely with Kevin Pritchard of the Blazers, who used to work for the Spurs -- once emailed me this sentence about San Antonio's philosophy:
I remember sitting with Kevin Pritchard before he was KP, the GM of the Trail Blazers, and he explained the Spurs' mantra to me: Get three superstars and then fill the roster with guys willing to go through a wall to win.
For the Spurs, you can really see this philosophy in action. I mean look at their salaries. Tim Duncan, Tony Parker, and Manu Ginobili are the only ones who really get paid large amounts or for many years. The other pieces -- sorry Bruce Bowen -- are priced to move.
The team has been excellent pretty much throughout the Duncan era, but has always given long minutes to players with below average contracts. Today's Francisco Elson, Ime Udoka, Michael Finley, and Darius Washington are yesterday's Stephen Jackson, Devin Brown, Avery Johnson, and Mario Elie. The list is long.
And the message seems to kind of be that if you have three stars, anchoring everything, there are a lot of different guys -- affordable guys, even -- who might be capable of filling in around them. It is a basketball solution rolled into an all-important salary cap solution.
(I would argue that this San Antonio team would be tremendously hurt by the absence of a fourth player -- Bruce Bowen -- but let's not get too far from the main story.)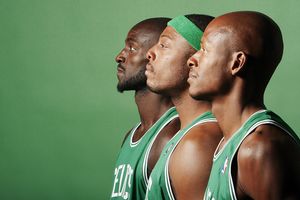 For whatever reason, the Spurs "Big Three" approach has been something that I have been thinking about a lot, ever since I heard it.
I talked to ESPN's David Thorpe about it, and he said most people think it takes three stars to win an NBA title, for whatever reason. He also says that he likes those three to be two guards and one big man.
Beyond that, he thinks it makes all the sense in the world to seek out not the most talented or biggest players available, but those most willing to contribute in a supporting role. They need not be expensive.
For instance, lots of people think Luis Scola is a more talented player than some of the other players on San Antonio's roster. But Scola is not really built to be happy scrapping all night like Fabricio Oberto, and eventually he would have needed some real money. Yet he's also not really ready to be one of San Antonio's superstars. So they shipped him to Houston.
"In the bigger picture, I think some self-imposed fiscal discipline makes sense," adds Thorpe. "Do you really think companies like Microsoft and Cisco run out and buy stuff just because they can afford it? No! They execute a strategy."
The threesome thing has been a good strategy for one team, at least.
Then look what Boston did!
If ever anyone put a "Big Three" philosophy into effect, it was Danny Ainge. Boston's supporting cast is weaker than the supporting cast they had last year. But they have three big stars out there, and so far they're going like gangbusters.
Makes me wonder: are other teams on board with this "Big Three" philosophy?
Looking around the league, here are some candidates:
Contract-wise, Orlando has committed to three players long-term: Jameer Nelson, Dwight Howard, and Rashard Lewis. Nelson isn't always among the team's top three performers, but that's certainly one to keep your eye on.

New Jersey has Jason Kidd, Vince Carter, and Richard Jefferson, but everyone knows that's no title team without a big man or two performing at a high level.

I sense Kevin Pritchard's Blazers see themselves as being a long-term story of Brandon Roy, LaMarcus Aldridge, and Greg Oden. But at the moment, you could make a strong case that (as Roy's in a shooting slump, Oden's missing, and sometimes Aldridge gets double-teamed into mediocrity) guys like Steve Blake and Travis Outlaw are their most productive players.

Washington had a big-three thing going with Gilbert Arenas, Caron Butler, and Antawn Jamison. But that threesome always struck me as missing some big beast who could control the paint. And for now it lacks Arenas, too.

The Akron Beacon-Journal's Brian Windhorst keeps reminding us that the Cavaliers have been good lately because LeBron James, Drew Gooden, and Zydrunas Ilgauskas are putting up combined numbers that rival Boston's big three. (But man, in Cleveland, a lot of those numbers come from one guy.)

In Dallas they like Dirk Nowitzki, Jason Terry, and Josh Howard. But they're paying Devin Harris and Erick Dampier like stars, too.

New Orleans is much improved now that Chris Paul, David West, and Peja Stojakovic are healthy together. But that team really has a big four thing going, with Tyson Chandler.

How about Steve Nash, Amare Stoudemire, and Shawn Marion? If Phoenix hadn't been reportedly trying to trade Marion, you'd be able to make a strong case that the Suns were using the big three approach. Also, they have plenty of big long contracts, including Boris Diaw and Leandro Barbosa.

Allen Iverson, Marcus Camby, and Carmelo Anthony are three big names for Denver. But don't you get the feeling this squad is only really excellent on nights when someone else like Nene (paid!), Kenyon Martin (even more paid!), J.R. Smith, os Linas Kleiza makes it a big four? Also, Thorpe singles out this team as the antithesis of San Antonio's approach of accumulating good role players. "Denver's like an AAU team, where every time they lose everyone thinks they should have gotten five more shots. When most teams talk to me about players, they talk about physical characteristics. The Spurs talk more about what's between the ears."

Golden State, I think, envisioned Baron Davis, Stephen Jackson, and Al Harrington as their big three this year, but Harrington hasn't gotten the memo, and Monta Ellis and Andris Biedrins are bucking for star status.

Houston's working on a model that features Tracy McGrady, Yao Ming, and a player to be determined halfway through any game. Often it's Shane Battier, other times Bonzi Wells, or Luis Scola. Last night it was Steve Francis. Other nights it's really nobody, and the Rockets are mediocre.

Utah is similar. I feel like the organization is eager to build around Carlos Boozer and Deron Williams. But Andrei Kirilenko is their big money guy. And Okur makes a lot of money, and plays a big role, too. Healthy Matt Harpring can be a big part of the story.

The Lakers should in theory be about Kobe Bryant, Lamar Odom, and Andrew Bynum. Despite what you may have been reading in the media, Bynum has been holding up his end of the deal any way you slice it with statistics from this young season. Odom, not so much.

Miami still has the three guys they won a title with: Dwyane Wade, Shaquille O'Neal, and Udonis Haslem. The jury is still out on what that really means at this point, and Alonzo Mourning is, to me, an essential ingredient here.

New York fans, you can make your case for Stephon Marbury, Eddy Curry, and Zach Randolph. But aren't your best assets Renaldo Balkman, David Lee, and Nate Robinson? And isn't Jamal Crawford kind of this team's x-factor? And doesn't just about everyone have massive contracts?
(Photo by Nathaniel S. Butler/Getty Images)