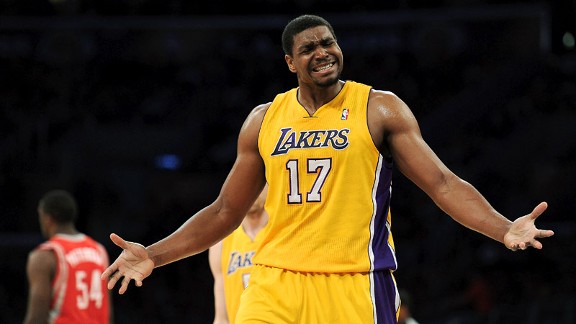 Harry How/Getty Images
Nobody who scores as easily as Andrew Bynum gets the ball so seldom.
With 54.3 seconds left in the Lakers' Game 2 win over the Nuggets, Kobe Bryant was looking to inbound the basketball.
Andrew Bynum put his butt into skinny Nugget JaVale McGee and won lovely position in the paint, a bounce pass away from Bryant.
A close examination of the game tape reveals that, up to that point, Bynum had caught the ball that close to the hoop 11 times. He had scored 10 times, the only miss coming when he lofted a shot perhaps only the freakishly long and athletic McGee could have blocked. (Add in Bynum's other, tougher shots -- some tricky spin moves after catching the ball far from the hoop, a turnaround jumper with a short shot clock -- and Bynum still finished, as usual, with the Lakers' best field goal percentage, hitting 60 percent.)
Getting the ball to Bynum with a foot in the paint, against the Nuggets, might be the best offensive option any team has in these playoffs, and there he was.
Bynum raised an arm, a 7-foot target, waving and calling for the ball. But, perhaps wanting to burn clock in the name of protecting the Lakers' six-point lead, Bryant looked elsewhere.
Bynum retreated to the corner. Ramon Sessions dribbled off the excess seconds. Then the big man tried again, this time with even more conviction, and got open again. With about 45 seconds left in the game. It was perfect, for an instant: deadly proximity to the hoop and an easy passing lane for Sessions. Bynum barked for the ball.
Sessions hesitated.
Then, oddly, Gasol -- the Laker most sensitive to Bynum's value around the rim, and the player who makes the biggest effort to get him the ball where he can use it -- cut to the hoop, bringing the frenetic defender Kenneth Faried into Bynum's orbit.
Sessions' pass was nearly impossible now. The moment had passed. Bynum had to clear out of the paint, which he did while swinging his long arm like a steamed John McEnroe would a tennis racket.
It was one of the most obvious "dammit" moments of the NBA season.
---
Harvard Business School's Teresa Amabile and psychologist Steven Kramer have
researched what makes people miserable at work
, and wrote this for The Washington Post:
Over the past 15 years, we have studied what makes people happy and engaged at work. In discovering the answer, we also learned a lot about misery at work. ...

What we discovered is that the key factor you can use to make employees miserable on the job is to simply keep them from making the progress they expect to make in meaningful work.

People want to make a valuable contribution, and feel great when they make progress toward doing so.
---
Andrew Bynum leads the league in looking exasperated. He is often seen as childish because of it. What's one lost chance? Nothing, really. The thing that happened to Bynum on that play happens to everybody. Grow up, kid.
But what happened on that play happens to Bynum a lot.
There was a play with 7:20 left in the first quarter where Bynum was set up in the kill zone, where he essentially didn't miss all night. Two Lakers skipped clear opportunities to get him the ball. Bynum capped that episode with his palms to the sky, begging for answers.
Minutes later, he picked for Bryant on the right side. Both defenders stayed glued to the living embodiment of the term "shooting guard." Uncovered, Bynum rolled to the hoop smelling a dunk. But he never got the ball. Even sandwiched between Arron Afflalo and McGee, Bryant fired away, drawing a foul. Alone at the rim, Bynum jumped to catch Bryant's shot, perhaps thinking it was a pass. After it fell through the net, Lakers ran to congratulate Bryant on the and-one. Bynum hung his head.
With 6:28 left in the game, Bryant drove hard to the hoop, drawing a crowd, and forced up a difficult, off-balance reverse layup that missed badly. Meanwhile, Bynum was standing right in front of Bryant, a yard from the rim, open. A few minutes later, Bynum posted up early in the possession, but didn't get the ball and was then doubled. He spun away from the double-team to the hoop, finding plenty of open space. A well-timed lob would have been deadly. Instead, Bryant shot a long, contested 3, which missed.
In the locker room after the game, ESPNLosAngeles.com's Arash Markazi noted that despite the win, Bynum didn't seem happy: "I left a lot on the court today," the center explained. "I worked way too hard before the game to let that happen. I could have had a perfect game. ... I left a lot of things out there tonight."
Maybe he was critiquing himself, but this is the tack Bynum often takes when he's frustrated -- he blames himself to keep the peace. But the nonverbal messages he sent during the game spoke more loudly.
---
Bryant and Bynum have never had the easiest of relationships -- at times both have struggled to honor the player code to keep it in the family, and not to trash a teammate in the media. In 2007, angling for a trade,
Bryant was famously caught on video in an expletive-laden tirade
calling, mainly, for the Lakers to ditch Bynum.
There have been highs and lows ever since. The story is that they are in a good place now, comparatively. The worst parts of their relationship are said to now be water under the bridge. But close to the heart of a relationship between these two bucket-hungry stars is the desire to get the rock.
Bryant says he and Bynum forged a friendship over All-Star Weekend. As it happens, at the tail end of that weekend, late Sunday evening, I asked Bynum why so many Lakers games end with one of the team's least efficient plays -- a Bryant isolation. He looked glum, shrugged, and said, "I don't know, man." Then he added: "Because some guys get paid big bucks to hit shots, so that's what they've got to do."
Meanwhile, it's a cinch to make the case Bynum is at the top of the list of Lakers who need the ball more, as many have noted. This season, Andrew Bynum's player efficiency rating -- an all-purpose summary of box score contributions -- was tied for 10th in the league, similar to reigning MVP Derrick Rose's. That's substantially better than Bryant's. Moreover, Bynum's true shooting percentage dwarfed that of Bryant, who finished tied for 160th in shooting efficiency.
These days it's commonplace to hear Bynum called the best offensive center in the game -- perhaps even the best overall, given Dwight Howard's fall from grace.
On most teams, a player of that description would have the ball constantly.
And yet, Bynum doesn't get the ball much. Bryant finished the season with the league's highest usage rate -- Bynum is 79th. No other player in the top 20 of PER has a usage rate so low.
(A similar tale plays out in New York, where another famously irate player, Amare Stoudemire, had the league's 56th-highest usage rate, despite being a more efficient option than Carmelo Anthony, who was sixth league-wide in usage.)
The disparity gets worse as the game goes on. No player hogs the ball like Bryant does in crunch time, and that's precisely the time in the game when it's toughest for the Lakers' center to get a touch. In the first half, Bynum's usage rate is 24, in the second half it falls 19.3 -- that's Nikola Pekovic territory. In overtime it falls further, to a Kris Humphries-like 17.
In his prime, Shaquille O'Neal's usage rate was consistently over 30. Even though he now shoots far less, Tim Duncan still sports a career average usage rate of 27.7.
In the second half, Bynum shoots less than once for every three minutes he plays. Bryant shoots twice as often. NBA.com's advanced stats tool tells us that in the last minute of games within five points, Bryant's usage rate this season was 65.3, compared to Bynum's 19.4. In other words, for every late possession that Bynum uses, Bryant uses three and then some.
Which means that Bynum is very often a crunch-time spectator -- whether he fights for position or not, he's unlikely to catch a pass. This is despite the fact that Bynum's scoring efficiency gets only better as the game goes on: His true shooting percentage and effective field goal percentage both peak in the fourth quarter, likely because he gets the ball in that time of the game -- maybe -- only if conditions are perfect.
Surely just about every player envisions great things for himself, and Bynum is clearly no exception. So imagine how the center for the world's most glamorous team -- a franchise with a particularly rich history of all-world centers -- feels about being the best player in the world not to get the ball.
Bynum knows he has already put in the work to do incredibly special and rare things on the basketball court. He has dunked on Shaq and been mentored by Kareem. He has been coached by Phil and won two titles. He knows he could be the star of Lakers highlights, hitting game winners. He knows the Lakers can win even more games than they do. If only he got to do his thing.
So if those 15 years of work by the Harvard researchers tell us anything, they tell us that frustration is inevitable if you are a talented big man for the Lakers in this era.
Indeed, Bynum looks upset at work an awful lot. He acts out in a way that the closest Lakers observers say is a sign of his frustration that he's not allowed to do his thing. Some see that as a sign of the degree to which he just doesn't get it.
But it could also be the opposite -- a sign of just how well he does get it.
Statistical support provided by NBA.com.