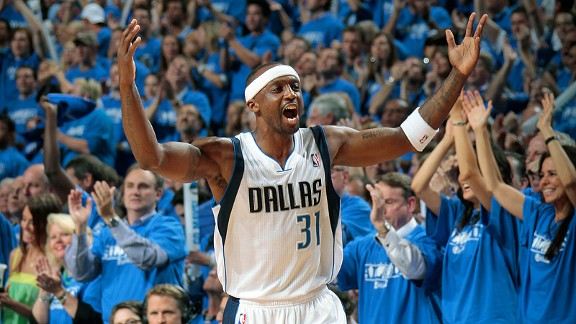 Danny Bollinger/NBAE/Getty Images
Not even a well-timed flop could get Jason Terry and the Dallas Mavericks going last night.
HoopIdea wants to #StopTheFlop. To spotlight the biggest fakers, we present Flop of the Night. You can help us separate the pretenders from the defenders -- details below.
The Mavericks, the oldest team in the league, pulled all the old man maneuvers out of their bag of tricks to keep up with the young and talented Oklahoma City Thunder Thunder on Thursday.
With the season slipping away, Jason Terry had to try something. So as he dribbled the ball across the court, James Harden on his hip, Terry laid down a flop that contains all the classic elements you would expect from such a seasoned veteran.
Note the subtle headwhip, the way he flings out his left arm as though Harden just stuck him with a cattle prod, how he suddenly loses control of his left foot, dragging it behind him as he tumbles to the hardwood.
Was there a trip wire on the court? Did James Harden's beard exerts mystical gravitational forces that caused Terry to lose his balance?
In technique, this actually looks a lot like an egregious soccer flop, or "dive." But there are no yellow cards for simulating a foul in the NBA.
On the contrary, even though watching Harden reveals he couldn't have possibly fouled Terry, the veteran got the call -- even if the Thunder got the game.
When you see an egregious flop that deserves proper recognition, send us a link to the video so we can consider it for Flop of the Night. Here's how to make your submission: