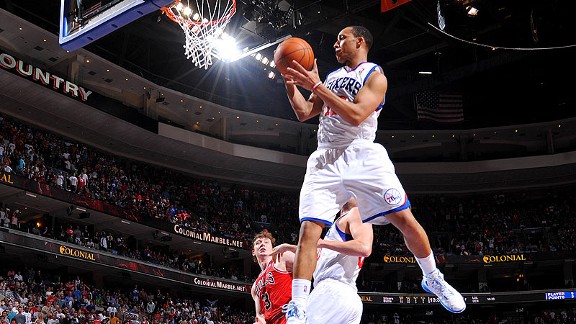 Jesse D. Garrabrant/NBAE via Getty Images
In a gritty win over the Bulls, the young Sixer found a way into coach Doug Collins' heart.
More than anything, Doug Collins wanted to talk about one play:
"I honestly believe that the single biggest play of the year for us was Evan Turner. The play he made under the basket ... Evan just fought, fought, fought, got fouled and made those two free throws. That was the singular biggest play for us -- of the season."
The Bulls had hit a 3 to close within one with 43 seconds left. After a miss, Turner got the offensive rebound amid the entire Bulls front line. He went up strong and had it blocked by Luol Deng. He gathered the loose ball, and the will to fight on, and attacked again. This time going at Omer Asik, and drawing a foul as he missed again.
By traditional measures of entertainment, it was nothing too special. It was not a play that made the highlights, presumably because it was all pretty ugly.
"Not to me!" said Collins. "I thought it was beautiful. Evan Turner is a big-time competitor. Big time. He is at his best in these kind of games. He really is. He played great in Chicago. They booed him on every possession and he played great there."
Coach Collins likes it ugly, and on Friday night Turner made the ugly play of the year, and now the Sixers, an 8-seed, are up 2-1 on the team that finished the regular season with the best record in the NBA.
---
In March, everybody in Philadelphia knew Turner and Collins were not getting along. Perhaps the league's most overbearing coach was locking horns with a young player determined to create with the ball. As portrayed in the media, it was ugly -- and not the kind of ugly Coach Collins likes.
Spike Eskin captured the mood when he wrote on CBS Philly that "the Sixers will have to make a choice between Turner and Collins."
On her blog, former Sixers beat writer Kate Fagan wrote in early April: "We all knew at the beginning of last year, when Collins took over this young team, that he had a history of turning around young squads. And we also knew that he had (sometimes as early as the second season) a history of over-coaching, at which point his players tend to become frustrated and tune him out. The Sixers have been struggling with this for at least a month, if not longer. This has led to heated interactions, sometimes even in the middle of games. On more than one occasion, players have let Collins know -- during a game -- that they're sick of the relentless nitpicking."
Turner wouldn't deny there were rocky times, but he says some perspective is called for. "I don't think it was as bad as people thought," he said late Friday, after securing the win. "It's not like we were beating each other up or not talking to each other."
---
The Sixers missed layups -- in some instances, several on the same possession. They took 14 3-pointers and made one. Starting forwards Andre Iguodala and Elton Brand, the team's two highest-paid players, combined to score a mighty five points. The team made just more than a third of their shots, all told. And they were outrebounded.
And that was the team with the happiest story. For the Bulls, the night was a tale of a broken offense (15 turnovers, 61 percent free throw shooting, several crucial late-game plays that ended with no shot at all, or a prayer) and yet another injured starter -- Joakim Noah -- who left the arena on crutches.
Add in security intervening in a late-game fracas in Section 124, empty seats scattered around the arena and lusty cheering for Noah's gruesome injury and it was about as brutal as NBA games get.
But Collins, a coach for whom "competitive drive" is the ultimate ideal, sees things differently. Dripping with sweat and smiles after the win, he talked of "tremendous performances," "how proud I am" and how "I sure like coaching this team."
---
By Turner's admission, Friday marks a new high point in his relationship with his coach.
"I think it is a high point," said Turner, who said that before he told the press, Collins told the team Turner's scrappy moment was the team's play of the year. Turner, however, was more delighted with something else Collins did: called his number. "The last two plays, he ran the play for me," said Turner. "As a player, that's the big thing, that you can show me you have confidence in me. Thankfully he did that. ... It was pretty cool. He had confidence in me to give me the ball in crucial parts of the game."
Is it a permanent change? Who knows. "Doug definitely rolls with the hot hand," said Turner. "Some nights I might not get the opportunity. But right now, you just enjoy it."