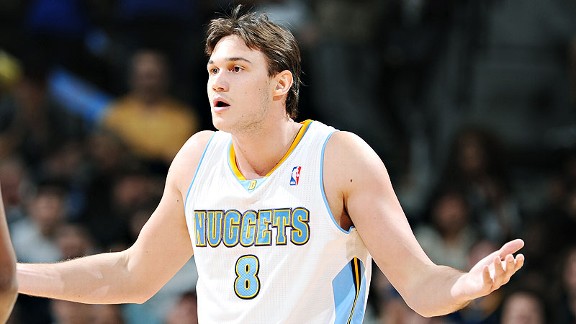 Garrett W. Ellwood/NBAE/Getty Images
Danilo Gallinari couldn't convince the officials at the end of Game 4.
HoopIdea wants to #StopTheFlop. To spotlight the biggest fakers, we present Flop of the Night. You can help us separate the pretenders from the defenders -- details below.
Forget Flop of the Night. For the Denver Nuggets, this is the Flop of the Year.
Assuming it was a flop at all -- because this one is tricky.
In the final minutes of a 3-point game, Laker big man Pau Gasol set a pick that on some plays would have been called a foul. He leaned a shoulder into the approaching Danilo Gallinari. The contact looked painful -- that Gallinari had a big reaction is no surprise.
However, if you've learned anything from Flop of the Night, it's that in the minds of a lot of players, there's a playbook for how to deal with this kind of contact in the NBA these days: You exaggerate to get the referee's attention. It often works.
(Gallinari is in the Floppers' Club, to be sure. Video shows him to be among those who'll throw back his head in dramatic fashion while driving, for instance. And as it happens, on the Lakers' very next possession, Gallinari took the court again, this time flying 15-feet backward after mild contact from Bryant's forearm -- while Steve Blake hit a corner 3.)
This was not one of the times it worked. Not only did referee David Jones not call anything, but Gallinari also missed one of his team's most important defensive possessions of the season. Playing 5-on-4, the Nuggets scrambled for a few seconds until Ramon Sessions drained an open corner 3, putting the Lakers up three.
All the while, Gallinari writhed on the floor. Could he have gotten up and played on? Hard to say. But what seems clear is that some of what was going on was sales.
Watch the replay, and it's clear that Gallinari got rocked.
As he bounces off Gasol's shoulder, he covers his face, causing Marv Albert to exclaim "Gallinari took a shot to the nose!"
But once he's on the ground, his hands move to his throat.
In super slow-motion -- Gallinari's legs kick out dramatically as he goes to the ground, an embellishment that Steve Kerr, calling the game live, suggested may have cued the official to dismiss the contact.
"I think sometimes when you exaggerate the officials will kind of give you that motion like 'I'm not buying it, you gotta get up,'" said Kerr.
"So even if he was bumped around the throat I think his demonstrative action may have cost him the call."
When you see an egregious flop that deserves proper recognition, send us a link to the video so we can consider it for Flop of the Night. Here's how to make your submission: