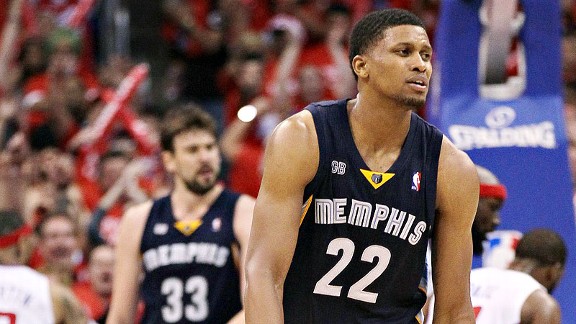 US Presswire
These certainly aren't the same Grizzlies from their perception-changing run last postseason.
LOS ANGELES -- The Memphis Grizzlies might have been better off using the snarl of Tony Allen, the pied piper of their grit-and-grind ethos, as their official logo in last season's postseason.
Fans essentially did, bringing cardboard cutouts of a grimacing Allen, along with ones of an equally surly-looking Zach Randolph, to games last May as the team rose from an 8-seed appetizer to a cranky unstoppable force. One thing's for sure: A morose blue bear, even one with laser eyeballs, couldn't embody the smoke-coming-from-their-noses toughness that fueled the Grizzlies' surprising playoff run.
The window for the change has passed, however. With his war-battered elbows resting on his knees, shoulders slumped and eyes fixated on the floor after the Clippers bruised and battered the Grizzlies in yet another close win to take a 3-1 series lead, Allen looked more like a wounded animal waiting for the inevitable.
"I thought that that was our style of play," Allen said, still trying to come to the grips with the 101-97 overtime defeat Monday night at Staples Center that etched the number of postseason hours they have left on their arms, like in that recent Justin Timberlake flick (a must-see, according to my parking lot attendee). "I thought we [were supposed to] pretty much grit and grind, and be the grinders. Body bang and do all the stuff down low. Be tough-minded. But those guys are more the aggressors."
It wasn't until Game 4 of last year's first-round series against the Spurs that the style that now defines them truly changed the perception of these Grizzlies.
They became a tough out after a Game 1 victory in San Antonio. Then a Game 3 win announced their presence as a possible spoiler. But it wasn't until that third victory, in Game 4, that the Griz became the scary force to be reckoned with we've come to know them as lately, a team with the size, strength and clear, repeatable game plan of how to win. In that game, the Spurs actually -- and very clearly -- laid down, as coach Greg Popovich sat his Big Three with six minutes to go and kept them there for the remainder.
At the time, they were conceding only a victory. But now, a revisionist historian might pontificate, it seems just as much a concession of Memphis' new status in this league: the team no one wants to see across from them, particularly in a seven-game series.
This Game 4 may once again color our view of them, but the shade certainly isn't as flattering.
After looking like anything was possible even heading into this year's playoffs -- especially after stealing the higher seed from the Clips in the regular season's final days -- the Grizzlies basically threw up their hands once they witnessed Chris Paul conjure up yet another late-game masterpiece to swing the series.
"Guy made three straight jumpers, got to the basket, got fouled," Memphis coach Lionel Hollins said. "C'mon. Chris Paul won the game for them down the stretch."
And the solution going forward?
"Try to shut down Chris Paul a little bit. Simple," Hollins said. "He's the problem, we got to solve the problem."
So far, they've had little luck -- Paul's four games this series: 14 points and 11 assists, 29 and six, 24 and 11, 27 and seven plus nine rebounds -- and regardless of how close they've been (and boy, have they been close), the Griz now have precious little time to try to move around the pieces and makes things resemble what they had last year, and more importantly, who they were.
Reborn last postseason after years of boneheadedness derailed a productive career, Randolph has tried to muscle up with Blake Griffin, returning every elbow and nudge, always having sometime to say every time Griffin got all cranky about a missed call. Randolph was clearly trying to impose his will on the Clippers, as he did so often against the Spurs last postseason and, to a lesser extent, the Thunder. But the only one on tilt was Z-Bo, who mustered a respectable yet quiet 12 points and nine rebounds but struggled with foul trouble and seemed destined for an early night after a jawing session with (and belly bump to) Griffin under the four-minute mark in the second quarter resulted in a technical foul.
This was the Randolph we've grown to groan at, not the one with the subtle, jumping-not-required game we grew to love. (And if we needed any reminder, the crowd's disdain for the former Clipper, the one shipped out of town to clear a path for the Griffin era, surely hammered it home.)
But Randolph, who missed 38 games this season, isn't the only one not looking like himself. Marc Gasol, the Griz's only All-Star this season, looked more like the "soft era" Pau Gasol, especially when Chris Paul looped Marc's ankles into pretzels late in the game, as Paul did to Marc's big bro in last year's first round; Gasol the younger took only four shots and made only one as the Clippers denied him from becoming either the stirrer (two assists) or the supper (eight points).
Allen, too, has seemed defanged at times this series. Despite shutting down Paul on the final play of regulation Monday night to force the extra frame and pestering ball handlers throughout the game, he logged only 18 minutes in Game 3 and at times looked bothered by a sore left knee (despite Hollins' insistence otherwise). And on the other end of the spectrum, Mike Conley churned out a very LeBron-esque all-around performance, with 25 points, eight assists, seven rebounds and some solid defense on Paul. Bizarre times, indeed.
Everyone still has the same look and edge; Allen looks even grizzlier these days, with the hairs of his unkempt goatee hanging over his top lip. The feel, though, is much different from last postseason.
"It's a lot different; we ain't winning games," Randolph said.
But are they the same team?
"Yeah," he said. "We still the same team."
It's getting pretty hard to believe him.
Allen disagreed slightly, too, pointing out the changes to the team's second unit from last season. Instead of Darrell Arthur, they have Dante Cunningham. Rather than Shane Battier, there's Quincy Pondexter, Allen noted.
The one he didn't mention, the biggest one of all, comes at the wing, where Rudy Gay has taken back the starter's role occupied last year by Sam Young.
Gay was supposed to add to the firepower for the budding contender. But at times, Gay's midrange-gunning ways seem only to feed into claims that he's a bit out of place on a roster built to hammer teams in the post. Amidst a roster full of scrappy, tough guys, the spry, quiet Gay seems out of place; even his wispy, finely manicured facial hair doesn't fit.
He's a star-in-the-making very much in the Kobe mold on a team that doesn't need one. Until they do, of course.
Gay has taken most of the big shots in each of the Grizzlies' three losses, including the potential game-winners in Games 1 and 3. This time, the sixth-year wing had more success, scoring 10 of his 19 points in the fourth quarter and tying the game at 85 with 35 seconds in regulation. But it wasn't enough cover-up for that ugly 8-for-25 shooting line at night's end. Gay took only one shot in the overtime period (a 26-footer as time expired) and managed to be both overaggressive (2-for-7 in the first quarter) and disinterested in the first three quarters -- the latter of which is a resurfacing of the rap he deservedly earned in college.
"I settled a lot. I settled a lot," Gay said. "That's something I have to watch the tape and figure out what I did wrong -- again."
It's back to the drawing board for the whole team. Perhaps the Grizzlies can ask the Clippers to give back the script the Griz apparently loaned L.A. before the series began.
The Clippers have even borrowed the Griz's mantra, as Kenyon Martin snuck in a "grit and grind" in a chat with our J.A. Adande.
More like "taken," really.
"In order to be a great team, you have to take advantage of the opportunities … capitalize when you have the moment," Allen said. "You have to take your hat off and give them some credit, because they pretty much manhandled this series right now and they up 3-1."