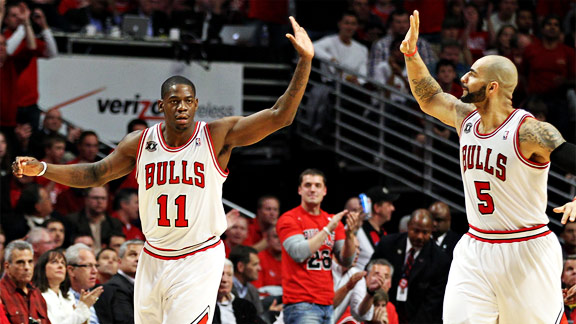 Mike Ehrmann/NBAE/Getty Images
Ronnie Brewer used his veteran wiles to draw a charge against Evan Turner.
HoopIdea wants to #StopTheFlop. To spotlight the biggest fakers, we present Flop of the Night. You can help us separate the pretenders from the defenders -- details below:
Ronnie Brewer is a phenomenal defender with quick feet and a strong enough upper body to control the likes of Dwyane Wade. But he wins this flop of the night (click for video) by allowing Evan Turner to knock him to the ground without much contact at all.
From the reverse angle, you can see Brewer is using a maneuver we'll call "The Bruce Bowen." As he sees Turner reverse course, Brewer leaves his defensive stance and slides his hips forward in anticipation of the spin move, shifting his balance so that when Turner bumps him, it's enough force to send Brewer to the deck.
Brewer moves his feet admirably, but also plays for the fall against a player who is clearly not out of control. The well-timed, theatrical arm swinging is key, too, because it communicates Brewer's victimhood to the referee.
It's a savvy move, and earns a foul call from official Leon Wood, who doesn't have a great angle on the play.
Appropriately, Greg Anthony has a conflicted reaction, in one breath saying, "Ronnie Brewer sold that play there on the spin. I don't know if he's going to get an Oscar, but good job of acting there." And in the next, calling it "great defense."
When you see an egregious flop that deserves proper recognition, send us a link to the video so we can consider it for Flop of the Night. Here's how to make your submission: