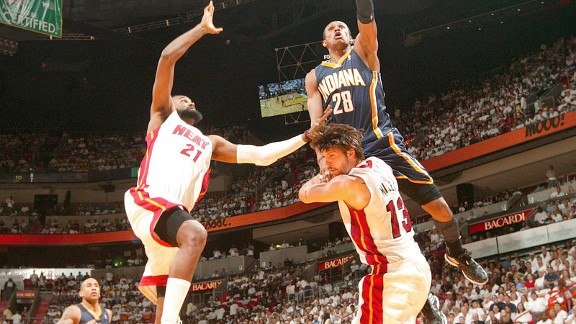 Nathaniel S. Butler/NBAE/Getty Images
Mike Miller took to the floor a few times in Game 1.
HoopIdea wants to #StopTheFlop. To spotlight the biggest fakers, we present Flop of the Night. You can help us separate the pretenders from the defenders -- details below:
Even before the Pacers and Heat took the floor in Game 1 of their second round series, we knew that flopping would be a topic. Indiana head coach Frank Vogel's comments about the Heat's habit of flopping -- and the $15,000 fine that followed -- assured as much.
Right on cue, Mike Miller earned his first Flop of The Night by toppling over on the expectation of contact from David West. Watch the video. Miller actually leans into the bump from West -- his plan here is to draw the charge so he needs to ensure at least some contact is made.
The set up is almost as unbelievable as Miller's actual fall, which lasts just under seven seconds. That's an exaggeration, of course, but it's fair to say Miller tips over in slow-motion, rather than falls. Instead of moving his feet to regain his balance, Miller, obviously intent on drawing a call, lets the kind of contact he would normally shrug off knock him to the ground.
Miller's tumble was met with silent whistles.
As Mike Tirico put it while calling the game on ABC, "You could say Frank Vogel's $15,000 paid off, at least for one play."
Runner up: LeBron James takes a shot to the throat, or so it appears.
When you see an egregious flop that deserves proper recognition, send us a link to the video so we can consider it for Flop of the Night. Here's how to make your submission: