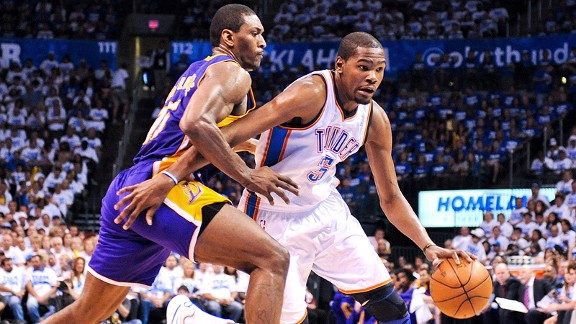 Noah Graham/NBAE/Getty Images
Out on the perimeter, Kevin Durant is too quick for Metta World Peace.
Way out beyond the 3-point line, Metta World Peace never had a chance.
Kevin Durant walked forward, confidently bouncing the ball high off his right hip, his Thunder teammates arrayed along the baseline.
This was the definition of an isolation play; there was no way the other Lakers could offer help.
As he neared the 3-point line, Durant executed a hard right-to-left crossover, dipped his shoulder and glided past World Peace, who managed only to helplessly rotate his hips as though one foot was nailed to the ground.
Having summarily dispatched World Peace, Durant wove back to his right and finished past Andrew Bynum.
It was the first shot Durant took in Game 2, and one of just three Durant isolation attempts all game.
The result was no fluke. In fact, Durant isolated in space against Metta World Peace might be one of the most bankable plays in the Thunder's awesome arsenal of offensive weapons.
As David Thorpe pointed out on TrueHoop TV, while Metta World Peace can still be a valuable defender, his worth is directly related to the distance he is from the rim. Down in the paint -- where his phenomenal strength and lightning quick hands make all the difference -- that's where he can dominate.
But out on the perimeter, especially when called to move laterally, not so much.
Admittedly, defending Kevin Durant anywhere on the court is like trying to nail Jello to a wall. But Thorpe notes that Metta World Peace remains particularly well-suited to defending one type of Kevin Durant play.
"He can still chase, I think, very well," says Thorpe. "And for years now I've suggested he's one of the best chaser defenders we have in the league, guarding the guys who want to use single-doubles or staggered screens."
What Thorpe is describing are the pindown sets in which Durant sprints off devastating screens from guys like Kendrick Perkins and Nick Collison. He uses them to create that fraction of daylight necessary to get off his silky jumper, or to create a crease for a tight curl to the rim.
These are the plays that Artest, with his intelligence and strength, still defends quite well. He remains a savvy off-ball defender and knows how to re-route Durant to keep him from catching.
Now for the other half of Thorpe's take on World Peace's defense:
"He can run, just fine. He just can't slide maybe more than a step and a half to two steps and literally stops, very often, when he's forced to take more than that."
That's almost exactly what happened on Durant's first bucket.
So why didn't we see it again, and again, and again?
Fancy plays are all well and good, and the Thunder offense has certainly benefited from more nuanced sets. But this matchup demands some good ol' fashioned four-down isolations that pit Durant's slick handle and slithery quickness against the leaden feet of Metta World Peace.