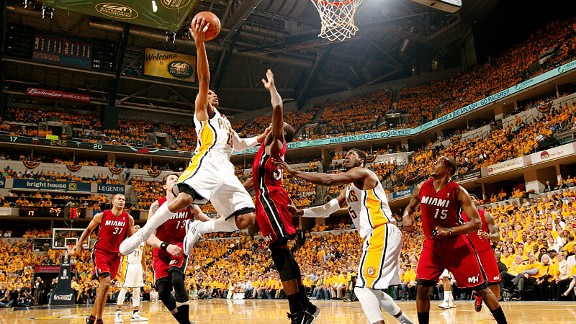 Nathaniel S. Butler/NBAE/Getty Images
Does any remaining playoff team deploy more athleticism than the Pacers?
David Thorpe said from before The Decision that the Heat have three of the fastest players at their positions in the league, something they should exploit with inexpensive big men who can really run from rim to rim and athletes who can shoot 3s. You can find those guys in the D-League and Europe, and the Heat have a good environment to develop them. (Along those lines, Mario Chalmers and Joel Anthony have been very useful alongside the Heat's stars.)
But the Heat did nothing of the sort. Instead, they used one roster spot after another on guys who are old, slow or both. Zydrunas Ilgauskas. Juwan Howard. Mike Miller. Eddy Curry. James Jones. They all have redeeming qualities, but when you're shopping in the bargain bin, and err on the side of "old and proven," you get what you pay for. Mostly, you get "old."
Which hurts when youth, in this context, could be so valuable.
Now that Chris Bosh is hurt, the Heat have started Shane Battier. The negative effects of that go far beyond his missed 3s.
Consider an exchange in the second quarter.
First Battier had a lane to the hoop on the fast break. He was so unexplosive, however, that a trailing George Hill had time to catch up to him, run around him to get in position, and then jump and crush the layup right out of Battier's two-fisted grip before he could even get to rim height.
There are players in junior college right now who could have dunked that.
Meanwhile, Battier soon had an opportunity for revenge -- starting with good position as the Pacers' Paul George sailed to the rim. The best defense the Heat would offer the high-flying George came from a trailing Dwyane Wade. As you can see in this photo, if Battier did jump, he should probably tell people he didn't.
None of which is to say that Battier is to blame for the loss, because just about every Heat player had his bad moments. But that the Heat are at such an athletic deficit is striking and need never have happened. Roy Hibbert need not so dominate the paint. Dwyane Wade, pressing to find buckets, need not find so many seams closed down by longer, faster Pacers.
Indiana, meanwhile -- loaded with athletes, despite the ground-bound David West -- is well-built to expose Pat Riley's over-reliance on old guys.
Which led me to wondering: Are the Pacers the most athletic team around these days? I'm not really talking about how high a guy can jump or how fast he can run, or who'd win a draft combine. I'm talking about teams that deploy explosive athleticism -- like Hill circling Battier for the stuff -- the most. It's about how frequently in a game a team succeeds with explosive speed, jumping ability and the like.
I present my hastily assembled, entirely subjective rankings of the eight remaining teams:
1. PACERS With Wade less explosive last night, among Heat players it's possible only LeBron James could have hung with Hill, George, Danny Granger, Darren Collison and Leandro Barbosa in a footrace. Tyler Hansbrough and Louis Amundson never stop moving. Even Roy Hibbert is active for a player of his size. Other than David West, the entire team is a blur.
2. THUNDER Russell Westbrook and Serge Ibaka are off-the-charts. They are athletic as hell and show it almost every play. Kevin Durant, Thabo Sefolosha ... youth is handy. This team is not at the top of the list, though, because they also feature Derek Fisher.
3. SIXERS Andre Iguodala is a ridiculous athlete. Jrue Holiday, Louis Williams and Thaddeus Young are up there. A knock on Evan Turner at draft time is that he is not athletic, but he is young, strong and feisty. This team could play more athletically and top this list. But, alas, there is a price to pay for playing a brutally slow pace and starting Elton Brand.
4. HEAT When the big three are healthy, it's a different story. But now that the bench is on parade, it's compromise city.
5. SPURS I know! They start Tim Duncan and Boris Diaw, both of whom prefer to never jump. But Tony Parker uses speed play after play, and Kawhi Leonard, Danny Green and Gary Neal are high energy. There's a reason this is the highest-paced team of the bunch.
6. CLIPPERS Healthy, this is all different. Blake Griffin could eat this contest for breakfast. But he's not 100 percent, and neither is Chris Paul. Few centers do what DeAndre Jordan can do athletically. Kenyon Martin is still plenty active, and Eric Bledsoe can fly.
7. CELTICS Kevin Garnett doesn't look old. Rajon Rondo is a blur and has the ball constantly, which creates a lot of chances for speed to matter. Avery Bradley helps. But by and large these are players who win without too much running, jumping and winning physical challenges.
8. LAKERS If you accept David Thorpe's assertion that Metta World Peace has lost all lateral quickness, then not even the role players are helping the athleticism deficit created by building a team around skill, size and veteran moxie.