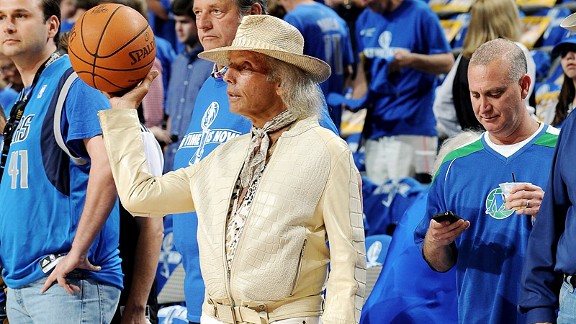 Andrew D. Bernstein/NBAE/Getty Images
Jimmy Goldstein says he hates to fit in, which is why he's so noticeable courtside.
The NBA's most distinctive super fan says he uses different tricks to get good seats in every city. Most of the tricks have to do with who he knows, Jimmy Goldstein says in GQ.
In San Antonio, Goldstein tells Myles Brown (whom you may know from the TrueHoop Network's A Wolf Among Wolves) he knows everybody, and when he's in town they simply add an additional amazing seat just for him.
Other news of his friendships from around the league:
Tony Parker and I have been good friends. We run into each other in France and we always have a little chat before the games. He opened a nightclub in San Antonio now that he wants to take me to after the games, that kind of thing.

I have friends on every team and every team thinks I'm there to root for them. I try to put on a neutral stance as much as possible when I go to the games, with the exception of the Lakers games. The Lakers players are all aware that I root for the other team. With the exception of Kobe, they seem to take it pretty well.

Every now and then Kobe surprises me by walking up to me shaking hands and giving me a nice smile. But for the most part, he ignores me. He doesn't look at me and even went to the extent of telling Pau Gasol not to say hello to me. He's never explained why.

Pau and I were very good friends before he got traded to the Lakers. After he became a Laker, he's standing at the baseline during the Lakers warm ups and he would never say hello. Finally, during the All Star Weekend a couple years ago, when I ran into him and he wasn't putting on his "Laker face" so to speak, he gave me a big hug and apologized for not being friendly to me at the games, but told me that it was because Kobe asked him not to be friendly to me.