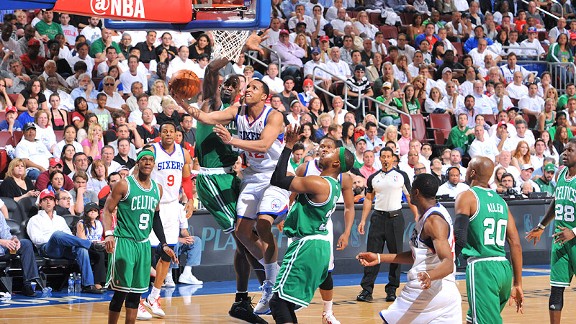 Jesse D. Garrabrant/NBAE/Getty Images
People, economists tell us, misunderstand no phenomenon as badly as chance. Faced with random events, sheer naked happenstance, we concoct elaborate and unnecessary post-hoc explanations for what's happened, what we've seen. We reject truth in favor of narrative.
We're inventors of meaning.
So, when faced with a basketball team that went 1-8 in the regular season in games decided by four points or fewer and 5-18 in those decided by under eight, let lead after lead slip away, and earned just an eight seed in the postseason despite posting the Association's fifth best scoring differential, rather than chalk it up to bad luck, the random fluctuation of a complex system, a person is liable to conclude that the team just doesn't know how to win.
And if the same team turned it around in the playoffs, went, say, 4-1 in games decided by seven points or fewer, won twice by a single point, and pulled off multiple double-digit comebacks, we'd grant that they'd learned. Matured somehow. Changed.
The Sixers, it turns out, are people too.
"We're more poised at the end of games now," offered Thaddeus Young, giving an explanation for how the same Sixers that struggled so mightily in the highest leverage moments of the regular season had just pulled off another in a series of increasingly unlikely postseason wins -- a 92-83 victory they managed despite falling behind 14-0, trailing 46-31 at the half, and missing 34 of their first 43 shots.
"[In crunch time] we're playing with a lot of control, a lot of patience," Young, who scored 12 points -- none bigger than a finger roll that, with 10:30 remaining, tied the game for the first time since Paul Pierce hit a jump shot 17 seconds in -- went on. "We're letting things come to us and we're not forcing anything."
"We're running [our plays] to a T, and everybody is cutting hard, and even if you're not getting the ball you're cutting it and taking another guy with you. We're all making sacrifices for each other."
Rookie Nic Vucevic, whose seen his minutes shrink in the second season, and spent the entirety of Game 4 on the bench, saw the same dynamic.
"We lost a lot of close games early in the season, but I think we've learned from that. Gotten more mature ... we trust ourselves," Vucevic said.
It's possible that a fundamental change may have passed; that some grand thing separates the Sixers who ended the regular season 15-22 from the team that sits two wins away from a berth in the Eastern Conference finals.
After all, after hitting the fewest free throws per game in NBA history in the regular season, the Sixers are averaging a Thunder-esque 25.3 attempts from the stipe in the playoffs, including 36 on Friday.
And a defense that buckled at the tail end of the first 66 games has returned to form, allowing a paltry 86.9 points per to the less-than dynamic but still game Celtics and Bulls.
Or maybe it's that Spencer Hawes has relocated the stroke that made him the early favorite for comeback player of the year. Or the tightened rotation -- more Evan Turner and Lavoy Allen; less Vucevic and Jodie Meeks -- has given Philadelphia an added athletic dimension.
Or maybe Doug Collins' hands-on approach -- the one that was brilliant, just the right touch, when they were winning and overbearing, much too much of a college style, when they weren't -- has become brilliant again.
Or maybe ... not?
"I haven't changed anything," shrugged Andre Iguodala, who a week after hitting a pair of free throws to end the Bulls' season, connected on two fourth quarter 3-pointers --the first for the tie, the second for an 88-83 lead -- that history may judge did the same to Boston's.
"We know we've been there before and we feel we can get out of those situations, but I'm the same player I've always been. We're the same team. You've got to get better, of course, become a better person, a better teammate, but I just try to stay who I am."
Who the Sixers are is probably this: a good team, whose luck is starting to even out.