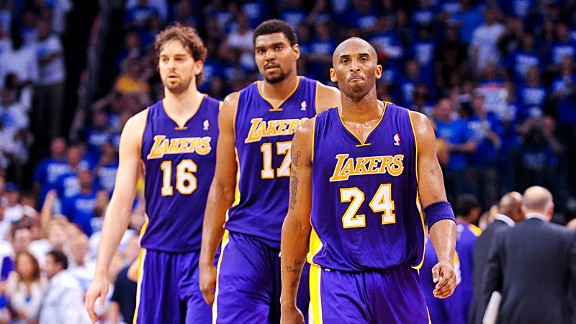 Noah Graham/NBAE/Getty Images
We may have seen this trio of champions together for the last time.
What is Pau Gasol worth?
Many believe this is the central question of the Lakers' offseason.
Gasol was integral to three straight Finals appearances. He out-fought and outplayed Dwight Howard and Kevin Garnett in back-to-back Finals victories. But careers and perceptions change quickly in L.A. and, to many, it now appears imminent that Gasol and the remaining $38 million on his contract will be traded this offseason.
Three top Lakers writers break down Gasol's place in the Lakers' future:
OC Register's Kevin Ding (who noted Gasol had a plus/minus of minus-53 for the second round): "It's abundantly clear now that the triangle offense is long gone that Lakers can use some perimeter pizzazz and tenacity a lot more than they can use Gasol's versatility-turned-uncertainty. But even if Gasol averages 50 points and 30 rebounds in the Olympics, the Lakers have a further complication in that they are trying to reduce their payroll in the wake of the post-lockout luxury-tax penalties and revenue sharing that have changed their landscape. Because of that, trading Gasol for a great player who has another massive contract isn't what they really want, either. The Lakers might have to go that route and figure out some money things later, as they were willing to do with their aborted deal for Chris Paul before the season."

ESPN LA's Dave McMenamin: "Bryant publicly demoted Gasol to the third scoring option during the regular season and then called him out in the playoffs for not being the aggressive scorer he once was. That makes Gasol the first to go. Call up Houston. Call up Chicago. Call up Minnesota. Call up Orlando. See whether interest is still out there. Better yet, call up all 29 other teams and maybe even go the draft pick route. This year's draft is widely considered to be the deepest in nearly a decade. Gasol turns 32 in July. He's played 11 years in the league plus put in a ton of time overseas playing for the Spanish national team. He averaged 12.5 points per game during the playoffs. History will show he was a vital piece of the Lakers' championship lore, but now is not the time for nostalgia. He's the first domino."

ESPN LA's Brian Kamenetzky: "He's supremely talented, versatile and a true team player capable of elevating any good team to elite status, and perhaps of pushing a near-elite team over the top. On the other hand, he won't transform a Brooklyn-esque loser, is very expensive, on the downside of his career, and short of being sent to a team in Spain, won't energize a season-ticket base. Finding a new home for Gasol isn't a simple proposition. The same contract prompting the Lakers to move him will make many teams hesitant to take him on."
The analysis above agrees that Pau is: expensive, talented, seven years older than Andrew Bynum and perhaps not the best fit, emotionally, with Kobe Bryant (though that seemed to be working just fine a few years ago).
The Lakers need more depth and fewer gargantuan contracts, so all signals point to Gasol's departure. Indeed, the Lakers have signaled that they are ready to part with him and, though the transaction was canceled by the NBA, the thwarted three-way deal that would have brought Chris Paul to the Lakers still provides the most accurate measure of Gasol's value.
Back in December 2011, the Rockets were willing to give up Kevin Martin, Luis Scola and Goran Dragic in exchange for Gasol.
That's quite a haul, and a similar trade this summer would supply the Lakers, who counted on Steve Blake and Devin Ebanks for important rotation minutes in the playoffs, with real punch off the pine.
But after a disappointing postseason, does Gasol net the same goodies?
It's true 2012 was Gasol's worst scoring season of his NBA career by a point, though his rebounding and assist numbers remained constant. And it's true that Gasol played farther from the basket on offense than at any time in his career.
It's also true -- and this is important -- that Pau Gasol is a center. The Lakers managed to end up with two excellent 7-foot players, so Gasol, the more versatile one, plays power forward, but he's a center. And it's hard to overvalue a center who rebounds, defends, scores and passes like Gasol. The fact that the Lakers have surplus of this kind of player is borderline obscene and the reason many thought they could contend this season despite their obvious flaws.
They have options.
Perhaps Bynum would draw a better return.
Or maybe instead of ditching Gasol or Bynum, the Lakers could, like the San Antonio Spurs, simply extract more value from their cheaper pieces. After all, the combined salary of Kawhi Leonard, Gary Neal and Danny Green is less than the Lakers pay Steve Blake.
But it won't be possible for them to get anywhere near the salary cap with their big three -- or even their two bigs -- on the books.
See, here's the real issue for the Lakers, the one that makes moving Gasol or Bynum seem inevitable: Kobe Bryant's spectacularly huge contract.
Last offseason, Henry Abbott first noted what an albatross this contract would become:
"Bryant is due to draw a salary of $25,244,493 in 2011-2012, $27,849,149 the following year and $30,453,805 in 2013-2014, when he will be 35. The cold hard question for general manager Mitch Kupchak would become: Which Laker team is better, Bryant and $32 million or so in supporting cast, or $60 million in the best players money can buy without Bryant?

...it may be time to find out if Bryant might consider waiving his no-trade clause. He is such a big name that he may, even under a new CBA, fetch the Lakers a player or two in addition to salary cap relief.

Then there's the final, unthinkable option: It has been discussed that the new CBA may have an amnesty clause, that lets teams buy out players and send them on their way. Depending how it's negotiated, this could include salary cap relief. And if so, would the Lakers use it on Bryant?"
Whether or not they knew league-wide austerity measures were in the offing in 2010, when they gave Bryant his last big extension, there's no debate that, in basketball terms, the Lakers drastically overvalued their star wing. He is now a volume scorer who is still an excellent player, but the fact is that players better than him -- like Dwight Howard, LeBron James, Kevin Durant and Chris Paul -- are paid way less. Even supposing that, despite his age, Bryant's game somehow remains at its current level, the market price for a superstar has fallen precipitously since his last contract.
By the time Kobe's current contract nears expiration, it will be one of the worst in the NBA -- not because he will have deteriorated beyond recognition, but because the outrageous sum will have such a limiting effect on the Lakers' options.
So perhaps instead of wondering what Pau is worth, we should be asking different questions:
Is it worth $30 million in 2014-15 to see Bryant retire a Laker?
To many, the answer is an emphatic "Yes!"
But what about on the court -- is he worth more than Tony Parker and Manu Ginobili combined?
Because that's how much he makes.
Is he worth destroying the most formidable frontline in the NBA?
Because, as everyone seems to tacitly acknowledge, that's how much Kobe Bryant costs.