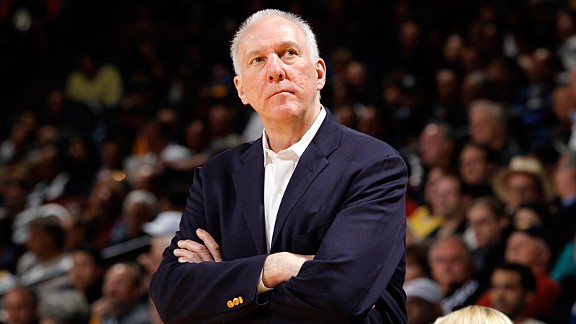 Rocky Widner/NBAE/Getty Images
Gregg Popovich: The collaborative general.
Name: Gregg Popovich
Birthdate: January 28, 1949
Is he an emotional leader or a tactician?
First and foremost, Popovich is a tactician, an exquisite strategist who has developed one of the most detail-oriented offenses and most principled defenses in basketball. Yet Popovich can become emotionally charged -- selectively. (Witness him after a 6-0 run during which his perimeter defenders allow an uncontested pair of 3-pointers.) As a coach with no patience for the obvious, he's not going to tell his guys, "Keep fighting!" in a huddle, but he also knows when to sound an emotional appeal to his players, when to challenge a player's toughness and, as he did during a timeout at a crucial juncture of Game 1 of the West finals ("I want some nasty"), when to inspire.
Is he intense or a go along-get along type?
Definitely intense. Popovich demands that his players be accountable to one another -- very much a product of his military background. He'll strategically light into a guy on occasion, picking his spots carefully. At the same time, Pop can reportedly be fun-loving, especially with his staff, and has established a uniquely close relationship with Tim Duncan.
Does he rely on systems, or does he coach ad hoc to his personnel?
He's a system coach, and the Spurs' continuity offense is a thing of beauty. The system requires players to be in perpetual motion and doesn't rely on individual shot creation. Instead, ball movement and space dictate attempts. For all the precision he demands of his players within the system, Popovich doesn't commandeer every set from the sideline. In recent seasons, he's tailored many of his actions to maximize Tony Parker, who's now the Spurs' offensive catalyst. Defensively, there's little guesswork within the system: No middle, fill-and-sink on the back side, and get into bodies (not just space).
Does he share decision-making with star players, or is he The Decider?
Popovich is a sharer who, over time, has welcomed input from those with new ideas. Once players earn Popovich's trust, they're integral to that process -- Duncan the prime example. Also, Popovich's offensive system very much relies on players to make reads, ultimately putting important on-court decisions in the hands of his key players.
More coaching profiles
Does he prefer the explosive scorer or the lockdown defender?
The lockdown defender. From Mario Elie to Bruce Bowen and, now, Kawhi Leonard, Popovich has traditionally chosen elite wing defenders for big minutes over others on the roster with more firepower.
Does he prefer a set rotation, or is he more likely to use his personnel situationally?
Game to game -- and week to week -- players have a pretty good idea of how Popovich plans on using them in the rotation, which is fairly uniform. That said, Pop will switch things up abruptly. DeJuan Blair started 62 games for the Spurs during the regular season in 2011-12 but played more than 10 minutes only once in the Spurs' first nine playoff games. Popovich will also throw the occasional curveball; for instance, starting reserve Tiago Splitter in the second half of Games 2 and 4 against the Clippers in the conference semifinals.
Will he trust young players in big spots, or is he more inclined to use his grizzled veterans?
Popovich has increasingly come to trust his youngsters -- for one, rookie Leonard has assumed the key role of starting small forward during the Spurs' big run. Parker, then 19, started 72 games for a 58-24 Spurs team in 2001-02. Popovich will make sure to have at least a couple of vets on the floor with his whipper-snappers, but he's looking to put the right combination of skills on the court, irrespective of age.
Are there any unique strategies that he particularly likes?
Popovich doesn't like to have his big men outside the paint defensively, and his schemes go to great lengths to ensure they stay put. For instance, when the Spurs want to send a second body at an opposing big man who has the ball on the block, they'll send that defender from the baseline while the original defender moves to the high side (as opposed to just sending a second defender from the top of the floor). This makes a skip pass virtually impossible and allows a Spurs' weak-side defender to creep closer to the paint.
The Spurs will occasionally apply heavy pressure as soon as the opposing point guard crosses half court. By playing tight on the ball-handler's strong shoulder, the Spurs want to influence the ball to the weak side of the floor and muck up the possession. This fire drill will go on for a handful of possessions to disrupt the offense.
Popovich is also the NBA's leading practitioner of the Hack-a-Whoever, and will liberally call timeouts when the Spurs aren't getting what they want on either end of the floor.
In addition, Popovich is almost universally regarded as the best play-caller in the game coming out of a timeout.
What were his characteristics as a player?
He played four years at the Air Force Academy, leading the team in scoring as its captain during his senior season in 1969-70. After graduation, he toured Eastern Europe as a member of the U.S. Armed Forces basketball team. Very little is known about Popovich's playing style, but given his flirtation with a foreign intelligence career, one might assume he was a cerebral player.
Which coaches did he play for?
At Air Force, Popovich played for defensive guru Hank Egan, who also coached Mike Brown at the University of San Diego. Egan would later serve as a Popovich assistant in San Antonio.
What is his coaching pedigree?
At age 24, Popovich joined Egan's staff at his alma mater. After six seasons as an assistant under Egan, Popovich took the head coach position at Pomona-Pitzer. During his tenure at Pomona-Pitzer, Popovich took a sabbatical to spend the 1985-86 season at the University of Kansas as an assistant to Larry Brown, for whom he once tried out when Brown was coaching the ABA's Denver Nuggets.
Popovich eventually landed in San Antonio as Brown's first chair beginning in the 1988-89 season. After a season in exile in Golden State with Don Nelson, Popovich returned to San Antonio -- first as general manager, then in a dual role as GM and coach. Eventually, he handed over front-office duties to R.C. Buford in 2002.
If basketball didn't exist, what might he be doing?
A master viticulturist and winemaker with a superb understanding of how soil, vines, fruit and climate interact to produce the world's best wine.
---
The spirit of the 1984 Bill James Baseball Abstract was summoned for this project
.