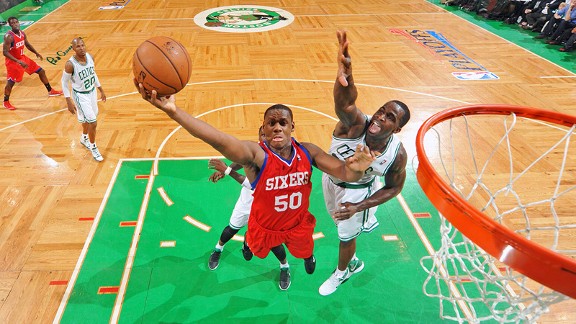 Jesse D. Garrabrant/NBAE/Getty Images
We called Lavoy Allen the 500th best player in the NBA. We were wrong.
During the great lockout of 2011, ESPN.com's NBA team put together a fun little project, which was ranking every player in the NBA.
We did the #NBArank project, as far as we know, in an entirely new way: We crowd-sourced it. More than 100 voters participated; all kinds of staffers at ESPN.com and the local sites, as well as nearly all of the TrueHoop Network. (We have used the same technique, by the way, to predict how many games every NBA team will win, before the season starts, and beat Vegas. It's an interesting system, but not a perfect one.)
It was a little tricky to figure out precisely whom to include -- at the fringes, in the summer, it's hard to know who is in and who is out of the league. We settled on some rules that left us with, as it happened, precisely 500 players.
As soon as that was decided, well, somebody had to be good ol' Mr. 500.
Hold that thought.
---
John Hollinger (Insider) says that for the Sixers to win Game 7
, they need to play a lot of Lavoy Allen.
He's been the one player that seemingly can neutralize Kevin Garnett's otherwise massive plus-minus advantage. Garnett is plus-55 for the series -- that's plus-58 when Allen is off the court and minus-3 when he's on it. One much-discussed key is Allen's ability to push Garnett further out and contest his shots, and the numbers back that up -- Garnett is 6-of-17 inside 15 feet against Allen and 19-of-26 when he's off the court. The regular-season numbers, albeit in a smaller sample, support this trend. Garnett was 1-for-7 from the field when Allen played, 21-for-34 when he sat.

But in terms of plus-minus, the impact has been just as great on the offensive end. The change in Philly's production based on the Allen-Garnett dynamic has been jarring: If Allen plays and Garnett doesn't, the Sixers score 121.2 points per 100 possessions; if both play, it's 103.2; and if it's just Garnett, Philly nets only 78.2.

Obviously, it's ridiculous to assign that big a swing to two players, but the data backs up the idea that Allen has made a huge impact (in fact, he quietly leads the team in playoff PER at 18.70, given his ability on the boards and around the basket), and he needs to play a major role in Game 7 if Philly wants to pull the upset.

(Statistical support for this story from NBA.com.)
Also worth noting: The Celtics get 48.5 rebounds per 48 minutes when Allen is on the bench. When Allen plays, that number falls all the way to 31.7. Big difference.
Lavoy Allen is young, big and making his presence felt.
---
I recently visited the Sixers' locker room on a mission to talk to Allen. It went like this:
We ranked NBA players 1 to 500 last summer. Somebody had to be Mr. 500. I can't imagine that felt great.

I didn't really worry about it too much. I got a little publicity. That's what I liked about it. People didn't know who I was before that. So I didn't really worry about it too much.

You didn't look at the people ahead of you and think, Come on!

No. No. Not really.

All right, look, that was us. ESPN.com.

That was you?

We had 150 or so voters, and we ranked all the NBA players. I'm here to apologize. We were wrong.

It's all good.

If I asked you who 482 was, do you know who that was?

I have no idea.

But you know who number 500 was, though, right?

I do. I do.

I should thank you guys.

You're very big about this. But I'm telling you, we're watching you play, and emailing each other and saying, Man, we did a bad job on that.

I don't blame you guys. A lot of guys on the list hadn't played an NBA game yet. Someone had to be at the bottom.

The truth of the matter is, there are a lot of players we hadn't seen play much. We did a bad job. But you're killing it out there now. We couldn't have been more wrong. You're going to be ranked much higher next year, I promise you that.

Thank you.