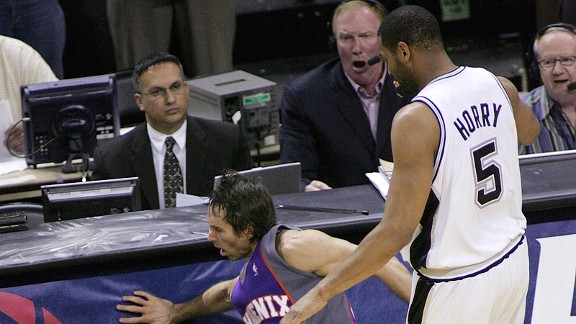 Chris Birck/NBAE via Getty Images
Jalen Rose was on the 2007 Suns, and says they lost the series well before this famous moment.
There is a lot of playoff talk in this NBA Today podcast. Predictions about who will win Saturday's Game 7 and both conference finals. There is talk of hard fouls, great coaching, elite defenders, free t-shirts and LeBron James. Luc Richard volunteers to play one-on-one during All-Star Weekend, if they'd have that event. And more.
Then there's more insight than some Suns fans might want into 2007, which is the year Steve Nash and the Phoenix Suns thought they would win a title, but lost to the Spurs in a horribly controversial suspension-riddled second-round series. The Suns, as we knew them, would never be the same again.
Jalen Rose was on that Suns team, which he brought up after I asked him about Rick Carlisle, whom Rose once played for:
He made sure we ran hard at shootaround. He made sure we broke a sweat. He made sure we're prepared for the other team's sets. We knew if we were doubling the post. We knew how we were playing pick and roll. Are we hedging on this player, going under on that one. Are we double-teaming? How are we going to play those down screens certain players are coming off ...
We knew everything.
When you've played for a coach like that, it must be hard to play for a coach who doesn't have those same qualities.
I played for the Phoenix Suns. 2007. My last season. As were playing against the San Antonio Spurs. And I remember us coming to our first practice before Game 1. And we brought it in. And we were excited about our playoffs getting started. And Coach D'Antoni put in some film. It was Steve behind the back. Amare slam dunk. Shawn Marion with the block. Raja Bell with the charge. It was a highlight film of our team. They have showed me making a shot on there, and I was barely even playing.
So after that he as like all right, we're going to run and down, go through our set plays and whatnot, and we're going to get out of here.
And I looked at Kurt Thomas. I hit him with an elbow. I'm like hold on. I gotta say something.
So I did my Arnold Horshack from "Welcome Back, Kotter."
I'm like "ooh, ooh, ooh, hey coach. I gotta ask a question. Are we going to talk about how we're going to defend Tim Duncan on the post? Are we going to talk about Manu Ginobili in pick and roll? Keeping Tony Parker out of the paint?"
He looked at me in front of the entire team and coaching staff and said: "We're not worried about what they do. If we play to the best of our abilities, and do what we're supposed to do, there is no way they can beat us. We don't mind if Tim goes off. If Tim goes off, that means everybody else is quiet."
So, people gave us a pass. And we were a great team. And Robert Horry did knock my guy Steve Nash into the scoreboard. And Amare Stoudemire and Boris Diaw got up off the bench and I should have been paying attention and being a vet, and grabbed Amare -- maybe I'd have a ring to this day.
They walked out on the floor, they get suspended late in the series, and we did lose that game.
But we really lost the series in Game 1. When the guy that couldn't beat us by himself -- Tim Duncan -- he only had 40 and 20 in Game 1. [Ed. note: Actually 33 and 16.]
So that's really when we lost the series.
You're saying that if Rick Carlisle coached that team ...
Breeze through. I have a 'chip. I would have a 'chip.
That's gotta be a bad feeling.
It is what it is.