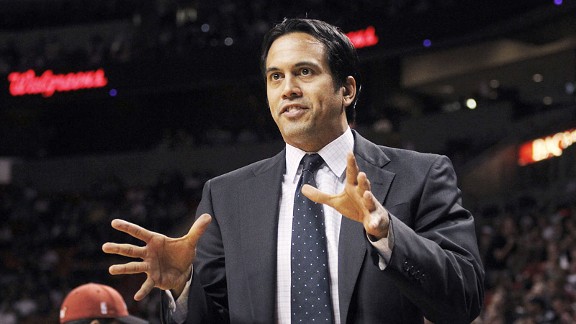 C.W. Griffin/Getty Images
Erik Spoelstra: Master of the process
Name: Erik Spoelstra
Birthdate: November 1, 1970
Is he an emotional leader or a tactician?
A disciple of Pat Riley, Spoelstra likes to set a tone, will traffic in motivational mantras and definitely pays close attention to the emotional pulse of his team. But he's a cool tactician at heart, one who earns his team's confidence with his work ethic. The players generally respect that Spoelstra spends his entire waking life trying to make it easier for these guys to win. Superstars are more likely to respond to that quality than a punchy fight song.
Is he intense or a go-along-get-along type?
Spoelstra projects a quiet intensity. You won't find any bulging veins or hot collars, but he's what you could describe as serious. Despite that, he gets along well with staff and players -- his long-standing relationship with Dwyane Wade the best evidence. He's reserved, but not prickly and can be one-of-the-guys when he chooses to.
Does he rely on systems, or does he coach ad hoc to his personnel?
This is Spoelstra's greatest trial as the head coach of the Heat. He highly values systems -- he spent his summer in search of one. In almost any other context, Spoelstra would develop an offensive architecture designed with clean lines and an orderly flow. But with Wade and LeBron James as the two most important pieces on the board, pious devotion to a system presents all kinds of problems. So instead, Spoelstra spends his time finding creative ways to get Wade and James the ball where they can exact the most damage in the half court. He must accept that a good percentage of possessions will be at the whims of his superstars, often when the stakes of those possessions are at their highest. Spoelstra has an uncanny capacity to accept life's inconvenient realities, but this must torment him a little bit.
Does he share decision-making with star players, or is he The Decider?
He doesn't have much of a choice, does he?
More coaching profiles
Does he prefer the explosive scorer or the lockdown defender?
Spoelstra tilts radically to the lockdown defender end of the spectrum. Joel Anthony has been a personal project for years and, with Spoelstra's encouragement and attention, has become one of the league's best defenders. The patience shown with Mario Chalmers is, in many ways, an expression of Spoelstra's commitment to defense. When the Heat needed to fill out a spot on the wing, they went after Shane Battier, a Spoelstrite if there ever was one.
Does he prefer a set rotation, or is he more likely to use his personnel situationally?
"The rotation is the rotation," is one of Spoelstra's bread-and-butter remarks for the media scrum. There are constants apparent in his substitution pattern, but Spoelstra is an empiricist, so when there's enough evidence to suggest the sequence isn't working, he'll make an adjustment.
Will he trust young players in big spots, or is he more inclined to use his grizzled veterans?
Spoelstra values longevity and believes there are certain understandings of the game that can come only through experience. The bench is usually populated with oldsters who actually played with a handful of existing NBA coaches. Chalmers has been the rare exception under Spoelstra, and the point guard's development has certainly had its trials.
Are there any unique strategies that he particularly likes?
The Heat are a unique team, one that has produced unique strategies, even if not by design. Take the team's half-court defense, which has morphed into its own thing.
Prior to the arrival of James, the Heat ran a fairly conservative defensive scheme, something more along the lines of what you'd see in Orlando under Stan Van Gundy or in San Antonio. It was a low-risk defense focused on staying at home and clogging the middle. Traps were reserved for only the craftiest point guards to ward off penetration. Better to push up on screens, make the angles more difficult and lure opponents into a midrange jump shot. Little men, fight over that screen and don't tax the time of your big men -- they belong in the paint. Helpers, don't travel from remote locations.
You can find many of these same principles in the Heat's existing defense, but the reality of who James and Wade are as wing defenders has influenced Spoelstra into creating a system that melds all kinds of different looks.
Earlier in the abbreviated 2011-12 season, Spoelstra was engaged in a schematic exercise -- how much pressure should the Heat exert on the strong side of the floor? It's a good question, and any coach who has spent the amount of time Spoelstra has preparing for the Celtics and Bulls has to entertain the idea that elements of those defenses should be incorporated into his. So Spoelstra went into the lab and pursued a lengthy trial-and-error experiment. This is one of the reasons we saw Miami give up so many 3-pointers during the regular season after being decidedly average in 2010-11 defensively against the 3-ball.
Over time, Spoelstra has calibrated the system. His big men often show high and hard, with the rotator coming from the back line. But as opposed to the Thibodeau system that has very explicit instructions about where the back-side defenders should be to zone up the rest of the floor, Miami allows James, Wade and whoever else more leeway to jump out of that zone to disrupt passing lanes, swarm without warning and, at times, leak out prematurely.
This probably wouldn't be Spoelstra's chosen defensive system if you handed him a roster at random, but he's constructed a system that appeals to Miami's ability to disrupt and the need to generate turnovers to maximize their best attributes.
Can we brand it the "Miami system," much the same way hard-core basketball fans know the "Thibodeau" when they see it? Maybe soon.
What were his characteristics as a player?
Spoelstra was a heady point guard who started all four seasons at the University of Portland and was the WCC's freshman of the year in 1989. A proficient 3-point shooter. Willing passer.
Which coaches did he play for?
At Portland, Spoelstra played for Larry Steele, a Trail Blazer lifer (and member of the 1977 championship team) who had a less-than-successful career as a college coach.
What is his coaching pedigree?
Ever since he joined the Heat organization as an intern in 1995, Spoelstra has grown up in the home of Pat Riley. Spoelstra's manner, obsessiveness and attention to detail are products of Riley's tutelage. Spoelstra also credits Stan Van Gundy, the Heat's head coach for two-plus seasons, for guiding his understanding of NBA defenses.
If basketball didn't exist, what might he be doing?
Leveraged buyouts.
---
The spirit of the Bill James Baseball Abstracts, 1984 and 1985, was summoned for this project
.