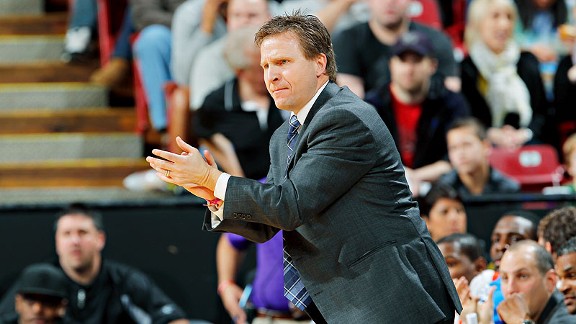 Rocky Widner/NBAE/Getty Images
Scott Brooks: Youth Counselor.
Name: Scott Brooks
Birthdate: July 31, 1965
Is he an emotional leader or a tactician?
Emotional leader. Brooks still has a ways to go as an X's and O's coach, but from his first day on the job, Brooks has had the right personality to coach this young Thunder team. He's an unceasingly positive motivator who tends to soften his criticism of players with compliments about all the things they're doing correctly. His players trust him and his history in the league.
However, Brooks has yet to show much in the way of creativity and his teams rarely make dramatic in-game adjustments. He keeps things basic and trusts the talent on the floor to do the rest.
Is he intense or a go along-get along type?
You don't last 11 years in the NBA as a 5-foot-11 point guard without being intense, but Brooks is, deep down, a laid back Southern California guy. He is a fighter, but unlike Scott Skiles, he's also shown a willingness to compromise on some of the details to get the effort and buy-in that he demands from his players.
Does he rely on systems, or does he coach ad hoc to his personnel?
Hard to say at this point, because the Thunder are still developing their identity. Right now, the answer is that he tries to put individual players in positions to be successful, though the Thunder are a ways from implementing a coherent system. This young coach and his young players are growing together. If he stays with Oklahoma City, this answer could be very different in five years.
Does he share decision-making with star players, or is he The Decider?
Brooks has been a Decider, but not a dictator, in his brief head coaching career. This is in part a function of the youth on his team: 21-year-old players look to their coach to lead; 31-year-old stars want to have more input. Yet, no one would call Brooks a "controlling" coach. One of his great assets is his willingness to trust and inspire his young players to play with confidence in vital moments. This season, especially, he's relinquished control of the offense to his young stars.
More coaching profiles
Does he prefer the explosive scorer or the lockdown defender?
Brooks' Thunder teams have relied on prolific scoring over the last two seasons, but Brooks turned the franchise around in 2008 by preaching defense. As role players go, he tends to favor excellent defenders, like Thabo Sefolosha, over players whose primary contribution comes on offense, like Daequan Cook.
Does he prefer a set rotation, or is he more likely to use his personnel situationally?
Whenever possible, Brooks prefers to stick with his rotation. He will occasionally deviate in the fourth quarter of a tight game, especially if he can roll with a five that's clicking. He left Russell Westbrook on the bench while Eric Maynor helped key a massive rally in Game 2 of the 2011 Western Conference finals.
Will he trust young players in big spots, or is he more inclined to use his grizzled veterans?
Brooks has had no choice but to trust his young players, but he does prefer veteran role players. He clearly values the championship experience of Derek Fisher and Kendrick Perkins, even when other, younger players, may provide better matchups.
Are there any unique strategies that he particularly likes?
Not really. The Thunder are sound defensively and have one of the most rudimentary offense in the NBA. They play a very straightforward brand of basketball, with little misdirection built into their play design. For instance, if on a certain play the ball is supposed to end up in Durant's hands, the other team can usually figure it out early in the possession.
That he gives Perkins so many touches in the post might be one his more obvious and regrettable quirks. But Brooks keeps his eye on the big picture, which is why he's able to move past mistakes from his young players that might drive another coach crazy. He's allowed his talented young players to fail, a philosophy that's helped make them successes today.
It's easy to forget that Doc Rivers, now regarded as one of the top X's and O's coaches in the NBA, was once heavily criticized for his tactical failures. One could easily imagine Brooks evolving into a similar combination of emotional leader and clever tactician as his career progresses.
What were his characteristics as a player?
Brooks was an excellent shooter who had to bounce around colleges before ending up at University of California Irvine, where in 2001 he was inducted into the Hall of Fame. As a college senior, Brooks shot 43 percent from 3 and scored 24.3 points per game. He went undrafted but managed to make the Philadelphia 76ers' roster after impressively battling Mo Cheeks -- who is now on Brooks' staff in Oklahoma City -- during training camp.
Brooks' time in the NBA lasted 11 seasons and included a stint as Kenny Smith's backup on Houston's 1994 championship team. A no-mistakes point guard, Brooks finished five consecutive seasons with more steals than turnovers (an NBA record at the time).
Which coaches did he play for?
Jim Lynam, Bill Musselman, Jimmy Rogers, Rudy Tomjanovich, Dick Motta, Jeff Van Gundy, Mike Fratello.
What is his coaching pedigree?
Brooks was an assistant for P.J. Carlesimo in Seattle/Oklahoma City for one season and 13 games, after which he took over as interim head coach in 2009. Before that, Brooks was an assistant for George Karl in Denver (2003-06) and served briefly under Eric Musselman in Sacramento in 2006-07. There are traces of George Karl's offensive philosophy, sometimes called "controlled chaos" in the freelance-friendly Thunder attack.
If basketball didn't exist, what might he be doing?
Brooks' bright attitude and ability to connect with and develop young people would make him a well-loved and effective middle school principal.
---
The spirit of the Bill James Baseball Abstracts, 1984 and 1985, was summoned for this project
.