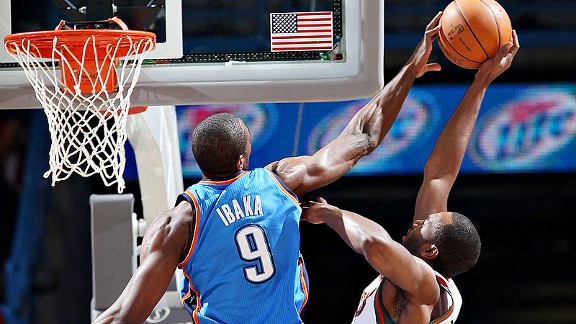 border="0" alt="Serge Ibaka, Luc Richard Mbah a Moute" />
Gary Dineen/NBAE/Getty Images
Bucks forward Luc Richard Mbah a Moute (right) believes in Serge Ibaka's defense.
6-8 Bucks forward Luc Richard Mbah a Moute is seen as one of the NBA's best defenders. Virtually every night of the Bucks' season, Mbah a Moute was asked to defend the opposing team's star, whether that was a lightning-fast point guard or a seven-footer with unlimited range. It has given him valuable insight into how the league's finest scorers operate. Milwaukee didn't make the playoffs this year, so he's using his work ethic to share some knowledge about the playoffs. You can read more of his insight on Facebook, Twitter and his website.
Individually the Thunder measure up with the Spurs great across the board.
At the point I like Russell Westbrook as both an offensive player and a defender on Tony Parker. Russell has always been a good defender ever since we were in college together. On the wings, with Kevin Durant's length and Thabo Sefolosha's ability as a defender, they matchup well with the San Antonio wings. Inside you've got Serge Ibaka and Kendrick Perkins, two guys who will make it difficult on anyone to score in deep.
I think they'll have Perkins on Tim Duncan, to start the game at least, because Boris Diaw is a little more mobile so Serge will be able to stay with him better than Perkins. But I'm sure Ibaka will spend some time on Duncan as well and that will be a great matchup. Even if the Spurs go small, the Thunder can do the same and still match up really well with Durant at the 4 and Serge at the 5.
Who must the Thunder stop to beat the Spurs?
I think it's Duncan. He's still a great player, a Hall of Famer, and if he's not able to be as good as he has been in the first two series, the Spurs will be in trouble. He has to play at that level and carry a strong percentage of the scoring load for them to win this series.
It's tough to stop a Hall-of-Fame player like him, but you can try to contain him and get him off of his spots. He likes that 15-foot bank shot and he likes the pick and pop. There are a couple of ways to defend him, but you go in knowing that he's going to find a way to score some points.
You can start by bodying him up and trying to stop him from getting the ball deep. If he does get it in there, you can send a guard to try and get the ball out of his hands. But he also has that face-up game, where he can shoot or drive. If he does try to drive off that, you can have someone come and help. I wouldn't front him in the post because you have all those guys on the perimeter. If you front Tim, there's nobody in the back. I'd start by pushing him off the post, playing behind him and going from there.
Who must the Spurs stop to beat the Thunder?
I think at this point, you know what Durant is going to do. He'll find his ways to score. But the key factor is Westbrook, because of his energy and his athleticism at that point guard position. When he brings it, he's tough for any guard to hang with. He makes the Thunder so much better when he's attacking and having great games.
I would put James Harden right up there, but I feel like sometimes even when Harden is not doing as well, if Russell is playing at a high level, OKC is really tough to beat. To slow him down, the Spurs have to force him into contested jump shots. He's gotten better at making shots this year, but I still feel like his go-to is to get out and run, get into the key and create problems for teams. If you make him take more of those contested jumpers and play along the perimeter, you have a chance to win the game.
Who is the defensive player on the Thunder who's been most instrumental in that team's victories?
Undoubtedly, the biggest player for Oklahoma City on defense is Ibaka. Serge's one-on-one defense and his shot-blocking ability on the weak side have made a big difference. He's been able to handle any forward he's guarded. I thought he did a good job on Dirk Nowitzki and even better on Pau Gasol. He really didn't let Gasol get off, and a lot of the scores Pau got in that series were off dropoffs and offensive rebounds.
Serge is a very smart defender and he's pretty much got timing down. He knows when to stay on a guy and when to jump to block the shot. He's also quick enough to stay in front of some guys and strong enough to body them up. It's been interesting to watch and see how he's progressed as a defender.
Who is the defensive player on the Spurs who's been most instrumental in that team's victories?
The Spurs play the most team-oriented defense of any team left. There isn't one guy that's responsible for too much. They all have things they do well and Gregg Popovich is great at maximizing each player's ability. The concept and the scheme of Popovich's defense is outstanding. You saw it against the Clippers. They took away the pick-and-roll and there was no way for Chris Paul to make plays, throw lobs or come off and shoot. They did a really good job of slowing Chris down and taking away his best options. Their scheme itself is the best defensive player they have.
Who wins and why?
Oklahoma City in 7. I think OKC's athleticism and firepower will be too much. They have more firepower than San Antonio and by that I mean their individual players. I believe that's what will decide this series. Both teams do a good job defensively so it's going to come down to individual matchups.
I don't think San Antonio has been tested so far in terms of guarding really good scorers. The main scorers they've faced have been interior players. They haven't seen the likes of Durant, Westbrook and Harden, guys who can put up 30 every night. To have three guys like that on one team is going to be hard for the Spurs to handle. It's the ultimate test for Popovich's scheme.
In the previous two rounds, San Antonio played teams with only one playmaker and by taking that guy away they dominated the series. With OKC they have three playmakers and I personally don't think the Spurs will be able to handle the Thunder in a seven-game series.