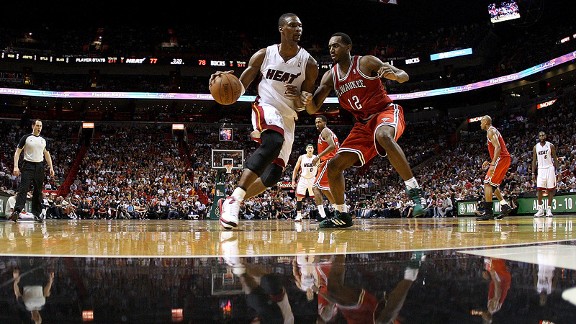 Mike Ehrmann/Getty Images Sport
Luc Richard Mbah a Moute says the Heat miss Chris Bosh, who wears out quality opponents.
6-8 Bucks forward Luc Richard Mbah a Moute is seen as one of the NBA's best defenders. Virtually every night of the Bucks' season, Mbah a Moute was asked to defend the opposing team's star, whether that was a lightning-fast point guard or a seven-footer with unlimited range. It has given him valuable insight into how the league's finest scorers operate. Milwaukee didn't make the playoffs this year, so he's using his work ethic to share some knowledge about the playoffs. You can read more of his insight on Facebook, Twitter and his website.
There is a lot of history now between these two teams, but I think it comes down to knowing what's at stake: They're playing to go to the NBA championship series. That will make for a great series with a lot of intensity. It's going to be fun to watch.
Not having Chris Bosh is definitely going to hurt Miami. They don't lose much on the defensive end, but what they lose is his pressure on offense. He puts other defenders, good offensive players, in foul trouble. And he makes them guard. That takes a toll on you when you have to guard a guy like Bosh on defense and still go down to the offensive end and produce.
Udonis Haslem will have to step up again for them to have a chance. Against the Pacers he really did what needed to be done. They needed somebody else to make open shots, and he was able to be that guy. They'll need him to keep that up until Bosh gets back.
Who must the Celtics stop to beat the Heat?
You have to stop LeBron James to win. He's their main ball handler. He's the decision-maker, the playmaker. He's the guy who hasn't struggled at all this year. At times we've seen D-Wade struggle a bit, but LeBron seems to always be on. He's a guy who can do it all and the way he's been playing this postseason has been amazing.
He wants to get in the paint, so you have to cut him off, but that's not easy. When you stop him from getting in the paint that really helps you, but it's tough because now he gets the ball in a situation where it's easier to get into the paint and his jump shot has gotten so much better.
The Celtics have done a good job against LeBron over the years, and coach Doc Rivers had good schemes to stop him, but he's had good games against them too. They just have to be physical with him, give him different looks. I think at times they will have Rajon Rondo matching up with him to have a quick guy who can impact the game and steal the ball from him. Over the years it has worked for them, so it will be a good matchup.
Who must the Heat stop to beat the Celtics?
I'm sticking with Kevin Garnett. He's had a resurgence this year and especially in these playoffs, kind of the same way Tim Duncan has. KG has been tremendous, and he's the one guy you have to stop if you want to win a game against the Celtics.
How Miami handles KG if Bosh isn't back is going to be key in this series. In the previous series, LeBron was able to go down and take on David West, but he's going to have to be on Paul Pierce this series, so it's going to be on guys like Joel Anthony and Haslem to take on Garnett. Those guys are pretty good defenders, and I think they'll be able to handle the task if they alternate down there. Miami goes small a lot now with Bosh out, having LeBron at the four and that also can impact the game. You can have your five go against KG and live with LeBron at the four.
Who is the defensive player on the Heat who's been most instrumental in their victories?
I have to say that's LeBron too. He's just been playing at such a high level, starting with the Knicks series. Whenever he was on Carmelo, he did a great job on him. In the Pacers series when they lost Bosh, he had to go guard West and did an amazing job on him as well. He's been tremendous for them defensively.
He keeps coming. He's a very versatile defender and any time you have a versatile defender, it's always an advantage because you can have him guard different positions and he can switch on different guys without hurting your team.
When you're as good as LeBron is offensively, you usually tend to be a pretty good defensive player when you want to, especially if you have that physical ability. You know what to expect, you understand the game offensively and you know what guys want to do. I think knowing all that makes it easier defensively.
Who is the defensive player on the Celtics who's been most instrumental in their victories?
I think it's Paul Pierce. Paul did a great job on Andre Iguodala in the series against Philly. They say he's getting older and he's not supposed to be as good, but he's still competing at a high level. I think he's always been an underrated and good defender, but he got much better when Doc Rivers took over the team.
I'm sure Doc went to him and told him he would have to guard for them to be good. They're a smart defensive team. They guard well and they have a lot of different coverages, which shows Doc's influence. But Pierce has taken on the challenge and become a better defender. It helps when you have a guy like KG come on your team. That defensive energy that Kevin brings is contagious. His defensive mindset has rubbed off on the team and especially on Paul.
Who wins and why?
Boston in 7. Overall, I think Boston matches up well with Miami. We saw it during the regular season and they've been playing well in the postseason.
Being without Bosh is going to make a difference. I don't think LeBron and Wade can each have four 35-point games against Boston. Doc won't let that happen -- the Celtics' schemes are too good. They're going to take one of those guys out of the game, and for Miami to win, they'll need each of those guys to score in the high 30s. I don't see that happening.