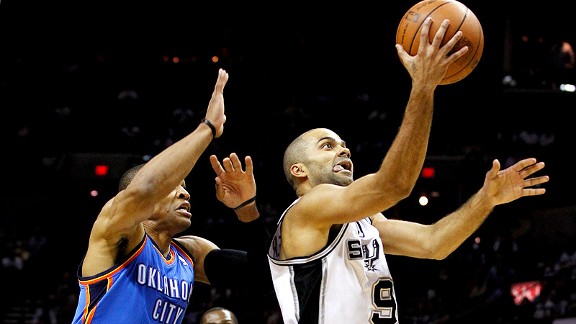 Tom Pennington/NBAE/Getty Images
In Game 2, Tony Parker gave Russell Westbrook a full-service workout.
It must have been a cruel irony for Russell Westbrook that a game won largely on the effectiveness of San Antonio's high picks for Tony Parker aimed at Westbrook was put on ice with Parker taking Westbrook one-on-one off the bounce.
All night, the Spurs had been running Westbrook ragged by pounding him with a wave of screens -- at the top of the floor from the Spurs' big men, off the ball as he tried to chase Parker around the Spurs' land mines. Westbrook's conditioning is among the best in the business, but there are physical and mental tolls to be paid by running into plaster walls, dodging shoulders, fighting through bodies for 50 reps of 20 seconds each. When it all came to a head and the Thunder trailed by eight inside of a minute, Parker milked some clock, crossed over Westbrook right to left, then stepped through and past Kevin Durant before bounding off his right leg for a 4-foot floater.
For Westbrook, it might have been the least trying defensive possession of the night, but Parker still found the net, something he did 16 times from the field in the Spurs' 120-111 Game 2 win. Parker was incredibly proficient as a jump shooter, hitting 11 of his 15 shots from beyond 10 feet. A good number of those looks were wide open, a product of either strong screens early in the shot clock that took Westbrook out of Parker's space, or of clean weak-side looks that materialized after the ball cycled through the Spurs' half-court waltz.
Was Parker the prime beneficiary of a perfect Spurs offense, or was the offense perfect because Parker was driving it? Probably a little bit of both. Once the drive-and-kick game is established, the ball tends to find its way back to the team's best penetrator. When it did, Parker found seams in a Thunder defense that didn't know where the help was coming from quickly enough -- strong side, weak side, top, baseline? Oklahoma City wasn't atrocious, and Durant made a number of timely help rotations, but on a night like Tuesday, Parker gives a defense no latitude to deliberate.
The Thunder invited some of this torment on themselves, particularly early. Kendrick Perkins never left the paint when Parker burst off those high screens from Tim Duncan. With Westbrook occupied trying to fight through the screen, Parker had all the room he needed for a quick pull-up jumper, or to rev his engine before attacking Perkins in open space.
So much of San Antonio's best offense originates in the secondary break or in early offense opportunities. We saw it four minutes into the game, when Danny Green collected a miss on the Oklahoma City end and raced up the right side of the floor. He pitched the ball backward to Parker, who then dribbled diagonally across the court from the right wing to the left elbow.
There were a few promising possibilities here:
Green was all alone near the right corner

Duncan trailed down the right edge of the lane on a rim run

Kawhi Leonard was set up in the strong-side corner.

Parker was in pretty good position to drive the ball into backpedaling Serge Ibaka and Durant and draw a foul.
Parker saw Leonard, and Leonard saw Parker and, in replay, you can almost pick up the moment of transmission, the instant their brains melded and they both realized the easiest way to get this done was to have Leonard cut to the rim along the baseline, while Parker would jump-stop, elevate, fake the shot but then pass it to Leonard beneath the basket.
The Spurs do stuff in transition that nobody else does. If they aren't careful, they might attract the affection of basketball fans everywhere.
---
The Thunder aren't going to get this done defensively as a big team anchored by Perkins in the middle. Perkins is still the Thunder's best screener and post defender, but this Spurs team doesn't need to work its offense through Duncan in the post. They're more than happy to bring the action high, let Duncan screen for Parker or
Manu Ginobili
, put Duncan on the weak-side block and let him set pin-downs to free up cutting shooters.
Scott Brooks finally caught on as his team clawed back at the end of the third quarter, when he brought back Ibaka. If the Thunder seemed like a quicker, more active defensive team after that, it might be because they had their quicker, more active big man on the floor. At that point, the Thunder figured out some coverages that optimized their speed and athleticism. They switched pick-and-rolls when necessary, or let Ibaka corral when he had a good angle on Parker or Ginobili. When the Spurs hit shots for much of the fourth, those attempts were more likely to be outside looks generated out of desperation rather than the result of kick-outs and penetration.
So the Ibaka matter was resolved, but why Derek Fisher played the final 17 minutes of the game was mystifying, while Thabo Sefolosha played fewer than two of the final 18 minutes. Sometimes it's too easy to critique a coach after the fact, but there was something dubious about Brooks' decision to stay with Fisher. At critical moments, don't you have to ask yourself as a coach, "What are my goals?" and "Who among my personnel can help me achieve them?"
Who's the better helper, Sefolosha or Fisher? Who gives you more flexibility defensively? Who's twice as likely statistically to get you a rebound? Who can make the rotation more quickly? Who's more likely to stay with Leonard as he curls around two screens to the hole on a baseline out-of-bounds play (Leonard's second-easiest bucket of the night as Fisher trailed)?
What was Brooks' return on that investment in Fisher? A 3-pointer that nipped a 12-point deficit to nine with a hair over two minutes remaining. Apart from that shot, Fisher was 1-for-10 from the field.
It's tempting to play a guy based on past performance or because he's been there before, but at a certain point you have to enumerate for yourself the attributes that can help your team win this basketball game -- athleticism, speed, length, better base defense. Even setting aside the fact that Sefolosha is a 43.7 percent 3-point shooter, while Fisher has shot below 32 percent this season, there's no good reason to stay with a pokey veteran when you're trying to double down on those other qualities.
---
Another irony: In a game that featured some of the best-looking pure basketball you'll ever see, foul shooting emerged as a major theme in the game's final 15 minutes or so.
The Thunder went to Hack-a-Splitter for five possessions near the close of the third quarter. Tiago Splitter went 5-for-10 from the line, which paid off at exactly a point per possession (an offensive rating of 100). The Spurs averaged 1.085 points per possession in the regular season, and are at a 1.087 clip in the playoffs, so Oklahoma City made a few pennies on the dollar. More important for the Thunder, they unleashed a torrent of ugh into a game that featured one of the most tantalizing renditions of basketball we've seen in years.
It worked for Oklahoma City. The dead ball dance disrupted the Spurs' offense. The ball no longer popped and bodies no longer moved in perfect synchronicity. When the Thunder got into the penalty at the 8:36 mark of the fourth quarter, they were able to contain the San Antonio lead to about 10 and hang around by simply draining free throws.
---
At a certain point in the first quarter, the Thunder were so desperate to get Durant a look, they put both big men at the elbow to pinch Leonard on a two-man pin-down. The Thunder bring that out occasionally, but the choice was a well-drawn illustration of just how badly they need Durant to pressure the Spurs' defense. The play resulted in Durant's first basket of the night -- a 3-pointer. He finished with 31 points, but was quiet late.