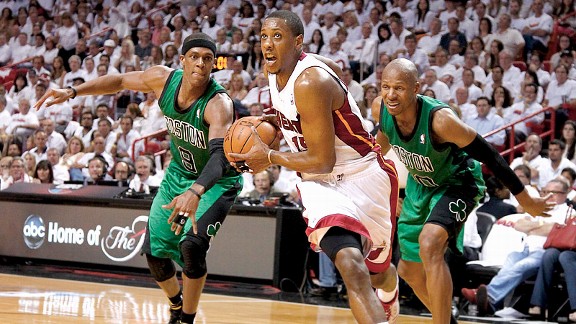 Mike Ehrmann/Getty Images
Mario Chalmers stayed a step ahead of the Celtics defense in Game 2.
Dwyane Wade was stumped.
Boston had switched up its pick-and-roll coverage. Now, instead of switching or hedging on Wade, they were sending both defenders to trap him, to force him to pass to, gulp, Joel Anthony around the free throw line. The adjustment distorted Boston's usually tight defensive "shape," but it also radically warped Wade's options. By staying with weakside shooters and basically leaving a limited big man wide open in the middle of the court (a role previously held by the dynamic but injured Chris Bosh), the Celtics were forcing the Heat to play through their worst player.
The maxim is that Miami will go only as far as Wade and James can take them -- that's exactly what the Celtics were banking on. But while they loaded up on Wade, Mario Chalmers punished the distorted defense with tough drives and confident 3-pointers -- going off for 14 first half points.
One play was particularly instructive: Wade and Haslem had the right side of the court to themselves midway through the second quarter. Mickael Pietrus and Kevin Garnett played their repeated attempts to spring Wade with a pick-and-roll perfectly, forcing him to the right baseline then springing a soft trap to force a long crosscourt pass. Wade played into Boston's hands and hurled an off balance 40-foot crosscourt jump pass.
Chalmers gathered the errant pass and immediately attacked the three other Boston defenders on his half of the court, splitting two rotating Celtics then going right at Garnett for a lay up -- which he missed. But his drive had ruined Boston's rebounding positioning, and Chalmers got his bucket on the second try.
This wasn't the kind of play a specialist makes. It was a bold move from a role player, and it was emblematic of how the Heat's role players have stepped up in Chris Bosh's absence. And it makes me think of all those times when Wade or LeBron were being criticized for putting too much faith in guys like Udonis Haslem, Shane Battier and Mario Chalmers -- the same three guys who now, when the stakes are highest, are playing their best basketball of the season.
The Heat established a relationship of interdependence throughout the regular season and at times it seemed to work to their detriment. But look at Haslem aggressively popping into open space on the baseline, or Battier grinning like some evil robot as he awaits a pressure-packed corner 3-pointer with under three minutes left in the game. All told, the three combined for 44 points.
The Celtics executed their defensive game plan almost perfectly. They wanted to force those Heat role players to beat them, and they did.