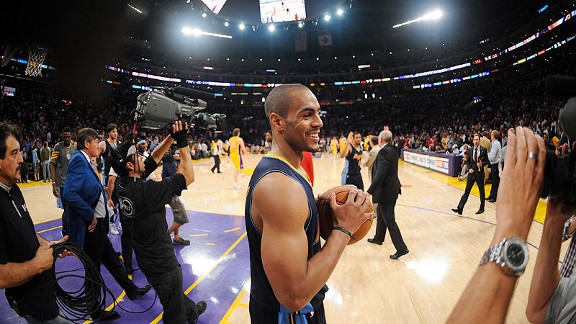 Noah Graham/NBAE/Getty Images
The UCLA formula for NBA success : Earn minutes with defense, use the time to perfect offense.
"It's so crazy," says the Denver Nuggets' Arron Afflalo, who was D'ing up Kobe Bryant in Game 7 just a few weeks ago. "The season ends so suddenly. You're not happy that it's over. But within a few days ... you're in preparation mode. I'm excited. I can't wait."
Even as Afflalo keeps an eye on the playoffs, his mind is already laser focused on next year.
He has been in the NBA five years, with a reputation for outworking people that was born well before even getting to the NBA. The workout plan he has for this summer, he says, "it's ridiculous."
It's also very much not like last summer, when Afflalo avoided scrimmaging out of a strategic decision to reduce injury risk while facing a double-scoop of uncertainty: A lockout, followed by free agency, all while while hoping for a payday he called "life changing."
It worked, in a sense. Afflalo signed a contract worth more than $40 million to stay with the Nuggets for five more years. But he started the season and Afflalo knows why. It's a mistake he does not plan to repeat.
"I had to be careful throughout the summer, how I trained and competed. I couldn't have any crazy injuries from pushing myself too hard," he explains. "I had to avoid competing how I would normally compete." It took a big late season push to bring his season numbers close to his averages, and his reputation as a stopper was beat up a bit on some early season nights. (In the NBA TV reality show "The Association: Denver Nuggets" coach George Karl mentions gently to Afflalo that the coaching staff makes DVDs of defensive mistakes, and he never used to be on those DVDs.)
Next year there will be none of that, he says: "I plan on doing what it takes to really take the step that I anticipated on taking last year. Between my body and my game, and taking all the things that I've learned throughout my first five years and coming right out of the gate as opposed to having to adjust throughout the season. Just come right out of the gate and hopefully be my best, and sustain it, is what I'm really looking forward to."
Afflalo, always an efficient scorer, shot 39.8 percent from 3, 79.8 percent from the free throw line and 47.1 percent from the field in 2011-2012. Not his best career numbers in any category, but excellent nonetheless.
He drops more than a few hints that he will show in Denver in September ready to not just retake his place as an elite defender, but also to do more on offense. Maybe a lot more: "The idea is just that as my shot attempts go up, if I'm in a situation where my shot attempts go up, I think my average can go up a whole lot, which could affect my team. And I can still do it efficiently."
Here's where it pays to understand Afflalo's theory of UCLA players in the NBA. Kevin Love, Russell Westbrook, Jrue Holiday ... the list is impressive. Why so much success? Afflalo's theory is brilliant and logical and seems like it must be correct. He explains:
Most players coming into the NBA, you're not going to be asked to be the leading scorer on the team. With that in mind, Coach Howland has done a great job of at least preparing us to be mentally tough and to play defense.

When you get a fiery young player coming into the league that's willing to play defense, I don't think there's a coach in the NBA that won't love that.

So with that opportunity, there's still some talent in the players. With that, you can see a guy like Russell [Westbrook], whose got some energy and can defend, and he can turn into a good offensive player. The same with Darren [Collison].

Kevin Love was a specialist, seemingly, with his rebounding, but he turned into an elite scorer.

The same with Luc [Richard Mbah a Moute]. He has the passion to work. He got into this league and got a deal playing defense, being one of the premier defenders and as his offensive game develops he'll be even more valuable.

I feel like I'm in the process of doing the same.
In other words, thanks very for all those minutes to play defense, coach. I've been using them to figure out the other end, too.
He has also been watching the playoffs, and seeing "nothing I haven't seen before. I know LeBron and Dwyane are playing well. The big three from the Thunder are playing well. But obviously I'm just kind of happy with what the Spurs do, because they're just so intense defensively that they take away your strengths and they play such an unselfish brand on the offensive end that it just seems to be a winning formula."
Afflalo sounds off on fat contracts, the secret of the Spurs that every team could copy, JaVale McGee's mentality, superstar calls, Kobe in crunch time, and more:
ON HIS FIRST REALLY FAT CONTRACT
It's a joy, but it's a job. It puts you in a position to be comfortable and kind of just play for the love of the game. That's something that you always want to get back to, because obviously being a professional player you deal with some different pressures of just trying to support yourself and your family. It really allowed me to kind of get back to working and enjoying the game for the purity of it.
IS JAVALE MCGEE CRAZY?
No. He's fine. I just believe he came from a system where they weren't asking a lot of control of him. His teammates and coaching staff have a lot to do with that, helping him become disciplined on how to play the game the right way. He just needs to learn, that's all.
SUPERSTAR CALLS
I think you've got to just get out there and compete. I tend to think the more aggressive player gets the whistle in their favor. LeBron and Dwyane have the ball so much. You have to expect that you're going to foul them. But when they're constantly aggressive, coming off pick and rolls and in transition, your'e always in a vulnerable position. I don't really cry about that. If I foul somebody, I foul somebody. But it does become difficult when you've got a superstar player who has constantly got the ball and he's in attack mode. If you're aggression isn't at his level, they're going to put you in a bad spot. And that's why guys foul them a lot.
THE THUNDER OFFENSE
Pick and roll and pick and roll and pick and roll. It's the same thing with the same three players. If you find a way to get into their philosophy, there's only one ball. If you can find a way to get into the pick-and-rolls with Russell and with James -- it ain't an easy thing to do -- but if you can find a way to do it as a team, it's pretty much the same game plan with them. You know what to expect.
Those three guys all trying to get 30, and see if they win.
KOBE'S MANY MISSES IN CRUNCH TIME
It just felt like he had the ball every time down the floor. ... It's kind of like the element of surprise is what can allow you to take a high percentage shot. An open shooter you didn't expect to have the ball. The problem with that is everybody knows he's going to have it.
It's not that he can't compete, or that he can't isolate at that point in the game. It's that with one minute, two minutes left in the game against the Lakers you know he's going to have the ball. So now you've got four guys locked into him. As opposed to in the second quarter when it's one guy, or two guys, maybe. I would think that the percentages would drop extremely because it's so obvious who the ball is going to. In the timeout before, they're all talking about loading up to him.
I don't think it makes him an ineffective player. I just think he's seeing a defense that is clearly locked into him. Not just his man, but everybody else. I don't care who you are. That's tough to do.
THE SPURS SYSTEM
I respect what they're doing so much in San Antonio. They load up so well to the player they expect to take the shot, who has done it all year long without resistance. And now the other team is getting in the playoffs and finding out other people are going to have to score, who aren't really capable or used to doing it.
But the Spurs have been sharing the ball like that all year long. Tony Parker can have seven points and Duncan can have 20. Anybody on that team. Danny Green can go off for 25. That's really really hard to guard.
It'll be interesting to see if they were in a very close game down the stretch who would help win that game for them. At that point in time I'm sure that they would want to go to one of their big three. But it'll probably be another player who ends up hitting a big shot for them. Gary Neal or somebody who's standing out there.
The role players on that team operate with a ton of confidence. That's the way the game should be played. You should shoot confidently.
ROLE PLAYERS
All NBA teams have that ability. I don't know if it's the coaches, or the design of how the game is played on certain teams, but I mean, if you were to trade any one of some of the role players on some of these other teams, and you put them in a different role, on a team where they need more, their ability would come out more.
I really believe most NBA players can play at a higher level. It's just who they're playing with and what kind of system they're in. The Spurs have a system in which you've got ten guys who feel like they can get it done. All the teams have the weapons. It's just sometimes you've got teams where guys have the ball too much.
Steve Blake could do it. Ron Artest had a leading scoring role on his team. Matt Barnes, when Kobe was out, was playing at a high level. If that's how they played, and not so much through Kobe and Andrew, they could do the exact same thing.
But every team has got their formula, and who is to say one is right.
The winning approach should always be the answer, but the problem is the Lakers won five championships. The Spurs won four. Dallas won one being unselfish. You start to question what's the right way to play.