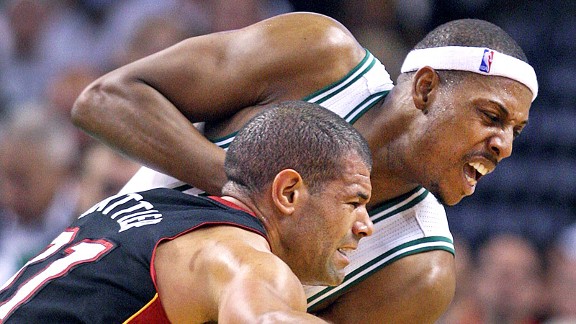 Jim Davis/Getty Images
Shane Battier fought and flopped for every inch against Paul Pierce in Game 4.
HoopIdea wants to #StopTheFlop. To spotlight the biggest fakers, we present Flop of the Night. You can help us separate the pretenders from the defenders -- details below:
There were questionable calls aplenty in Game 4 of the Eastern Conference finals, but this first quarter flop from Shane Battier (video) is special because it was Paul Pierce's first foul (he would later foul out of the game) and because Battier's flailing rescued a doomed possession for the Heat.
With the shot clock running down, Battier ranked ahead of only Joel Anthony in terms of players the Heat wanted creating a shot. But that's exactly what happened after the Celtics thwarted Miami's plan to feed Wade in the post.
It was a dream scenario for Boston: Battier trying to create off the dribble against Pierce, one of the Celtics' very best defenders.
Instead of actually trying to make a shot, though, Battier took off for the paint with dreams of free throws dancing in his head. At the first hint of contact -- and driving to the rim in the NBA, there's always contact -- Battier flails his arms, dives to the side and crashes to the ground.
Battier's ludicrous reaction exposes his true intent, which has nothing to do with actual basketball, and it worked. The referee's whistle bailed out the Heat.
BONUS FLOP: Mario Chalmers didn't get the call, but the audacity of this flop (video) deserves recognition. Note the incredible distance he travels on his back! And then note Jeff Van Gundy's disdain.
When you see an egregious flop that deserves proper recognition, send us a link to the video so we can consider it for Flop of the Night. Here's how to make your submission: