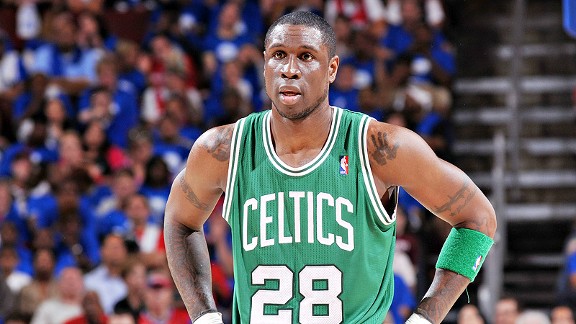 David Dow/NBAE/Getty Images
Mickael Pietrus performed the most consequential flop of the season.
HoopIdea wants to #StopTheFlop. To spotlight the biggest fakers, we present Flop of the Night. You can help us separate the pretenders from the defenders -- details below:
This one might be the Flop of the Year.
There were 155 seconds left in Game 5 of the Eastern Conference finals as Kevin Garnett let fly with a baseline jumper. As the ball swished through the net, Mickael Pietrus sprinted in from the opposite wing, looking for a potential offensive rebound. Instead, he ran straight into a boxout from Mario Chalmers, who put up his forearms, but did not extend his arms, to ward off the much bigger Pietrus.
On contact that he receives and doles out dozens of times each game, Pietrus' body went rigid and he flopped over onto his back (video), right in front of Derrick Stafford, who rewarded the act with a technical foul.
It wasn't much of a collision to begin with, but a run-of-the-mill foul would have been nearly inconsequential as the Heat were nowhere near the penalty. But the technical sent Ray Allen to the free throw line, where he calmly drilled the freebie.
One undeserved point.
It doesn't sound like much, but in the context of the final moments of Game 5 in the Eastern Conference finals, it matters.
To Jeff Van Gundy, who was calling the game for ESPN along with Mike Breen, it mattered quite a bit:
Van Gundy: It just drives me crazy we're in the playoffs, Game 5, tied ... and Ray Allen goes to get an extra point!

Mike Breen: And the technical on Chalmers. You know we talked about how in a game like this, one point can be the difference.
Then, tongue planted firmly in cheek, Van Gundy offered a deterrent to flopping:
"Pietrus tricked the referee and should be fined $1 million tomorrow for it!"
Van Gundy may have strayed into hyperbole, but he wasn't kidding about the magnitude of the play.
Pietrus and Chalmers both hit huge 3-pointers on the following possessions, and then Paul Pierce drilled a contested 3 right over LeBron James to give the Celtics a two-possession lead they would never relinquish.
Of course, without that free point from the Chalmers technical, it would have been a one-possession game. That isn't to say things would have turned out any differently -- the Celtics had a decided advantage either way.
But it's a shame that a flop had any bearing on the final moments of an otherwise fantastic game.
When you see an egregious flop that deserves proper recognition, send us a link to the video so we can consider it for Flop of the Night. Here's how to make your submission:
Alert HoopIdea to super flops with the Twitter hashtag #FlopOfTheNight (follow us on Twitter here).

Use the #FlopOfTheNight hashtag in Daily Dime Live.

E-mail us at hoopidea@gmail.com