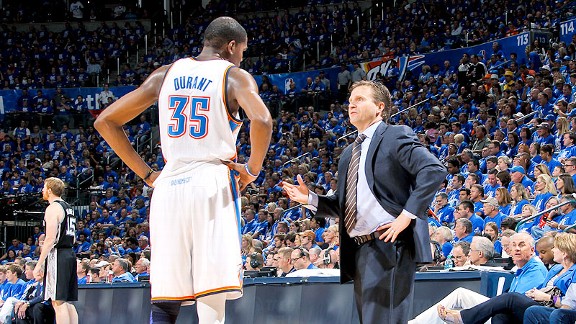 Layne Murdoch/NBAE via Getty Images
Scott Brooks understands the feeding and caring responsibilities of an NBA head coach.
On a Monday morning last January, Oklahoma City Thunder coach Scott Brooks fielded an easy volley of questions at Santa Monica High School ahead of a game that night against the Los Angeles Clippers.
The Thunder were mowing through their schedule, having won 11 of their previous 12 games, and Brooks' breezy tone was fitting for a midseason shootaround. He paid homage to James Harden's throwback qualities and told the small gathering of media that, even though the Thunder had climbed the ranks of the Western Conference, they had to go out and play each night with something to prove.
After the scrum broke, Brooks was asked whether he could imagine Kevin Durant as his power forward of the future. A pile of data and the general direction of the league both suggested that sliding Durant over to the 4 would make a lot of sense.
Brooks had seen the evidence and, in fact, was the man responsible for those minutes Durant logged as a power forward in the Thunder's smaller lineups. Schematically, Brooks loved the idea of giving his already potent offense even more opportunities to stretch defenses.
The data were certainly compelling, and what coach wouldn't be tempted to get another athlete on the floor if all it took was placing the dynamo with the 7-foot-5 wingspan at the 4? Brooks suspected Durant eventually would log more time in small-ball lineups, but Brooks also wouldn't rush into the future.
In Brooks' mind, an NBA coach's job isn't merely to implement strategic goals on the court but also to have a strong feel for the appropriate timetables of those objectives. He explained that a player like Durant derives confidence from familiarity, and in many respects, it's one of the factors that makes him such a devastating offensive force. So challenging him to expand the boundaries of the familiar demanded a degree of finesse. Understanding how to lure a player into uncharted territory, asking him to expend more defensively, changing up the composition of the offense he marshals -- that was the trick.
Brooks was confident he could do it, but Durant's long-term success with that transition would be somewhat dependent on Brooks' management of that process.
---
We accept that Oklahoma City's ascension to the NBA Finals can largely be attributed to the maturation of its young core. By competing at the high-stakes table against the NBA's notable elite over the past seven weeks, Durant, Russell Westbrook, James Harden, Serge Ibaka and Thabo Sefolosha have all developed a more astute intuition about the game.
We chart and revel in the progress achieved by talented young players, but whether it's because coaches are less interesting than players or because the strides in a coach's games are more opaque (what's the coaching equivalent of "he developed a post game"?), we tend to see coaches as static. We might pause for a second and consider that men like Doc Rivers or Alvin Gentry aren't the same coaches that they were a dozen years ago, but we rarely frame that growth the same way we do for players.
Each of the Thunder's catalysts has refined his game, and we'll read plenty about Westbrook's improved vision and discipline, Durant's full arrival, Harden's embrace of the big stage, Sefolosha's building confidence that he could contain a small army and the rounding of Ibaka's game.
But it isn't just the Thunder's roster that has elevated its game. Brooks has followed the impressive trajectory of his players. A coach who, over the course of his young career, was rarely lauded for his gravitas, charisma or mastery of X's and O's has put together a helluva postseason, capped off by a brilliant performance in the conference finals against San Antonio.
The pivotal event in the six games against the Spurs might have been Hack-a-Splitter, which disrupted then irreversibly altered the rhythm of the series. Brooks risked a potential toll offensively by investing his wholesale trust in Sefolosha to stymie Tony Parker. Fully embracing his team's athleticism, Brooks leveraged that asset in a scheme that both simplified and intensified the Thunder's defense. He urged Westbrook to cleverly exploit the Spurs' defensive discipline -- never sending strongside help -- by traversing the court's midline, which never allowed San Antonio to establish where its help should come from. When the Spurs defenders attacked Durant coming off the Thunder's bread-and-butter play -- the weakside pin-down -- Brooks introduced wrinkles that helped to free up Durant.
And yes, he also moved Durant to the power forward spot for significant stretches of the series, something we didn't see him do as readily in past seasons.
Perhaps that's selling Brooks short -- the idea that these discoveries of the craft have been recent. It's more likely that Brooks' abilities have been developing over time, just like his players.
Public opinion tends to shine brightly on systematic high-achiever coaches -- Phil Jackson, Gregg Popovich, Jerry Sloan, Tom Thibodeau, until recently Mike D'Antoni, to a large extent Rick Adelman and now Doc Rivers.
Coaches like Scott Brooks and Erik Spoelstra, whose most talented personnel thrives on one-on-one play, must rely on offenses far more dependent on shot creation. As a result, their stuff often appears more rudimentary, and we shape our opinions of their creativity accordingly. There are plenty of coaches around the league for whom that might be true, but Brooks doesn't appear to be one of them.
For some, the verdict on Brooks' tactical ingenuity may be pending -- let's see how his team responds in the Finals. For others, the mere fact that, under his direction, Brooks helped deliver a team that was 23-59 three seasons ago to the NBA Finals is testimony enough to his strengths, whether those strengths reside on a whiteboard or in his intuitive understanding of his players.
And on that late morning in January, talking about the delicate process of easing along a superstar, Brooks conveyed the most valuable gift a head coach can have:
Knowing, understanding and caring for his talent.