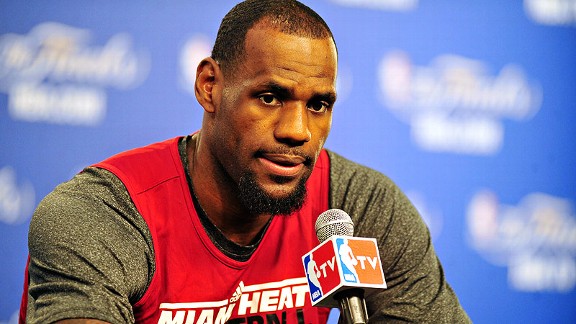 Mark D. Smith/US Presswire
LeBron James arrived in Oklahoma City weary, but riding a huge performance in the East finals.
OKLAHOMA CITY -- One of the underrated factors in the NBA Finals is the decoration. Seriously. The decals on the court, the giant fabrics with Larry O'Brien trophies draped everywhere, the logoed backdrops popping up around the court for off-day interviews. Oh, and all those pesky reporters, en masse, ready to make any misspoken word into a national story. It all serves as a reminder that this is something different and, for many members of the Oklahoma City Thunder, unlike anything they've ever experienced.
"Just coming to the arena, looking around, you see 'The Finals' on the floor, you see all the trophies hanging up around here. You kind of get that vibe that it's right there, and it's close," said Thunder center Kendrick Perkins, who played in the NBA Finals twice as a member of the Boston Celtics. "Your first time going, you're like, kind of startled a little bit. Like, 'Wow, I'm in the Finals.'"
It can often take a game just to adjust to the new surroundings. The past 13 times when a group making its first trip to the NBA Finals has faced a team that's been there before, the more experienced team has a 10-3 record in Game 1. That's one reason I picked the Miami Heat to win this series.
However, the Thunder have already shown the ability to come back from a 2-0 deficit in the Western Conference finals against the ring-laden San Antonio Spurs trio of Tim Duncan, Tony Parker and Manu Ginobili, and they won't be fazed if they drop a home game to start the Finals.
In the past two years the Thunder have been through a variety of playoff scenarios, like test pilots in a flight simulator. They've won a Game 7, they've won a triple-overtime game, they've come back from seven points down in the final two minutes. So Kevin Durant isn't having any talk about the experience gap, just as he isn't having any part of all the Durant vs. LeBron hype that's threatening to engulf the series.
"We've played a lot of big games," Durant said. "Of course everybody is going to say it's not our time, we're too young, it's going to happen eventually. But that's not the approach we ever want to take with anything. I learned that when I was a kid. My mom always told me when I was going against older guys, don't let your age be the reason why you don't succeed.
"We've played in a lot of games. We were too young to beat the Spurs, a great team, and we came out and accomplished that. We were too young to beat the Lakers, and we accomplished that as well. We just want to keep thinking that we can do it, and also knowing that it's going to be a tough road and we've got to be focused."
That's about as defiant as Durant gets. Meanwhile, it's hard to imagine LeBron James sounding more tired after two days off than he was at the podium on Monday. His voice was hoarse, his eyelids droopy. Not only is he carrying the memory of last year's disappointing NBA Finals loss with him, he's also dealing with the effects of that grueling Boston Celtics series, during which he scored 45 points in 45 minutes in Game 6 and played all 48 minutes in Game 7.
"Mentally it was draining," James said. "Physically it was draining as well, but I felt great throughout that whole [Game 6]. It's draining when you finally get into the locker room. ...
"Then, after Game 7, it was even more draining, just the emotions around that series, knowing that team we beat."
In other words, he's as drained as Dwyane Wade's knee during the Indiana Pacers series. And if he's going to finish this off, he's going to have to find the energy to produce four more extraordinary performances.
"It's phenomenal what he does," Wade said. "And we're going to need him to continue to do that for all of us to reach our final goal."
That's what I was counting on when I made my NBA Finals pick. Now, getting a first-hand look at the toll it's taking. I realize what a Herculean task it will be.