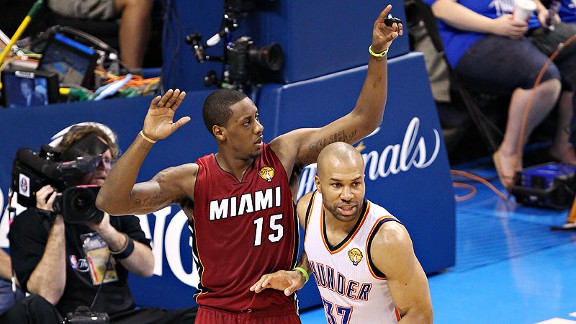 Joe Murphy/NBAE/Getty Images
Mario Chalmers has much to learn from Derek Fisher.
"When you can take the pebble from my hand, it will be time for you to win Flop of the Night" -- Kung Fu, sort of.
The similarities between Mario Chalmers and Derek Fisher are getting stronger. Dead-eye 3-point shooting, unexpected drives to the rim, pesky defense, and an ability to raise their games in big moments alongside talented teammates.
But Chalmers has been in the league just three seasons, while Fisher is playing in his eighth NBA Finals. The disparity in experience showed in this exchange of flops (video) on back-to-back Heat possessions midway through the fourth quarter.
Fisher, pound-for-pound one of the strongest players in the NBA, had been mucking up the Heat's offense by making it hard for Chalmers to even move across the court in order to set a screen for LeBron James. Finally, Chalmers decided to get physical, but Fisher was ready. After setting up this "move" for multiple possessions, Fisher exploded backward when Chalmers bodied him.
The referee didn't buy it -- and neither did anyone else in the building -- but it clearly made an impact on Chalmers. Because the next time down, the Heat guard tried to flop in anticipation of Fisher's typically tough defense.
But the old vet was too clever. He evidently predicted Chalmers' flop, backed off with his hands raised in the international symbol of innocence, and let Chalmers fall harmlessly to the ground.
Young grasshopper, you still have much to learn.
When you see an egregious flop that deserves proper recognition, send us a link to the video so we can consider it for Flop of the Night. Here's how to make your submission: