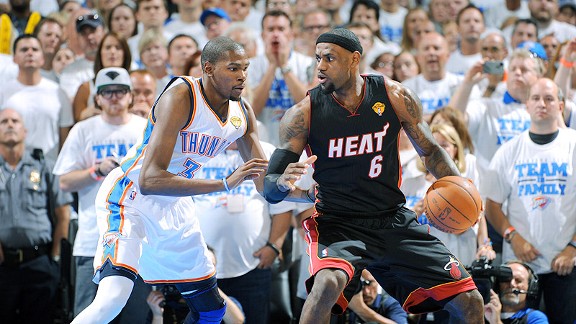 Garrett Ellwood/NBAE/Getty Images
Electric play from transcendent young stars has a global audience transfixed.
This week the NBA is dominated by two topics, and they're both history.
The first NBA Finals matchup, perhaps of many, between the NBA's two best players, LeBron James and Kevin Durant. They are both still young. They both lead teams that will be picked to win their conferences next fall. Anyone care to guess how many Finals stages they'll share in their careers? They might, like Bird and Magic, swap MVPs and titles for a long time. And they even guard each other when it counts. We are all lucky to be witnesses.

The second topic is the 20-year anniversary of the original Dream Team, a story that has been told ad infinitum but is being told with particular relish right now, thanks to Jack McCallum's excellent book, available in early July, a new NBA TV documentary airing Friday evening and a whole big mess of other fun new media.
They are in some ways identical topics -- two different but similar chapters of David Stern's book of success. Even in a lockout-shortened season, this amazing game can create one magical moment after another.
But in another way, point No. 1 might, at long last, signal a time to move beyond a Baby Boomer-dominated dialogue that assumes the vast majority of NBA greatness occurred decades ago, and that Michael Jordan, Magic Johnson and Larry Bird exist in an aura that today's players can't touch.
Kevin Durant, LeBron James and the class of young stars they lead are changing that debate before our eyes.
---
There are only six seconds left on the shot clock, and about a minute-and-a-half left in the game. LeBron James is far from the hoop, with the Oklahoma city Thunder's best perimeter defender, Thabo Sefolosha, hanging all over him. James hasn't hit a long shot all night, and the Thunder have been scoring like mad, having already erased nearly all of the Miami Heat's big early lead.
James puts the ball on the floor and drives left. Sefolosha is with him, and waiting on the baseline is one of the most impressive shot-blockers in the league, Serge Ibaka. James bolts to a spot just a step shy of Ibaka, plants both feet, elevates straight up and banks in a tough 15-footer.
Miami by five with 1:26 to play.
But as it happens Durant is about to score five points in 13 seconds.
---
The stuff of legends
I am not the fool who wants to tell you there were flaws in the games of Jordan, Bird and Magic. Celebrate the legends, by all means.
Same goes for Carl Lewis, another great Olympic champion whose heyday came in the 1980s. But consider how it is that Lewis' reputation works. He is an icon, and one of the most decorated athletes in history, with a mighty nine gold medals. But sprinting is a sport in which success is judged by that iron-fisted taskmaster, the clock. And the clock is clear. Lewis may have the more respected name, but today's goofy-by-comparison young sprinter Usain Bolt is faster. Lewis' fastest 100 meters ever took 9.86 seconds. Bolt is 25 years old and has already posted a 9.58.
Basketball isn't ruled by the clock. Who's better is slippery -- a subject to chew on for hours of barbershop talk.
But let these NBA Finals serve as a wake-up call to the idea that hoops could be like sprinting. It could be they have just gotten better and better, even if the reputation hasn't kept up.
The things we can measure show that today's players are bigger, faster and stronger. Today's NBA players shoot about eight times as many 3-pointers per game than players in the 1980s -- and instead of making fewer than 30 percent like they did back then, now they make more than 35 percent most seasons.
It was once considered virtually a miracle when someone took off from the free-throw line in a dunk contest. Now it's rote, not just because so many have done it in the days since Dr. J, but because now all kinds of players can do it.
I can hear you already: But today's players don't create beautiful team offense like, say, Magic's Lakers. Agreed! What you see on ESPN Classic surely is electric good fun. But look at the defense in those old videos. It's simply nothing like today. The old-school players are shorter, slower, weaker and don't help, recover, rotate and close out anything like today's defenders.
I shudder to think what LeBron James and Kevin Durant would do in single coverage against Larry Bird.
If history has taught us anything, it's that people will cling to icons. Just ask Jordan. He was the best player in the league for years before most would let go of the idea Bird and Magic were better.
The fact that today's stars aren't said to matter in the same way is a classic case of seeing the past through rose-colored lenses. It's also a case of missing the boat -- the lessons of the legends have been fully incorporated.
5 a.m. wake-up calls and personal trainers were once unheard of. Great diets, good sleep, sophisticated offseason regimens. These are all common now. The crowd of players Durant and James rise above is a very tough crowd indeed.
Before Jordan, Bird and Johnson, the benchmarks of NBA conversation were once Wilt and Russell. Great players change things.
Today's play: Best ever?
Meanwhile, the basketball is amazing. As David Thorpe pointed out on TrueHoop TV the other day, now that many teams have mastered the intricacies of Tom Thibodeau's schemes, today's NBA defenses may well be the very best in history. The claim invited more than a little scorn from those who have a knee-jerk assumption the defense must have been better back then.
But be careful insisting too much on these hypotheticals. The video technology exists now to superimpose some of today's players in video of games from yesteryear. It would be fun to see. It also might be shocking -- who knows what percentage of the greatest shots in NBA history could have been swatted into the eighth row by Serge Ibaka or JaVale McGee, super springy athletes the length of which the NBA has never seen.
And that's just defense. Bigger, faster and stronger athletes are on every fast break, setting every pick, chasing down every loose ball.
Despite what you've heard about declining fundamentals -- mostly from retired players who dominate commentary -- and despite all that great defense, even shooting is better today, by most measurements.
---
A catch-and-shoot 3. A rebound, a coast-to-coast drive and a dunk over Shane Battier's head. A catch-and-shoot 3.
This is how Kevin Durant scored 13 quick points in the fourth quarter, melting away what had been a 17-point first-half lead.
After a quick attack on the baseline, over and around James, the Thunder got a steal and quickly found Durant again, with space, behind the 3-point line on the right side. Money. Two-point game, 37 seconds left.
Classic, and not quite enough, this time. Game 3 is Sunday.
---
Wanted: Storylines
The idea hangs over the NBA that everything since the Dream Team has been something between a letdown and a waste. Maybe the real truth is that they have been rife with wonderful basketball, if short of the kinds of lasting, hero-laced storylines that penetrate the public psyche.
The Celtics and Lakers staged fierce NBA Finals battles in 2008 and 2010. It was such a storybook way to end the season that many howled it had been rigged to goose TV ratings. But the tidiness of the match-up had little to do with Kevin Garnett and Kobe Bryant. It was about an old classic -- Bird vs. Magic -- making one more comeback. It's not unlike the Rolling Stones selling out one more tour, even though their best music is from decades ago.
But in 2012 this league doesn't need a dusting of historic glitter to shine. Derrick Rose can be an acrobatic Bull who wins constantly and delights millions, even without being the next Jordan. Kevin Love can be a feisty white guy who can shoot, pass and rebound without being the next Bird.
In these Finals, it is the laziest of analogies to suggest that James and Durant are competing to be the next Jordan. They are both completely different from Jordan and each other -- Jordan could do it all, but was defined as the best athlete in the world, famous for airtime. James, on the other hand, is the biggest player ever to possess that speed, skill and team-focus. Durant's story is one of length and dead-eye shooting.
Not even Kobe Bryant -- who plays farther from the hoop, and has a different bag of tricks -- fits the Jordan mold precisely.
Square pegs. Round holes.
What would it take for the world to move on?
A new storyline as big as that one was.
There are hints people might be ready to see these Finals that way. The storylines are classic: pure good vs. evil. The teams are young and hungry. The implications are timeless.
And most importantly, the world is noticing.
Every game since Game 7 of the Eastern Conference finals has had massive, record-setting ratings, in some cases the highest rated shows on television that night.
These Finals probably won't be the event that moves the NBA out of its own 20-year-old shadow. But it's the first in a long time that could. If the show keeps unfolding like this, what happens over the next couple of weeks might be something to remember for a lifetime -- and something that might let today's stars move out from the shadows of the titans of basketball.