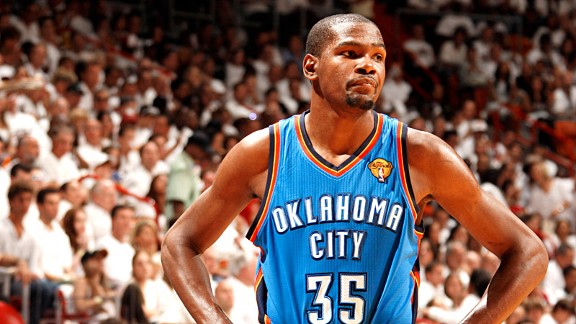 Issac Baldizon/NBAE/Getty Images
All Kevin Durant could do was watch as the Thunder coughed up a lead in the third quarter.
When Kevin Durant picked up a fifth foul early in the fourth quarter of Game 2, Oklahoma City Thunder coach Scott Brooks didn't flinch. The Thunder were down 11 points and, without Durant on the floor, they would've effectively ceded the game. Big deficits demand desperation, which is why the Thunder incurred the risk of keeping Durant in the game at that juncture of Game 2.
But give that coach a lead and he can be lulled into a sense of false security.
Faced with a less dire situation in Game 3 when Durant picked up his fourth personal foul at the 5:41 mark of the third quarter, Brooks sat his superstar down. The Thunder were leading 60-53 with Dwyane Wade heading to the stripe. Wade drained the front end to shave the Thunder's lead to six points, and on the next possession, Brooks subbed Derek Fisher in for Russell Westbrook, leaving Oklahoma City with a lineup of Fisher, James Harden, Thabo Sefolosha, Serge Ibaka and Kendrick Perkins. Nick Collison would later replace Perkins, while Daequan Cook would relieve Ibaka.
By the time the third-quarter horn sounded, the Heat led 69-67 -- a 16-7 Miami run.
Do you sit Durant with four fouls and 18 minutes left in the game? And, if you do, do you also sit your other premier-shot creator because, as Brooks stated after the game, Westbrook endured a tough couple of possessions and needed a blow to calm him down?
There are a few ways to approach the first question. Presumably, the decision to sit Durant for nearly six minutes is to ensure that he doesn't pick up his fifth foul, in which case he'd have ... to sit.
This logic is completely tautological. The Thunder absorb 10-12 possessions without their best player because they run the risk of possibly having to absorb, say, 10-12 possessions without their best player should he pick up a fifth foul. (We can litigate whether it even makes sense to keep Durant off the floor with five, but Brooks answered that question in the negative during Game 2, didn't he?)
In short, keeping a player like Durant on the bench is an insurance policy with four fouls during the final third of the game is an insurance policy that rarely pays for itself. One could argue that, with a lead, Brooks had some wiggle room. But basketball possessions are basketball possessions. If Brooks acknowledges, as he essentially did in Game 2, that Durant's presence is imperative for the Thunder to have a chance, doesn't it follow that a dwindling lead on the road against a top-flight opponent is extremely precarious without that same player?
And why compound the problem by yanking Westbrook? Absent both stars, the Thunder generated seven points on 11 possessions -- more than half of them via Fisher's four-point play on the first possession after Westbrook got the hook.
After that? Three free throws made in 10 possessions over four-plus minutes. The Thunder went from offensive juggernaut to a team that was quite easy to defend. They had to settle for low-percentage stuff, such as a 20-footer from Ibaka (with the defense exerting extra pressure on poor Harden), a 3-point attempt from an off-balanced Sefolosha after a blitzing LeBron James forced the ball out of Harden's hands, Harden sidestepping a high pick for a contested 19-foot jump shot and an awkward dribble-drive by Fisher into the teeth of Miami's interior defense.
The wrong shots from the wrong guys at what amounted to the biggest stretch of the series. Aside from a couple of Harden show-and-foul drives that netted two points at the foul line, the Thunder couldn't manufacture a thing. You can't really fault Harden, as the Heat keyed in on the one guy who could truly hurt them with the ball.
Meanwhile, the Thunder's defense over this stretch did them no favors. Ibaka and Fisher fouled 3-point shooters on consecutive possessions, then Sefolosha got no help on Wade's penetration, which cut the Thunder's lead to 67-64. After that, the aforementioned long Harden jumper resulted in a leak-out opportunity for Wade, who was fouled. One-point game just moments after the Thunder held a double-digit lead. Desperate shots in stagnant offenses tend to produce these kinds of breakaways.
There are certain teams that can subsist without their two most prolific offensive players, but the Thunder aren't one of them. The combined usage of Westbrook and Durant in the regular season totaled 59.2 percent of possessions. Some teams have a system that can accommodate different pieces in well-defined roles. When the Spurs were playing their best basketball during their winning streak, they could throw just about anyone into the mix, and that player could acclimate to the flow of the offense seamlessly.
But aside from the magical offensive glasnost of their conference finals victories over the Spurs -- and much of that fluidity was predicated on the presence of Durant and Westbrook -- the Thunder are a team reliant on shot creation to score.
Remove shot creators from an offense dependent on them, and what are you left with?