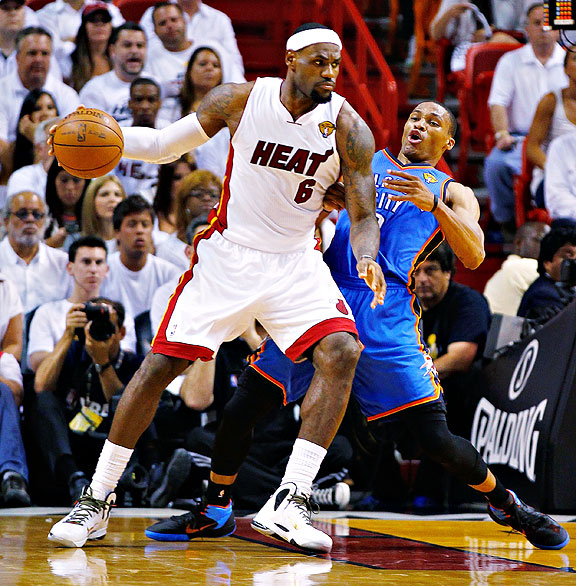 Mike Ehrmann/Getty Images
LeBron has backed the Thunder into a corner with his impressive post play.
LeBron James spent the last two years learning how to win four feet of space.
Four feet. That's roughly the difference between where James was taking his shots during Tuesday night's brilliant 26-point, 12-assist performance and where he was shooting a year ago in Game 4 of the 2011 Finals, a disastrous eight-point effort that was the first of three consecutive Heat losses.
Two years. That's about how long LeBron James has been seriously committed to transforming his post game from an untapped resource to an unstoppable weapon.
Think back to last season. Is there really any doubt about whether this version of James would have manhandled DeShawn Stevenson and Jason Kidd?
When Heat.com's Couper Moorhead profiled James' evolving post game before last year's playoffs, he stressed that James had become very effective when he could catch the ball with deep post position. In his first season with the Heat, James had improved from visibly uncomfortable on the block to capable of a quick drop step or jump hook, usually with one or no dribble.
In the 2011 Finals, the Mavericks worked hard to take those looks away by fronting James on the low block. In fact they succeeded by forcing him into the exact same position, 18 feet away from the hoop in what's called the "mid post," from where James is now destroying the Thunder.
A review of Game 4 in Dallas shows LeBron catching an average of approximately 16 feet from the rim on his 11 field goal attempts. That's right where he was launching his moves against the Thunder in Game 4, but it's no longer where James starts that necessarily determines where he finishes.
There's no secret to this development, it's the product of literally hundreds of repetitions. Despite playing in fewer games, James was in the post nearly 120 more times (about twice as often) in 2012 than he was in 2011, according to Synergy Sports. He didn't shoot as high of a percentage as he did last season, but he put in the time to make playing from the post, and not just finishing with deep position, second nature.
On Tuesday James and the Heat reaped the fruit of that labor. Time and again, James patiently worked his way toward the basket for layups and hook shots in close. On average, James managed to get seven feet closer to the rim before letting fly with a shot compared to just two feet closer a year ago.
James' actual jump shot fared no better a year later than it did when Dallas made him look decidedly average. The real difference is that James is just better at getting to his kill zone, particularly out of the high or mid post, than he was last year, allowing him to bring his fantastic passing and finishing skills to bear.
The Heat's X's and O's have changed a bit, but mostly those adjustments are a reflection of Heat coach Erik Spoelstra's commitment to feeding James over and over in that pocket off or just below the elbow. That's the spot occupied by the power forward in Miami's offense, a position James once resisted playing but now enthusiastically inhabits.
As a result, James is spending relatively little time running high pick-and-rolls against Oklahoma City. Rather, he often begins many possessions as a screener in the corner or high post. After an initial action designed to loosen up James' defender, he demands the ball. He catches the ball 16-19 feet from the rim, and goes to work. It's easy to diagram and nearly impossible to deny.
Or at least it was in the second quarter of Game 4, when that simple look fueled Miami's dramatic rally. As the Heat trimmed the lead from 13 to three, James made three shots at the rim and assisted to six different Heat players.
Keep in mind that getting James to turn his back to the basket anywhere outside of 10 feet used to be a major victory for the defense. He had (and still has, at times) a tendency to go to his baseline fall away or step back jumper, a comparatively good result for the opposition.
But go ask James Harden about how that strategy is working today.
Late in the third quarter of Game 4, James caught the ball just off of the elbow on the right side of the court. Harden immediately ceded ground, backing up in a desperate plea for James to please just shoot the wide open shot.
No dice.
James surveyed the floor to figure out where the defensive help would likely come from, then pivoted and moved into Harden with his back. As his Heat teammates ran interference on the other side of the court (and it should be mentioned that his teammates have gotten better at this, as well), LeBron kept his eyes to the middle, scanning for open shooters or a double-teaming defender, and calmly pushed Harden closer and closer to the paint.
Finally, just eight feet from the rim and with Harden summoning every ounce of strength to push him away, James spun baseline off of Harden's shoulder, elevated, and dropped in an almost casual jump hook off the glass that would make any coach grin with pride -- well, except the coach who has to figure out how to stop it.
See, with his size, vision and willingness to hit the open man, James is the last player on the court you want to double team. James won two MVP awards in Cleveland by leveraging these talents on drives the the basket. In the playoffs, however, it becomes harder and harder to find those driving angles and thus trickier to manipulate the defense and find shooters.
So, just as many people advised him to do in unsolicited columns, tweets and shouts at TVs, James found a work-around by developing a new skill set basically from scratch.
It wasn't easy and it didn't all happen at once. It wasn't long ago every James jumpstop in the post was so over-exaggerated you could almost hear him thinking: "OK, now I'm going to try this new move."
But James stuck with it and now floats from post to perimeter without a second thought, at home anywhere on the court. Players often lean on what they know when the pressure is most intense, so it's telling that James is leaning on his post game in the Finals.
The question now is how do you slow James down without leaving shooters alone on the perimeter?
That's Scott Brooks and the Thunder's unenviable task. OKC is playing by the old book on stopping James: use speed and length to keep between him and the basket and fight to front in the low post. Get low and be physical with him and he'll pass the ball.
But now James is so locked in with his post game that it seems like Nick Collison or Serge Ibaka may be better suited to single-covering him than even ace wing defender Thabo Sefolosha.
Realistically, the only remaining weakness in LeBron's entire game may be his outside shot, a rare NBA skill that generally improves with age.
Having seen decisive evidence of the hours upon hours of work James logged to become one of the best back-to-the-basket players in the game, who would bet against James also becoming a better outside shooter?
Indeed, who would bet against him at all?