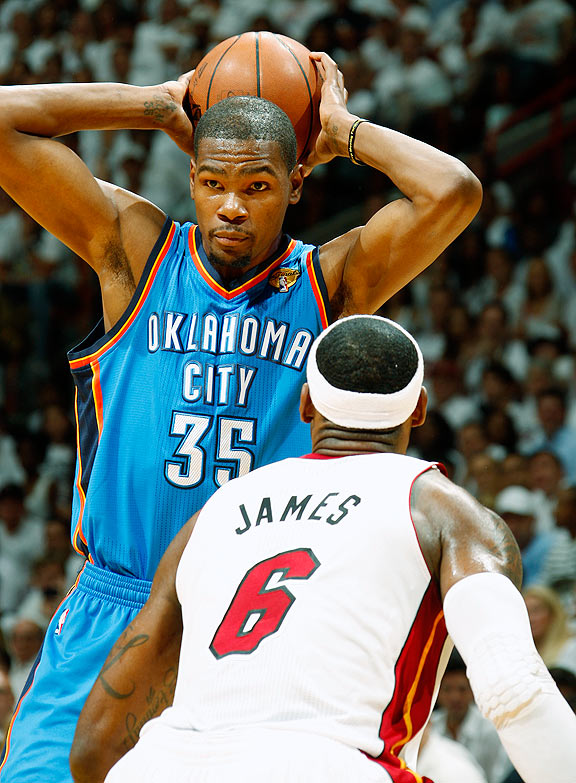 Issac Baldizon/NBAE/Getty Images
Kevin Durant and the Thunder don't need to change much of anything to be champions.
MIAMI -- Kevin Durant was not just happy to make it to his first NBA Finals. He wanted to win, as he made abundantly clear after it was all over. He had done the things champions do. He had not just worked incredibly hard in the lockout, but rallied his teammates to do the same. He had embraced the NBA's smallest market. He had resolutely not caved to media pressure to criticize his teammate Russell Westbrook for shooting too much. He had stared down the barrel of an 0-2 hole against the formidable San Antonio Spurs. He had put up huge playoff numbers -- 28.3 points, 7.2 rebounds, 3.7 assists, 1.2 blocks, 1.7 steals, 52 percent field goal shooting, 37 percent 3-point shooting, 86 percent from the line -- befitting the best scorer in basketball.
And it did not end, as he had intended, with a ring.
Durant says he was surprised how emotional Game 5's 121-106 loss to the Miami Heat made him. He said he could even see real strain in the faces of his parents. And he says he will take that experience and change … just about nothing.
And that's exactly how it should be.
---
"Whether we would have won or lost," Durant said, "I was going to come back this summer, everybody was going to come back this summer, and work extremely hard, win or lose."
Music to the ears of anyone who wants to see the Oklahoma City Thunder win -- because when you have things working like they are working in Oklahoma City, it's not about how mighty an improvement you can make to open the championship window. The window is wide open. Now it's about how long it can stay that way, how many consecutive days you can keep doing the right thing.
Just keeping it together, for these Thunder, will be enough, and Durant isn't making the slightest hints about flipping the script.
"I wouldn't want to play with anybody else," he says. "I wouldn't want to play for any other city. I'm just blessed to be part of this organization, and hopefully we can get back."
A scene that says a lot about the Thunder franchise: In the hotel gym the other day, a player was being coached -- loudly, boisterously, and with much loving attention -- through a workout. He didn't have one member of the Thunder training staff working with him, he had three. After all, it's the middle of the NBA Finals.
But here's the thing: The player was backup point guard Eric Maynor, who isn't set to play again until late summer after missing all but nine games of the season with a torn ACL. Even a player who didn't matter at all to the Finals was a huge priority in the Finals.
Maynor, who played 22 games with the Utah Jazz before joining the Thunder midway through his rookie season, says he can't imagine why anyone would ever want to play for another team, this being one that really cares about him as a person more than getting a win.
Who'd want to change that?
---
"Aggressively boring."
That's the phrase that has been rolling around in my head as the Finals coaches, Miami's Erik Spoelstra and Oklahoma City's Scott Brooks, meet the media day after day.
Russell Westbrook has been about as electric as a player can be in these Finals -- a walking storyline. Watch him fly around the court with an invisible jetpack, embarrassing all who would defend him. Watch him make critical errors, embarrassing himself. They say LeBron is "Hollywood as hell," but this guy is all plot.
And yet, to any question about Westbrook, Brooks rolls into a canned ham of a story about how he loves Russell, how Russell never misses a practice and about how the team would never be where it is without him.
Brooks and Spoelstra are as quotable as monks, and it goes beyond not wanting to provide bulletin board material to the other team.
By and large, what both coaches have to say is what Durant is already living: Do the right thing, even when it seems like the wrong thing. Eventually you'll probably get good results.
Ask Coach Brooks about just about anything to do with on-court play, and you're likely to get an answer along these lines:
"We talk about process, but process is work. It's doing your work every day. It is not just a word, it's an action that we do every day. Nothing is going to change. We're going to come to work today and work on things that we think that is going to help us win tomorrow night, but that process is always about work, and our guys believe in that, and that's not going to change."
Spoelstra is no different, and now he has a title to show for it. You going to tweak the lineup, Coach? "Well," he explained, "if you start changing the routine and now start making it about the result other than focusing on the process …"
Then … what, Coach? Then this quote would get way more interesting?
Alas. Both teams are a country mile from divulging the real nitty-gritty secrets of the locker room. There's a lot we will never know about solving the title riddle.
Unless, of course, they've been telling all that matters all along. Could it be as simple as not quitting?
---
"I'm more detached from the result than I have ever been in my career."
That's Shane Battier talking about letting the ball fly from downtown in the NBA Finals. He had a miserable season shooting, for him. But suddenly, Battier scored a cumulative 45 points from downtown in the Finals, relishing every open look without a whiff of concern. He had the same attitude about defending Durant or almost anything else. He'd play the right way, taking the open shot and forcing the tough one. If it went in or not -- not his problem. He played the smartest way he could, working as hard as he knew to work. If that ended in a loss … well, life's like that sometimes. But it's no reason to go changing everything.
It's exactly not how most of us think about sports. But maybe it is, in fact, exactly the lesson we should all take from the best teams in the NBA and into our daily lives. Do things the right way, even when that gets you bad results.
"It doesn't have to be basketball. It can be a musical instrument or it can be learning mathematics or going to law school or figuring out how to turn the water off in your house because you're an idiot.

If you can't figure that out you just keep looking, keep trying, keep going."

-- Gregg Popovich, explaining his "pounding the rock" Jacob Riis quote, as quoted by 48 Minutes of Hell
---
LeBron James is a totally different player this year.
Last year's loss, and his entire career's lack of rings, needed a reason. The reason, it was decided, was that he lacked something. Some killer instinct, poise, leadership or something else. So, now that he's a champion, ergo, he must have gained something. He must be different.
He reads books. He posts up. He got engaged. Pick your favorite. Maybe if you read books, post up or get engaged your career will advance, too.
Or, maybe that's not the entirety of what matters, maybe the changes aren't the only thing that won the Heat the title. Undertold in this story is that James has been a similarly excellent player and teammate his entire playing life. Yes, there has been progress -- like Durant, one of James' constant qualities has been offseason improvement. Yes, he's older and wiser, just as time will season Durant. But don't overlook the reality that a huge part of Miami's 2012 title is owed to the reality that James has been steadily excellent year after year, but, as for many great players, it took close to a decade's worth of opportunities to thread that needle. Maybe it's less about the value of change, and more about the value of keeping after it.
Do all that long enough, and holy cow, look what can happen.
Maybe one year soon Durant will get his first title, and the stories will tumble forth about how he has matured, and now he has the sacred knowledge. Now he knows the secret.
Or maybe the secret is: There is no secret. Maybe you work really hard, add skills, build relationships with your teammates, stay in great shape, concentrate, take high percentage shots and just keep right on trucking, knowing that with the right people and effort in place, the results will take there of themselves.
"It's the toughest time we've ever been through," Durant says. "We want to do the same thing we would do if we won the game. We hug each other, tell each other how much we love playing alongside each other, and then for what they've done all season, every guy down the line, coaches, everybody that worked with us every single day."
That ought to work.